With the Illini coming into town we'll take a look back to October 24, 1925, the year after Red Grange put a whooping on Michigan at the dedication of Illinois' Memorial Stadium. Grange tallied 6 touchdowns in that game, five rushing and one passing, including four in the first 12 minutes on runs of 95, 67, 56 and 44 yards. For obvious reasons that game is still talked about today.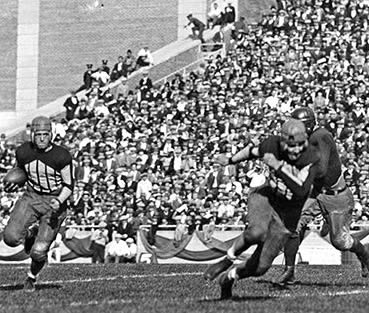 What isn't talked about so much is what happened the next year. Someone up in the stands didn't take kindly to the humiliation of 1924 and was set on doing something about it. From Bruce Madej's
Champions of the West
:
Just one year before, Coach George Little's Wolverines had been humiliated by the Illini and their junior halfback, Harold "Red" Grange. So embarrassed was U-M athletic director Fielding Yost by Michigan's performance that day, he decided to abandon his seat in the stands and return as head coach.

For 12 months, Yost schemed how to bridle Illinois' Galloping Ghost. He replaced Michigan's unsuccessful six-man line of 1924 with a seven-man front and a diamond-shaped secondary. Legendary Illini coach Bob Zuppke tried to counter the wily Yost by shifting Grange from his customary halfback post to quarterback.

A steady rain throughout the night had turned the Memorial Stadium field into a muddy quagmire. Twenty-five times the Wheaton Iceman carried the ball, and 25 times Michigan sent a shudder through the sellout crowd as Grange was jolted to the turf by bone-crushing tackles. The final statistics showed No. 77 with a meager net total of 55 yards, less than a fifth of what he had accumulated the year before. Among Yost's defensive stars that day were sophomore Bennie Oosterbaan and senior captain Bob Brown. The only score of the game came just before the first half ended when Michigan's little Benny Friedman converted a 25-yard field goal. Though the final margin was just 3-0, that didn't matter to Yost. The burden he carried for more than a year had finally been lifted from his shoulders.