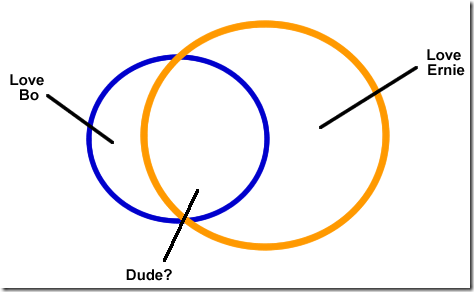 The outpouring of love to Ernie Harwell the past several days has been awesome.  One event that hasn't been discussed too much is the mess when then-Tigers president Bo Schembechler "fired" Harwell from position as radio broadcaster back in the early 1990s.
There is no one more beloved in the Michigan football community than Bo, and I think the Harwell holds the same distinction for Tigers fans.  Given you've got a large population of Wolverine backers that don the Olde English D, how do you reconcile this?  Bo was certainly the villain in the eyes of most and to this day you can buy 'Bo Don't Know Ernie' gear on eBay.  
I'm not going to try to answer this question right now, but there have been a couple folks worth quoting that have commented on the incident.  First, I point you Jim Hawkins from the Oakland Press who shared his insiders looks at the incident on his 'Eye of the Hawk' blog, check it out (and just deal with the odd formatting).  (HT: Ian Casselberry)
According to Hawkins, the gist is that Harwell signed a deal for five years in '86 and "indicated that would be his final contract."   Near the end of that deal he had a change of heart, but the Tigers and WJR wanted to go a different direction thinking they needed to tap into a younger audience.   When the contract was up in 1990 WJR wanted to let Harwell go but Bo insisted on extending Ernie an additional year, giving him a big raise and allowing him to go out with a "farewell tour". 
Hawkins words on what happened next:
Schembechler thought he was being generous. In Bo's mind, he had Ernie's back.

After the 1990 season ended, Harwell, unaware that his future as the Tigers' broadcaster had already been discussed and decided behind closed doors, went to the ballpark with his agent/attorney Gary Spicer to negotiate a new contract.  Reportedly, Spicer asked the Tigers for another five-year deal and a raise in pay for his client.

But Schembechler refused to budge.  So, reluctantly, on December 18, 1990, Harwell signed the one-year contract for 1991 that Schembechler offered.

Ernie also asked the Tigers to schedule a press conference at the corner of Michigan and Trumbull the next day.  The Tigers assumed Harwell wanted to announce his own retirement, following the '91 season, and the ballclub was happy to oblige. WJR, unaware of how Harwell felt, even agreed to broadcast the press conference.

But Ernie was far from happy. He felt was being discriminated against because of his age.

Harwell didn't graciously say good-bye. Instead, he told his adoring public that he was, in fact, being fired.
Interesting to me, I guess I never heard the details presented like this.
And while the great John U. Bacon didn't write specifically on this matter, he did hit on it within the comments of his tribute to Harwell on his blog.  Bacon's a solid source on the matter having spent mucho time with Schembechler on Lasting Lessons, and became friends with Harwell over the years.  Here's Bacs, his comments pretty much in line with Hawkins' account:
…But it's not true that he wanted Harwell fired — not even close. The Tigers — very stupidly, in my opinion — hired a Chicago consulting firm to analyze their marketing approach, and the firm recommended they fire Harwell to attract a younger audience. If hiring the firm was stupid, their advice was even dumber — and showed absolutely no understanding of Tiger baseball culture. One line I had to cut about Harwell was his remarkable cult following among younger fans.

Schembechler, against their advice, got Harwell an extra year, but he did not prevent the firing. He did, however, take the fall for Monaghan, et al, thinking such loyalty was expected and would be returned. He was wrong about that, too, of course, but that's the sequence of events, and Bo's (relatively) limited role in the story.

That said, it was probably his lowest moment in sports. But, clearly, he recovered from it, and, I believe, enjoyed the rest of his years better than any coaching icon I can think of.
Interesting stuff – I'm glad Bacs and Hawkins chimed in on this.  Obviously a few things went wrong here no matter how you view the situation. 
It seems the Tigers (Bo included) didn't communicate very well with Harwell and vice versa.  And reading this reminds you that we're talking about a business and Bo was trying to manage through that and represent his employer.  Meanwhile Harwell was protecting his interests, specifically his pay and desire to continue broadcasting.  It's not all peanuts and Cracker Jack.
500-ish strong, follow MVictors on Twitter