As we approach kick-off against Utah August 30th, the great M blog Maize & Brew is counting down the 100 reasons why Ann Arbor is cool. I don't know if 'Political Correctness' would qualify, but here's a good example of the beauties in this town.
It started with Zingerman's Deli hosting what was purportedly referred to as an "Ypsitucky Supper", although there's some dispute over at Zingerman's HQ over whether they authorized the name. The dinner was intended to be a tribute to the folks that migrated to Michigan from the south to work on the auto assembly line, centering around the work of author Harriet Arnow who's book "The Dollmaker," (which later became a move) involved this area and Ypsituckians.
All this said, the term "Ypsitucky" is probably most often used these days to poke fun despite the wishes of some of the area elite. Upon getting word on the name of the event, Ypsitucky mayor called it "a pejorative term" and councilwoman Lois Richardson said it is "derogatory." A string of apologies and denials by Zingerman's brass followed, and people all over the area took up arms.
Enter Ann Arborite David Collins, who flipped things around a bit, expressing his disdain for those that would jump to the conclusion that the term is derogatory. In his letter to the Ann Arbor News, Collins puts the mayor on blast as he fights political correctness with equal and opposite political correctness back in everyone's face: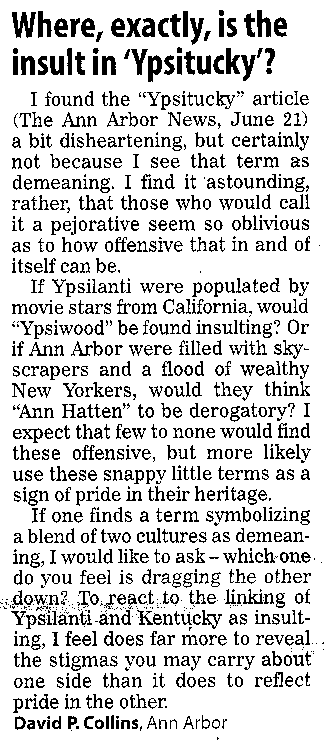 Another reason to love Ann Arbor.