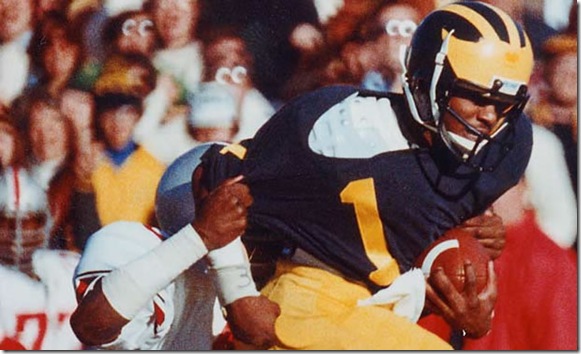 Tonight Rich Rod was asked (audio 6:01 in) if any of the WRs would have the opportunity to wear the #1 jersey this season:
Rodriguez: "You know we haven't discussed the #1 jersey in about, I guess, almost two years now.  I think the last time that was brought up was probably the last time it was discussed.   It's not retired but I guess it's semi-retired at the moment."
He chuckled in the middle of that as well.  Clearly there are no plans for the numero uno to appear in Ann Arbor any time soon.
My take?  He said basically the opposite of what I was hoping for.  I was hoping this was at least on the coaches mind, something they evaluate every season, and that there were a couple guys in "the running".   Oh well.  I do understand Rich Rod wanting to steer clear of it given what happened the first go round.
Tearaways
I love that old photo of Anthony Carter losing his jersey.  There's a tidbit about AC's special tearaway jerseys in Jon Falk's new book that were ordered special for the wiry receiver, after it was noticed that he was frequently brought down by mesh grabbing tacklers.  Falk estimates that Carter would go through "seven of eight jerseys a game" and advised that he packed "15 for him each game—home and away."