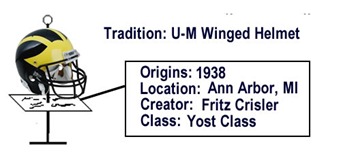 This attempt to list and classify each Michigan Football tradition was originally developed in 2013.  Thanks for all the input from Craig of The Hoover Street Rag, David of @mgoshoe and the readers of this site.
Guidelines:
Individual game or career accomplishments are verboten beyond events that transcend the field.  Heisman Trophies count.  The Desmond Heisman pose counts.  "#Braylonfest" does not.   Tom Harmon's exploits at Cal and Columbus in 1940 do not.
A tradition must take on a particular facet unique to the Michigan football experience or history.  "Tailgating", for instance, is certainly a Michigan tradition won't be listed below.
I put the traditions in the classifications below.  Traditions can move up or down over time.
Traditions we don't all like or are viewed as distasteful or uncreative (see the 4th down "You Suck" chant) are still traditions.
Lots of folks having commented on Michigan Marching Band traditions.  The MMB Wikipedia page has a solid set of traditions listed out and the MMB probably deserves its own classified list.  I tried to cite the most well known traditions here.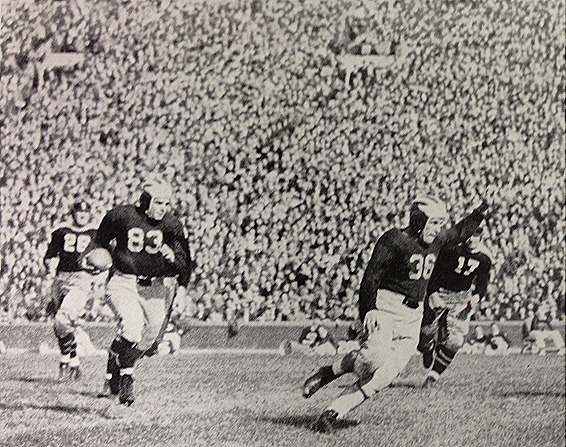 October 1, 1938 – The winged helmet appear for the first time vs. Michigan State
Yost Class:
All-time wins/winning percentage (1879)
Ohio State Rivalry (Ten Year War, The Game..) (1897)
11 National Championships (1901, 1902, 1903, 1904, 1918, 1923, 1932, 1933, 1947, 1948, 1997)
The Victors (1898)
Schembechler Class:
Crisler Class:
Little Brown Jug / Minnesota Rivalry (1903/1892)
Yost Field House / Yost Ice Arena (1923)
Colors: Maize and Blue (1867)
The Mad Magicians (1947)
Desmond Heisman pose (1991)
100,000+ attendance streak (1975)
"Let's Go Blue" tune + chant (created 1972, Michigan stadium debut 1975)
"The Team, The Team, The Team.." speech (filmed in 1983, origins likely prior)
Drum major backbend (1960s?)
Drum major goalpost mace toss
Bo & Helmet award Decals/Stickers (1969-1982,1985-1994, 2015-)
Varsity (1911)
Yellow and Blue (1886)
U-M retired jersey numbers (98,47,48,11,87,21)
#1 Jersey  (Anthony Carter, David Terrell, Braylon Edwards – 1979)
Oosterbaan Class:
Bump Class:
Fourth Down / "You Suck"
Michigan Football Legends Program – Numbers, Patch, Locker (2011-2014 – R.I.P)
MMB "Cake" Formation (1985)
Blue Brothers Dance (2008 Yost, 2011 M Stadium?)
Cheerleaders backflipping off the wall (R.I.P.)
Cheerleaders spelling Michigan in end zone
North / South Go Blue chant
Michigan Replay & the 'Across 110th Street' theme (1974, R.I.P. 2008)
Under Further Review/Bull Pen:
Honoring a Military Veteran during the game (2015)
The Wave (?)
Maize jerseys (1928, 2017)
Post feedback in the comments or via MVictors on Twitter (use #Traditions)