Thanks to MVictors reader Don who helped name the missing player I found in the 1969 team photo [original post]. Per Don, it's Ed Woolley from Pitman, New Jersey who in 1969 was a senior Defensive End under Bo. A quick scan of the 1968 team photo has Ed Woolley identified and it looks to me like Don nailed it. Judge for yourself: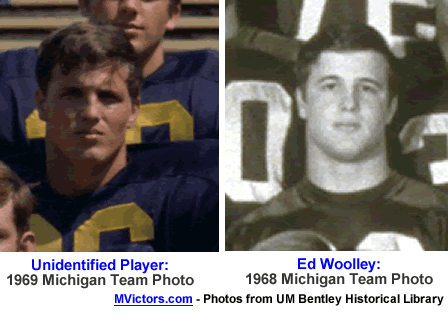 Turns out reader "Don" is Don Eaton, a former player and M Man who played under Bo. And it looks like he had some help. Here's what Mr. Eaton sent to me:
"I was a freshmen on the 1969 team. Freshmen were not part of the varsity team at that time. We served as demo-players throughout the weeks of practice. My close friend, Tom Weinmann, who sustained a career ending injury in 1968 actually identified Ed."
Many thanks for Don and to Tom. I've contacted the Bentley Library and requested they update the team photo.
We can see Woolley's career stats which include a few tackles during the 1968 season. Not sure why he didn't see game action under Bo but that said, you've got to respect any student that is associated with the football program, whether they see game action or not.