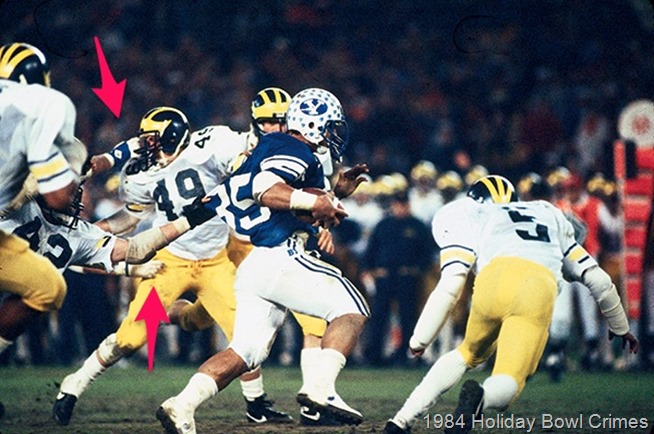 For those of you who weren't old enough to endure the no-holding-calls-ever-made-against-BYU-1984-Holiday-Bowl-disaster, this shutout avenged some of that bitter taste. So you'll have to excuse me if I enjoy this 31-0 shutout just a little more than any other win this year. Alright, enough of that – here are your BYU-1st-shutout-of-the-year-Champions:
OFFENSIVE CHAMPION – Could have gone several ways here, (OBJ Darboh, De'Veon Smith, heck, O-Line for that matter), but I'm going with the guy under center – Jake Rudock. Sure, I loved seeing a Michigan QB RUN for two touchdowns, but it was WAAAY more than that. He looked comfortable running the offense. He threw the ball well downfield – in part to the kick-start provided by OBJ Darboh – and he had no turnovers against the Cougars. Do you realize his turnovers have gone down each game this year? Utah (3), Oregon State (2), UNLV (1) and now BYU (0). Umm – I'll take that ANY DAY!
DEFENSIVE CHAMPION – Last week I mentioned that Channing Stribling set the tone on D with his early INT. This week, the D-LINE came out and made a statement against BYU. Seemed like each series there was a different guy getting penetration and that is a good sign! When BYU had only completed 2 passes in the first half, I thought I was watching an old Rose Bowl from the 1970's! Are you kidding me – 2 completions?? Holy Durkin's Destroyers, Batman!! And then for BYU to only finish with 105 yards and 8 first downs – wow!! Tenacity, technique, depth and coaching – now there's a potent combination.
SPECIAL TEAMS – I almost didn't award one because there wasn't anything scintillating out there on Special Teams – and that's when it hit me. Do you realize how smart and important it is that Jabrill Peppers fields, or at least makes the attempt to field, each punt? Not only does it give him a chance to go all the way, it also improves field position for the offense. There were years, sometimes it felt like decades, where it seemed like Michigan never had a returner who made a concerted effort to catch the ball before it took a twenty-yard roll and ended up being downed at the Wolverine 10-yard line. Don't think that detail is glossed over with this coaching staff. Talent plays a role here for sure, but so does coaching.
UNIFORM CHAMPION – Maybe it was because AC, Anthony Carter, was in the house, but I gotta give it up to Drake Harris, Freddy Canteen, and even Maurice Ways & Drake Johnson for hiking up those white socks all the way up the their knees.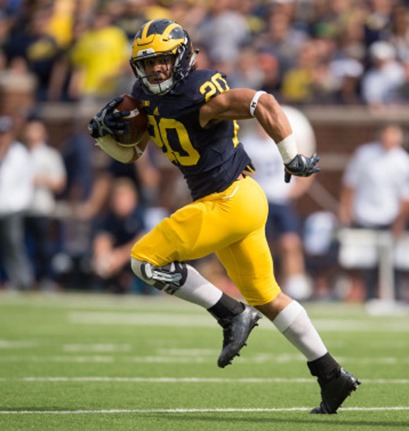 Remember, we're wearing football socks – not tennis socks. Get 'em up!!
CITIZENSHIP CHAMPION – You may not realize how fortunate you are for having being born in this great country, but don't ever take that for granted. This week was another reminder of how special it is to be an American. Amara Darboh is now a United States Citizen, and believe me, take it from a fellow naturalized U.S. Citizen, it IS a BIG DEAL!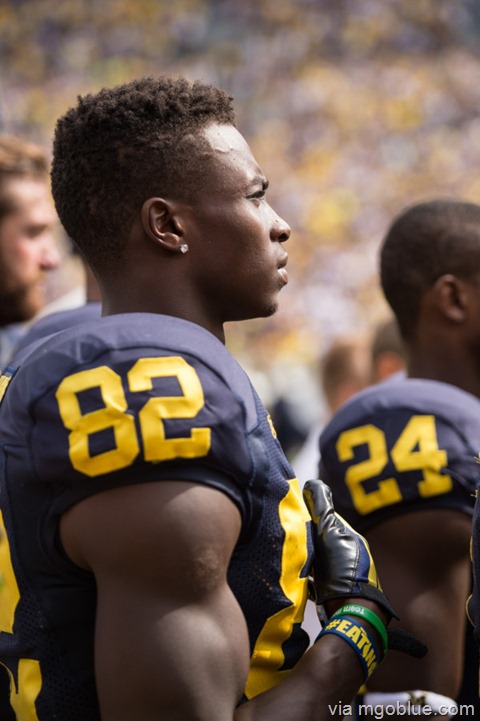 It's probably why Darboh went all Odell Beckham, Jr. like on that 1st quarter catch!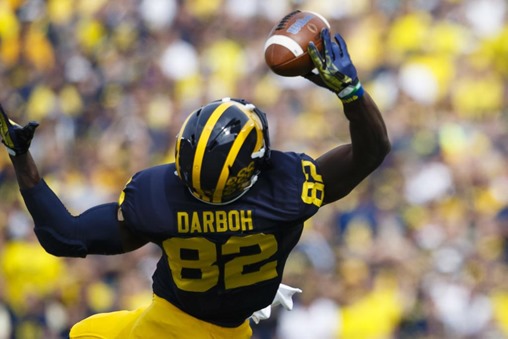 Decal for you, #82, and congratulations!
Decals dealt out in previous weeks:
Utah: Jake Butt, Jabrill Peppers, Blake O'Neill, (Uniform: White Road Uniforms), John Kryk
Oregon State: De'Veon Smith, Chris Wormley, Delano Hill, The Coaching Staff
UNLV: Ty Issac, Channing Stribling, Blake O'Neill
BYU: Jake Rudock, Defensive Line, Jabrill Peppers, (Uniform: Properly Hiked up White Socks), Amara Darboh
Follow MVictors on Twitter
Related: