You can check out the roster for the 2012 Michigan Alumni Game, official called the Victors Classic online now on mgoblue.com.   Last year the Blue defeated the Maize 38-30, and Alijah Bradley took home MVP honors and the bizarre 30 foot trophy.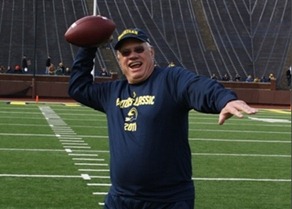 I've got the early line at Blue –1.5 thanks to the strength at quarterback, notably John Navarre who can still wing it.   Toss in All-American Mark Messner, who I believe is making his Alumni game debut(?), you have to lean toward the lads in blue.  
One note:  Recently I learned that '64 Rose Bowl champion and team captain Jim Conley (left, from 2011) would be a game time decision.  If he can go for the Maize you have to move this game to a pick 'em.
I'll be down on the field tomorrow morning taking pics, talking to some players and tweeting out the goods so tune in.
Pics and Recap from the 2011 game here.
Follow MVictors on Twitter