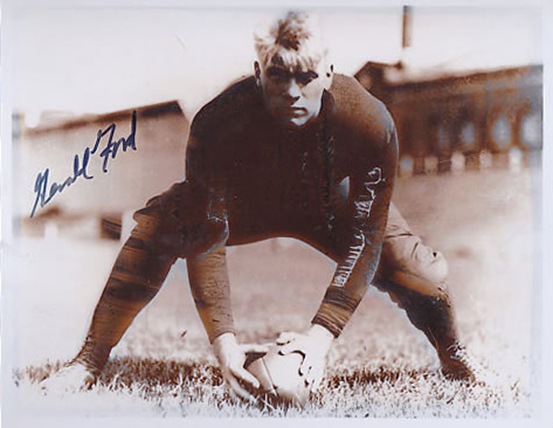 Mark Snyder reports today that Hoke confirmed that Michigan will unretire Gerald Ford's #48 jersey this season:
"I think (the No. 1 will be brought out) in the near future, but I can't tell you it will be this season," Hoke said. "That's something that we're doing a lot of thinking about. We're honoring Desmond Howard now with one of our players who really deserves it, and that's (receiver) Roy Roundtree wearing No. 21. We're going to do the same with Gerald Ford's jersey this year. We're looking at doing it."
Funny, Ira and Sam brought up the topic of unretiring jerseys on my visit to WTKA last week and as mentioned in studio and a couple times before, I'm a big fan of doing this.   So it looks like Ford will be the next member of the Legends club, joining Desmond Howard.
For what it's worth I thought the #48 was the one number they might just leave retired since it's obviously a special honorary distinction, not solely tied to performance on the gridiron (although Ford was MVP of the miserable 1934 squad).
So many questions:
1.  Why is Ford's #48 next to be honored?   The timing question – I have no idea.  I assume they want to honor one former player each year for the next few years, but why is Ford up now?    Could it be…
2.  Could it be they want to use the opportunity to also honor Willis Ward?   Now that's well overdue.  The Regents agreed earlier this year that they would approach Dave Brandon about honoring Ford's teammate Willis Ward.   (The Ward-Ford story and friendship is wonderfully chronicled in the Emmy nominated Black and Blue, check out the new director's cut).   Perhaps Ward will be involved in some way in the ceremony?  Guessing so.
3.  At which game will Ford be honored?   Air Force?
4.  Will a senior wear the #48?  That has been the pattern for the #21, will they do that for the #48?   I'm not sure I would require a senior to wear the Legends numbers – it might be cool to see a player wear it throughout his career.
5.  Who will get it?   If it is a senior, could it be Jordon Kovacs?  (HT: Ira).   Golly gee, Kovacs looks quite a bit like the toe-headed Grand Rapids native back in his prime, don't you agree?
6. Did the family bless this?   As I understand it, via a contact that works with the Ford family, yes, "the family" was approached by the athletic department and they approved it.   I'm intentionally keeping that vague because I'm not sure if there's a clear definition who officially represents the Ford family.   I'm guessing we'll see this come up in the future if/when they decide to honor other former players like Oosterbaan, Kramer, Harmon, and especially the various Wisterts(!) that I assume are out there.   More reason to hope that the athletic department knocks this out of the park so that the other families will follow suit when called.