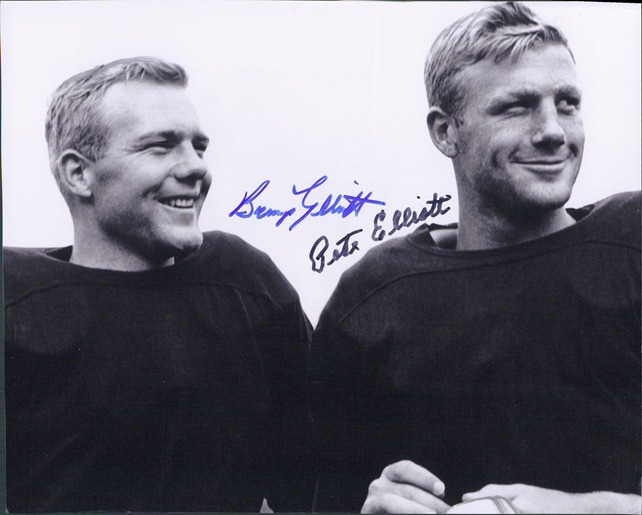 Bump (left) and brother Pete – signed pic up on eBay now
Bump Elliott has lived a life about which they write books and make movies. After he served in World War II, he enrolled in Ann Arbor and led the backfield of the famed Mad Magicians, one of the greatest teams in college football history. After that national championship season he was named Big Ten MVP and an All-American. He took over as head coach in 1958 and led U-M to the 1964 conference and Rose Bowl titles.
Later he went onto a (beyond) sterling career as athletic director at Iowa and was responsible for hiring a few of the greatest coaches in collegiate athletics history. During his tenure he brought 11 NCAA titles to Iowa City.
Elliott is 89 today and still lives in the Hawkeye state. On Saturday, his 1964 championship squad celebrates their 50th anniversary–I hope he makes it to town (I've heard he's planning on it). I also hope and that you–those in attendance–give Bump and his team a massive ovation.
Earlier this year the Michigan legend was kind enough to chat with me about that great season, his legacy and much more.
[Ed. Before the interview transcript just a personal note: I've been doing this for a little while now and hardcore followers I've chatted with many big names in U-M lore. Speaking with Coach Elliott was a huge deal for me on many levels, and I'll leave it at that.]
MVictors: First off, on your nickname "Bump." I've heard and read that no one, not you or even your mother really remember how you got that nickname. Is that right?
Bump Elliott: That's correct. It just happened and nobody could remember, nor could I. [laughs]
MVictors: Talk to me about your team captain on the '64 team, Jim Conley. How do you remember Conley's role that season?
Bump Elliott: Well the biggest asset he gave to the team was leadership. He really was an outstanding leader and the players listened to him. When he had something to say it was important. I think probably as much as the success of that team, as much as anything else, can go to Jim partly because of his leadership qualities and the way he handled the players. He was a senior, he'd been through the mill, and it was a great asset for us to have him working there.
He was a no-nonsense guy, but by the same token, when he had things to say people listened, and certainly the players did. He wasn't the most talented player on the team but we would've been lost without him. He was a great player.
MVictors: Let's talk a little bit about the '64 season itself. In the second game you faced Navy and Roger Staubach [who won the 1963 Heisman Trophy] in Ann Arbor. Any special memories of Staubach?