[Ed.  Originally posted in 2010, a repost for the anniversary of this important day in Meechigan football history.  And if you love Kryk, and I know you do, get STAGG vs. YOST now!]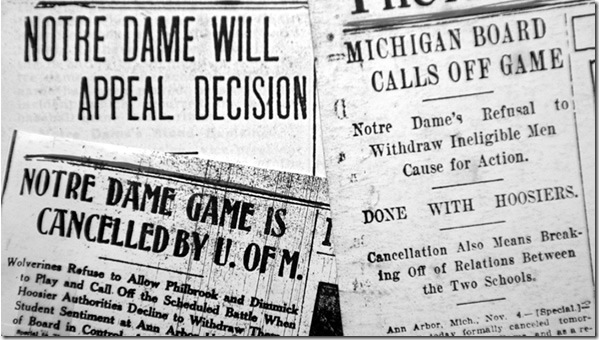 Guest post by JOHN KRYK of Natural Enemies – (Follow John Kryk on Twitter)
On Friday, Nov. 4, 1910, Michigan authorities cancelled the showdown football game scheduled for the next day between the Wolverines and the University of Notre Dame on old Ferry Field, now site of UM's track and field oval.  In a nutshell, the Wolverines contended that at least two Fighting Irish players were ineligible under the rules of the game contract, and when Notre Dame refused to sit them out, Michigan pulled the plug on the contest, and, as it turned out, on the series for the next 32 years.
As I wrote in the two incarnations of my book Natural Enemies, just who was right and who was wrong is difficult to ascertain, because the status of the disputed players rested on the vague and variant eligibility rules of the day. That each side devised interpretations to suit its position, then steadfastly defended that position, should come as no surprise. Nor should the explosions that followed.
Michigan had literally taught the game of football to Notre Dame, in November 1887. For the next 21 years, the teams played off and on, with  Michigan always winning. Small-fry colleges in the Midwest, such as Notre Dame at the time, were always desperate to get a spot on the football schedule of a Midwestern giant such as Michigan, and when they failed it could devastate them. But as I first wrote in Natural Enemies in 1994 (13 years before Mike Hart popularized the analogy):
In Michigan's eyes, Notre Dame was just the pesky kid brother who refuses to understand he can't always hang out with the big boys. And when kid brother goes off whining to the other small fry on the block, well, big brother couldn't care less. But kid brother was determined to prove he belonged. Indeed, for the next two decades, Notre Dame aspired to be everything that mighty Michigan already was in athletics.
In 1909 Notre Dame finally defeated Michigan in its ninth attempt, 11-3 at Ann Arbor. It was the only blight on an otherwise landmark year for Yost and his Wolverines, who knocked off defending national champion Penn in Philadelphia, and Conference champion Minnesota in Minneapolis. The loss rankled Yost and his team, because Michigan was observing the new Conference rules that barred freshmen and limited player eligibility to three years, while Notre Dame was still wantonly playing freshmen and four-year men.
Michigan grudgingly rescheduled Notre Dame for 1910, solely to give Yost and the players a shot at redemption. But they insisted Notre Dame play by Michigan's rules — namely, no playing any freshmen or four-year men.

Come fall, three of Notre Dame's star players from 1909 returned — grizzled linemen Ralph Dimmick and George Philbrook, and back Lee Matthews. Michigan did more digging into their pasts and found that Dimmick and Philbrook were in their seventh years of college football, after having played one season at the University of Pacific in Oregon, three at Whitman College in Washington state, and two previous at Notre Dame. And Matthews had played at the University of Washington in 1907 and the two previous years at Notre Dame. But it wasn't as cut-and-dried as that.   Pacific and Whitman weren't included on the Conference's "list of colleges" for the determination of counting such years of eligibility, and thus Notre Dame argued these men were only in their third years.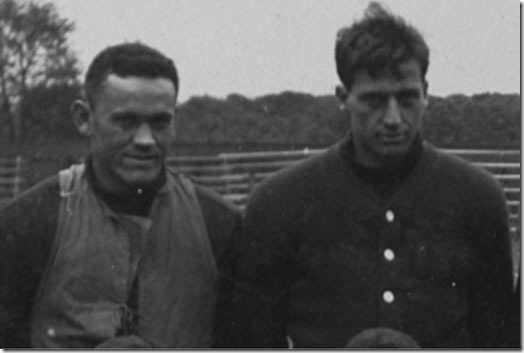 Michigan filed an official protest to Notre Dame four days before the game. For the rest of the week, the athletic authorities at both universities debated the complicated interpretations — first with each other, and then in the press. By Friday, Nov. 4 at about 2 p.m., the chairman of Michigan's Board in Control of Athletics, Evans Holbrook, spoke with his counterpart at ND, Father Crumley, by phone. Neither side backed down, and Holbrook cancelled the game.
The Michigan Daily, for one, was ecstatic. A few months earlier, after a scuffle at a Michigan-Notre Dame baseball game in Ann Arbor, managing editor Lee A. White wrote the following editorial — to this day, likely the most scathing attack of Notre Dame athletics ever written, under the heading "Brass-knuckle" Athletics:
It's time to call quits with Notre Dame. There is no reason for evasion. The plain, blunt fact is that there is a limit to the amount of rowdyism that even (an independent) university such as Michigan is at the moment has to stand. The disgraceful demonstration of the Indiana athletes during yesterday's game is the climax of a long series of questionable acts, and common decency demands no less drastic action than a complete severance of all athletic relations with them…

Were this a single instance of the coarseness of Notre Dame's athletes there would be little enough to say, but it isn't. The close observer of the conduct of that school's teams could cite you any number of like incidents; one dates but a year back, on the local diamond. Why does Michigan continue to give that institution character and prestige by putting up with her mucker spirit?

And the worst of it is we have absolutely nothing to gain by the association that we have built up. We have known all along that despite chicken-hearted "investigations" Notre Dame is universally a supporter of "ringsters" and ineligibles such that she has absolutely no standing in respectable company.
Newspapers across the Midwest went big with the story. For almost a week thereafter, sports sections chronicled the charges and counter charges. Michigan's Holbrook and AD Phil Bartelme slammed Notre Dame, while N.D.'s Crumley and former AD Harry Curtis shot back at Michigan – all of which added up to one of the ugliest off-field controversies of its generation.
The school newspapers, of course, best captured each side's militant point of view.
From The Michigan Daily:
Notre Dame and Michigan have played their last game together, and for this we are truly grateful… A local paper bemoans the loss of the hotly contested Notre Dame games. But Michigan need not worry. When the field of fair and square colleges, capable of putting up a good fight against Michigan, runs below the number necessary to fill our schedule, we'll be ready to vote for the cessation of athletic competition.
From The Notre Dame Scholastic:
We are right – we are sure of that. The ruling which may possibly deprive us of two athletes will be a ruling on a technicality, and no sane man will consider that a fault … We can win a football game or a track meet, but in the matter of post-factum technicalities, we're outclassed.
Unlike the current off-field Michigan controversy, resolved today, in 1910 the neophyte NCAA had no national jurisdiction or mission to investigate anything, let alone make any binding rulings. Schools not in the same athletic conference were pretty much left to their own squabbling.
How far have things changed across the board in Michigan football in the 100 years since? Oh, quite a bit.
Perhaps this sums it up best.
In 1903, Michigan athletic director Charles Baird happily wrote the sports editor of the Detroit Free Press, passing along six complimentary tickets for his staff's use to cover the Michigan-Chicago showdown game, saying, "We feel that the Free Press is very friendly towards Michigan and Michigan athletics."
[Ed.  If you love Kryk, and I know you do, get STAGG vs. YOST now!]
Follow MVictors on Twitter
Follow John Kryk on Twitter !