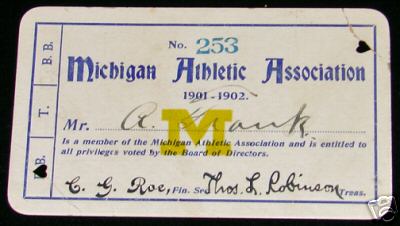 Check out this beauty that sold last night on "the ebay" as Coach Bowden might say. It's a season pass to Michigan football, track and baseball. Other than being very old and kind of cool, the pass was for the famous 1901 Michigan football team led by the great coach Fielding H. Yost. That team not only went undefeated but those old boys defeated their opponents 555-0. Michigan went on to put a beat down on Stanford 49-0 in the first Rose Bowl ever played. Funny, the athletic department assumes the passholder is a "Mr.". On a disappointing note, it seems Michigan chose a heart-shaped hole puncher as the official ticket punch. Kind of weak. Fortunately Yost's boys overcame this.
The winning bid for this gem was $202.50, check it out here.
A few other things about that 1901 team:
– I stumbled upon this article, a pre-season write up on "Middle Western" football before the 1901 and it features a few words about the 1901 team.
– The biggest recorded home crowd that season was 3,500 folks.
– Despite having a very perfect record, this team actually had to share the conference title with Wisconsin, which also finished the league schedule undefeated.
– Other teams with a claim to the title? Here's a listing of the final conference records from 1901, and after reviewing you have to ask about the undefeated Harvard Crimson, at least compared to Cornell.
All in all, it is tough to argue with Michigan's undefeated, untied, un-scored against resume! Harvard gave up a few points to Penn that year, and battled Dartmouth to a 27-12 victory. I'll go with the Wolverines.
On the Rose Bowl:
– Michigan missed 4 extra points in the second half.
– Michigan scored on, get this, a 25 yard punt return.
– The Wolverines ran the ball 90 times in the game, for 527 yards.
– The Stanford "Indians" fumbled 9 times.
Check out eBay for other Michigan football Vintage Memorabilia items today!
Related: (eBay Watch Posts from the turn of the century):
Elephants at Michigan & Trumbull
How about Willie Heston?
1901 Season Football Pass
Rah-Rah-Rah Rose Bowl Rout
'Keep the Jug in Ann Arbor'
1904 and the Mountaineer Romp
Follow MVictors on Twitter!