[A tribute the All-American who won the jug while playing for both Minnesota AND Michigan during the heights of the rivalry.]
Guest post by Mark Schlanderer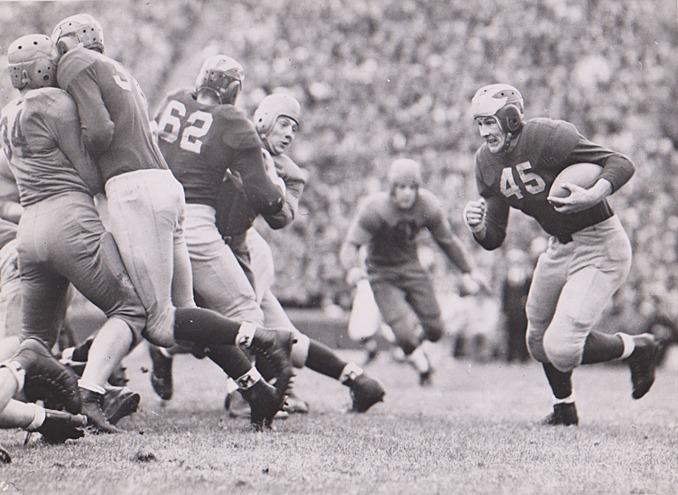 Michigan 1943 consensus All American fullback Bill Daley passed away on October 19, 2015 at 96 years old in Edina, Minnesota. He was a bruising and fast FB, HB and DB at 6 feet 2 inches and 206 pounds (big in those days). He led the 1943 Wolverines to Coach Fritz Crisler's first Big Ten Conference championship and a final AP 3rd place National ranking.
Bill Daley's college football career began with the Minnesota Gophers. In I940, he teamed with All Americans Bruce Smith and Sonny Franck in the Minnesota backfield to win the National Championship. In 1941, Daley was the Gophers team leader in rushing yards and TDs scored, while being in the backfield with the 1941 Heisman winner Bruce Smith in repeating as National Champions. In 1942, Daley again was the team leader in rushing yards and TDs scored. During this 1940-42 three year period, the Gophers won the Brown Jug Trophy from Michigan 3 times. Daley was inducted into the Minnesota Gophers Sports Hall of Fame in 2004.
After the 1942 season, Daley enlisted in the U.S. Navy due to World War II. He was assigned to the University of Michigan Naval training program and became eligible to play football for the Wolverines in 1943. It was in 1943 that Daley attained his greatest individual college football achievements.
Playing against Northwestern with All American Otto Graham at HB and a team that achieved an AP 9th place final National ranking, Daley rushed for 216 yards and scored 2 TDs on long runs of 37 and 64 yards while leading Michigan to a 21-7 win. His 216 yards rushing broke legendary Tom Harmon's prior Michigan game record of 206 yards. Daley's record was not broken until 1952 by Ted Kress at 218 yards, which in turn was not broken until 1967 by All American Ron Johnson.
Daley's next notable achievement was made in the Wolverines' following game against Notre Dame with 1943 Heisman winner Angelo Bertelli at QB and All American Creighton Miller at HB. While Notre Dame won 35-12 against Michigan and achieved a National Championship in 1943, Daley scored a TD and rushed for 135 yards in this game. It was the highest number of rushing yards achieved by any opposing player against National Champion Notre Dame in 1943.
Daley next made a notable accomplishment in 1943 by scoring 2 TDs against his former Minnesota Gophers team, which allowed Michigan to win the Brown Jug Trophy for the first time after losing it 9 straight years. Thus, Daley became the only player to ever win the Brown Jug 4 times while playing both for Minnesota (1940,41,42) and Michigan (1943). This feat is unlikely to be matched by another player again.
Daley was only able to play the first 6 of 9 games played by Michigan in 1943. He was transferred to the Columbia University Naval Officer training program after 6 games, in which he scored 9 TDs and rushed for a team leading 817 yards as the Nation's 4th leading rusher.
At the conclusion of the 1943 season, Daley broke the NCAA career rushing record with 2,301 yards that surpassed the prior record held by 1942 Heisman winner Frank Sinkwich of Georgia. Daley's NCAA record was later broken by Army's legendary Heisman winner Glenn Davis in 1946.
It is remarkable that Daley's 1943 season rushing average of 6.81 yards per carry is still 3rd in Michigan's all time rushing records. His 1943 rushing yards average of 136.2 per game is 5th in Michigan's season all time records.
Daley was the only 1943 Michigan player to be awarded as consensus All American. Daley's 1943 team mates Elroy "Crazylegs" Hirsch at halfback and Merv Pregulman at tackle both have been inducted into the Michigan Sports Hall of Honor and the College Football Hall of Fame. It is particularly notable, however, that it was Daley who was selected by legendary Henry Hatch (Michigan Equipment Manager for 43 years 1921-63) to be on Hatch's greatest Michigan All American team of players that he had ever seen play. It is interesting that Hatch would select Daley at fullback, who had played only 6 games for Michigan, along with such Michigan legends as Tom Harmon and Harry Kipke at halfback, Benny Friedman at quarterback, Bennie Oosterbaan and Ron Kramer at end and Bob Westfall also at fullback. This selection of Daley by Hatch significantly attests to his greatness as a college football player.
In remembrance, such a great football player for Michigan was Bill Daley.