Would this work for you?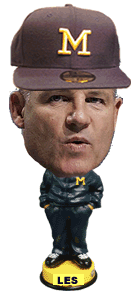 If you missed it, Michigan met with Les Miles last night and Brandon flew home, the athletic department is offering two seats at the new coach press conference, the players have a meeting today at 4pm, and on the way home from Baton Rouge, Dave Brandon wrapped his luxurious plane around Ohio so as not to enter Buckeye airspace.
So why no word yet on whether Miles is the guy?  Tough to say because we don't know what happened in the meeting.  Perhaps they are sleeping on it, perhaps they wanted to wait until Miles delivers his speech today at the coaches convention, perhaps Miles is listening to LSU's counter-offer, perhaps the two sides agreed to move on, perhaps Brandon wanted to give Moe's time to order oversized M hats.
Related:
The Finals: Hat vs Visor, Miles vs. Gruden (vote)
Inside The Hat – Bayou Perspective on Miles (guest post)
Welcome To F5 Day – mgoblog