Steve "Dr. Sap" Sapardanis is a Schembechler-era savant and once again this season he'll be diligently handing out his postgame helmet stickers after each game. Sap has pored over hours and hours of U-M games over several decades, and in these posts he's able to tie the present to the past.  I encourage you to subscribe to Dr. Sap on YouTube, or follow Sap on Twitter or catch Steve rolling around town in the Sap-mobile: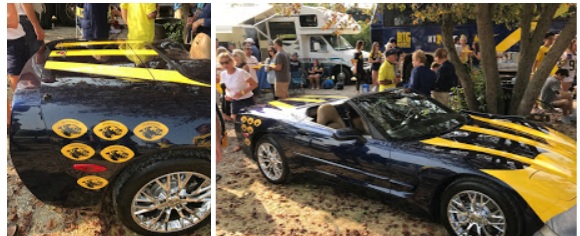 OFFENSIVE CHAMPION:  Nothing notable here, but don't panic, see COACHING CHAMPIONS below..
DEFENSIVE CHAMPION: Chase Winovich seemed to be all over the field on Saturday, especially the Air Force backfield. His intensity and energy seemed to drive him and the rest of the defense to keep pressuring the Fighting Falcons offense all game. While Gary, Hurst and Bush got all the pre-season hype, Winovich's play is starting to command some attention of his own. Gonna need him to keep it up and do the same come November.
SPECIAL TEAMS CHAMPION:  I'm going with Quinn Nordin and Donovan Peoples-Jones, for obvious, and different reasons. First of all, when you kick 5 of 5 field goals and tie a school record for most 3-pointers in a game, you deserve a helmet sticker!
Ok – now for DPJ. Amazing how much more comfortable he looked back there against Air Force this week. Part of it was getting past the first-home-game-in-front-of-your-hometown-friends-and-family-jitters out of the way. As a player, sometimes you want to do so well and so much that you end up what is called "playing outside yourself" and not just letting the game come to you. That's nerves, that's excitement, but that's also coachable. Which gets to my next point about coaching.

A couple of years ago, Lloyd Carr shared with me what he was hit with during his first year as a young Michigan football position coach in 1980. The year before, in 1979, Michigan was the absolute WORST team in the country when it came to Special Teams execution. The Wolverines fumbled trying to receive punts, missed field goals galore, and even had some punts blocked. It was not good. How did Bo handle it? With an enthusiasm unknown to Lloyd Carr. Because Bo felt the special teams were not coached as well as they should have been in 1979, he assigned every coach a position on the 1980 special teams. Much like anything in life, business or sports, if you focus on something and monitor whatever you are concerned about, you will more than likely improve performance. So what happened in 1980? Michigan led the country in several Special Teams categories. The same thing happened this week. Jim Harbaugh obviously put more focus and attention to Special Teams and it showed on Saturday – specifically the punt return team. The talent is there, and now it seems the coaching and focus is as well.
COACHING CHAMPION:  I'm going to talk you all off the ledge and go with the J. Ira and Nicki Harris Family Head Football Coach, Jim Harbaugh. Am I concerned that the offense has struggled to put up points and score touchdowns once again this season? No. Here's why: generally and historically speaking, teams typically have their defenses more developed and ready to go at the start of the season when compared to the offense. Why? I think the answer is twofold:
(1) Defensive play is typically more emotionally based, while the offense has more of a cerebral look and feel to it. Not saying that there is less strategy involved and employed on the defensive side of the ball, it's just that defenses can hit the ground running a little sooner than the offenses do. Maybe it's a timing thing with offensive pass routes and blocking. Maybe not.

(2) I can remember Bo and even Lloyd talk about how much of the offense was still needing to be "installed" as the season progressed. I used to hate hearing that, by the way, but I do understand that performance and victories are based and founded on execution. Plays don't get called by the coaches and/or get successfully executed in games until they are perfected in practice. All you had to do was look at the Cincinnati offense last week and all the passes their QB missed on.
Don't panic. It is a common coaching strategy to not reveal all your cards so early in the season – especially against teams that you have a schematic and talent advantage over.   Do you really think the Michigan offense used all the plays in their playbook against Air Force? I don't. Remember how that-sweatervest-coached-team-from-down-south won a national championship when it seemed like they were just barely beating their opponents each week? Remember how awful Connor Cook and the MSU offense looked at the beginning of the 2013 season? Remember how they won the B1G Title that year?
The offense is gonna be just fine – trust me.
UNIFORM CHAMPION:  The lack of white and nothing but maize and blue on the home uniforms is starting to grow on me. I'll be the first one to tell you that I loved the white socks and white wrist bands the players wore back in the day. That was a cool look back then, but as they say, "That was then and this is now." Now, the look is ALL maize and blue from head to toe and I gotta admit, the Jordan Brand has nailed the home uniforms – they look solid!\
Follow Dr. Sap on Twitter!
Follow MVictors on Twitter
Related:
Week by Week Champions (O = Offense, D = Defense, T = Special Teams, C = Coaching, U = Uniform, E = Editor's pick)
Week 1 vs. Florida:  Ty Issac (O), Devin Bush (D), Quinn Nordin (T), Don Brown, Greg Mattison (C), all-maize unis (U), Camaron Cheeseman (E)
Week 2 vs. Cincinnati:  Ty Issac (O), Tyree Kinnel (D), Grant Perry (T), Greg Mattison (C), refined helmet decals (U).
Week 3 vs. Air Force:  N/A (O), Chase Winovich (D), Quinn Nordin & Donovan Peoples-Jones (T), Jim Harbaugh (C), full on maize and blue uniforms (U)
Week 4 vs. Purdue: