According to Brian Cook, yes indeed:
…But apparently it is happening. The contract is being signed Monday. Which is tomorrow.

The following details are unconfirmed but of interest since they come from an established source:

Game is happening because a desperate Jerry Jones "overpaid."
Michigan will be the nominal home team (important mostly for TV rights) and receive more money.
There's no additional game scheduled and there may not be.
Jones might be well-positioned to provide some advice on HD scoreboards.
Source?
[Note on sourcing: in this case I am going with one source, but he is a very established one.]
More details are emerging this afternoon.  Apparently the teams are going to play for this trophy, to be presented on a Super Bowl-like stage at midfield by Jerry Jones himself after the game: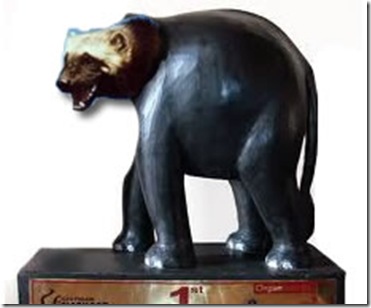 VERY COOL.  If true (still working on sources) this will knock the Paul Bunyan Trophy down a notch and compete with the Jug as the finest rivalry rack we compete for.   It's uncertain whether the history of games will be retroactive to the epic 2000 Orange Bowl when Tom Brady and crew took down the Tide in overtime. 
Not the First Time.  On a serious note, it's not the first time Michigan's squared off against a big name opponent on an iconic neutral site of a professional sports team.  Check out those posts on Michigan's battles against Army at Yankee Stadium in 1945 (vs. Doc Blanchard and Glenn Davis) and this 2008 post about the rematch vs. the Cadets in 1950.  (HT: MaizeMan10 of mgoblog for reminding me of my own post.  I'm almost 40 and it's showing.)