Do you know these guys?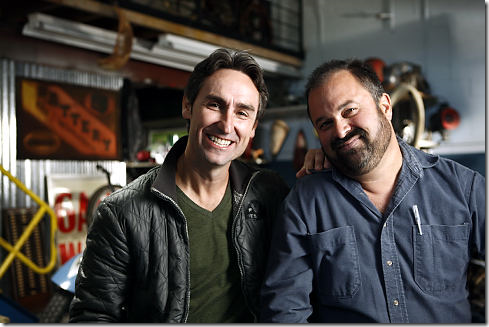 That's Mike Wolfe and his partner Frank Fritz, stars of History Channel's American Pickers.   According to AnnArbor.com, the treasure hunting pair is coming to town looking for a good pick:
Show producer Jeff Eggleston confirmed on Tuesday that the show will be coming to Michigan, but said the itinerary is not set. The show plans to shoot in the area sometime between April 12 and April 24, he said.
So why do I care?  I love the show but more importantly, check out what's on Eggleston's list of items they are looking for on their visit:
Michigan sports memorabilia: Unique pieces related to any of Michigan's college or professional sports teams.
I try to catch the holy trinity of memorabilia shows on Monday: Antiques Roadshow, Pawn Stars and American Pickers hoping that one day they'll stumble upon an item related Michigan football and dial up yours truly to provide some expert input.   (I even stretched this wish to Detroit's Hardcore Pawn as I told Hondo Carpenter the other day.) 
I reached out to the show's research department to let them know I'm available if they find anything, and I suggested a couple places/people to talk to about their collections.  If you know of an awesome collection they should check out, email americanpickers [at] cineflix.com.