Guest Post by Steve "Dr. Sap" Sapardanis
When looking back at some classic pictures and photos of Anthony Carter, you will notice that most of the time his jersey looked different from those worn by his Michigan teammates. Your eyes aren't deceiving you – AC, at times, did in fact wear a different jersey than his maize & blue brethren: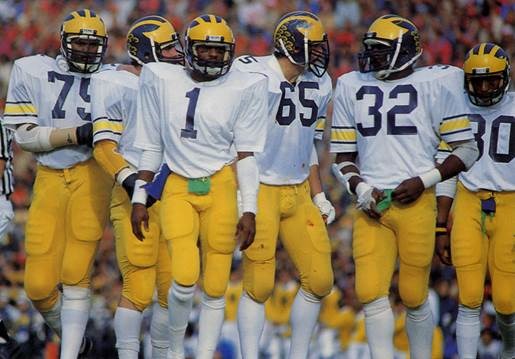 From 1979 through the 1981 season, Carter wore tear-away jerseys made by Russell Athletic.
Created in 1967 and known for the name they were given, these jerseys would indeed rip and tear apart whenever an opponent tried to grab them.
Before the Michigan jerseys became skin-tight, custom sewn, works of art by a local Ann Arbor seamstress in 1987, football jerseys some 30 to 40 years ago were loose-fitting garments that draped over the players. The excess material was perfect for a defender to grab onto and take an opponent down, sometimes even from behind. This technique was called a "shirt tackle." You've probably never heard of that term because when the tear-aways were banned by the NCAA in 1982 (the last year they were used in the NFL was 1979), football jerseys gradually became tighter fitting, making it almost impossible to bring down a ball-carrier via a shirt tackle.
Recently legendary Michigan Football Equipment Manager Jon Falk shared with me the story of how Carter got to wear the tear-away jersey at Michigan. After sitting down with Bo Schembechler in the spring of 1979 and assigning the heavily recruited Riviera Beach, Florida wideout the #1 jersey Falk had a feeling Carter would be special. Sure enough the first few practices indeed showed everyone how fast and dynamic AC was. Never before had a receiver been able to catch every ball thrown to him in practice. Carter was able to chase down any pass, no matter how far it was thrown. For three-yards-and-a-cloud-of-dust-Bo and Michigan, this sight was truly shocking.
Schembechler noticed that the times Carter caught the ball in traffic, the only way the Michigan defenders could bring him down in practice was to grab his jersey. He was just too quick and elusive to bring down any other way.
Two weeks before the season opener against Northwestern, the Michigan jerseys arrived from manufacturer Spanjian and this got Bo thinking – if Carter wore a tear-away jersey the opponents would never be able to bring him down! Schembechler told Falk to get some tear-aways for his freshman wideout, but there was one problem – with the college football season only two weeks away, Russell was too busy completing jersey orders for other teams. When Big Jon asked the manufacturer to make some tear-aways, he was told they couldn't meet his request at that time.
Undaunted, Falk pulled out a trump card and called a longtime friend–the owner of Russell Athletic. Sure enough, the owner ordered the Russell plant to stop all other production so that they could make some maize and blue #1 tear-aways for Anthony "The Darter" Carter. The rest is history. Here's how they looked (note: no Carter nameplate on the back):
Falk also confirmed my suspicion that Carter was the only player to wear tear-away jerseys at Michigan. Big Jon told me that he would pack TEN (10) of the #1 tear-away jerseys for each game and that the most Carter went through in one game was four, which happened 3 or 4 times between 1979 and 1981.
Related:
Helmet Decal Details with Jon Falk
Keeping AC Warm – How Michigan Landed Anthony Carter
Follow MVictors on Twitter