Quick question out to Michigan memorabilia collectors or fans.  Do you know anyone with an original copy of one of the stadium bonds used to finance the Big House construction?   Please let me know. 
In a nutshell, the $500/3% tax-free bonds were devised by Yost to finance the stadium construction project.  Word on the street is that there are still quite a few of these in attics and basements around Ann Arbor.  Here's what they look like: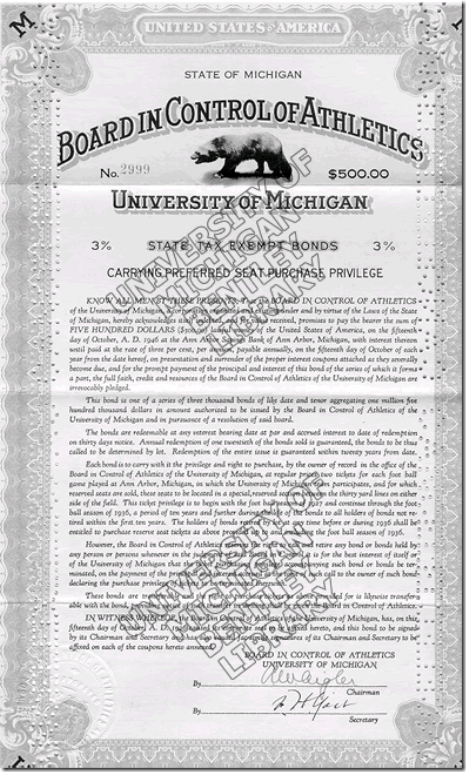 Much more on the bond sales here and much, much more in The Big House by Robert Soderstrom.  An from the U-M Bentley Library:
Yost was sure the alumni would look upon the stadium bonds as a good investment. As an added attraction, each $500 bond guaranteed the right to purchase two tickets between the 30-yard lines for a 10-year period. One person even argued that the right to purchase tickets alone was so valuable that the bonds would not have to pay interest. One-twentieth of the bonds were to be retired each year through a random drawing. The ticket privileges were guaranteed for 10 years even if a bond was redeemed. The stadium bonds went on sale August 20, 1926.
More later.  If you know of the whereabouts of one of these beauties, let me know.