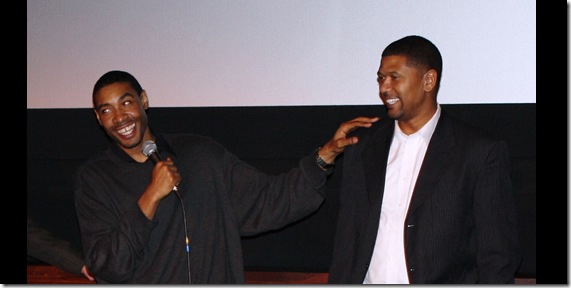 A few audio clips from the Q&A in the aftermath of Jalen Rose's Ann Arbor premiere of tonight's ESPN Fab Five documentary.   More commentary, photos, etc. here.
In order:
1.  Jalen On Chris Webber, why he hasn't seen documentary and the time he still needs.  He says there's no beef with the team or whatever.  Jalen just says that Chris isn't ready to talk about it, says he's still carrying a lot with him especially after to the two finals losses at the timeout.  Jalen hoping he finds some way to "release" all that weight.
2. Jalen on the trip to Europe right after the 1991 Finals and how he feels they were exploited.
3. Jalen on how ESPN feels about the Duke/Uncle Tom comments and his message to the Duke guys he works with.   He told ESPN, "Ya'll better not fire me on Monday.."
4. Jalen on the content he wishes they could have fit into the film but didn't make it.  Jalen says there are a lot of things, but he definitely wanted to point out how life was in the early 1990s (pre-internet, how people felt about the music.)
5. For fun, someone asking Jalen if he would have called the timeout if he were in the same situation as Webber.  Basically Jalen won't answer but Jimmy King is sitting  behind him shaking his head "No, no no no no" and the crowd loves it.
Clips: