Steve "Dr. Sap" Sapardanis is a Schembechler-era savant and once again this season he'll be diligently handing out his postgame helmet stickers after each game. Sap has pored over hours and hours of U-M games over several decades, and in these posts he's able to tie the present to the past.  I encourage you to subscribe to Dr. Sap on YouTube, or follow Sap on Twitter:
OFFENSIVE CHAMPION – For the second week in a row, Ty Isaac seemed to give the offense the spark and, more importantly, the consistency it needed to win this game. When the offense sputtered, Isaac seemed to relish the role of carrying the rock. I thought he was finally going to take one to the house in the 4th quarter, but his long run set Michigan up for another score to essentially put the game out of reach. Solid, steady, turnover-free, production from the running back spot is something that Isaac seems to have mastered so far this year. Hopefully he can continue to deliver that kind of play throughout the rest of the season.
DEFENSIVE CHAMPION – Tyree Kinnel not only had the pick-six that appeared to (at the time) ice this game early in the 1st quarter, he also had a sack and led the team with 9 tackles. Getting good, smart, athletic play from the safety position is critical for any defense. They run and organize the defensive backfield and are critical to the unit's success and execution. This team, and this defense, needs Kinnel to keep on keepin' on!
SPECIAL TEAMS CHAMPION – The momentum of this game turned on the Special Teams miscues in the first half. Much like Jim Harbaugh sat down Wilton Speight last week against Florida to settle his QB down, the insertion of Grant Perry returning kicks in the second half settled not only the special teams down, but I feel, the entire Michigan squad. Skill and athleticism are important traits to have if you are going to return kicks, but experience and communication are just as important. We may have taken for granted what Jabrill Peppers did last year, as far as being sure-handed and very fast. Not saying Michigan doesn't have that type of player on this team right now, I'm just saying that it might take a few more games to settle on who will be the regular at this position. Might be a veteran like Perry, might be someone else. We'll see…
COACHING CHAMPIONS – I'm going to go with Defensive Line Coach, Greg Mattison. The d-Line was constantly in Bearcat QB Hayden Moore's face all game. The Cincy signal-caller heard footsteps all afternoon and if the opposing QB has happy feet, that's just as good as a sack because that affects not only the quarterback's timing and throws, but more importantly, his mindset. If he is thinking about where Maurice Hurst is or where Rashan Gary is, that's less time he is spending thinking about where to throw the ball next, and that's a good thing!
UNIFORM CHAMPION – I can't tell you how cool it was to (once again) see the wolverine decals on the Michigan helmets! As I said last week, as long as Jim Harbaugh is the Michigan football coach, there will be helmet stickers on the Wolverine headgear. Now, from what I can tell, it does indeed appear that the blue outline has been removed and it also seems as though the stickers may be that much smaller in size. Probably a wise move, as making them smaller will allow for more to be placed on the Michigan helmets. I'll see if I can track down one and provide a more detailed analysis later in the season.

I also noticed that the warning label has been moved from the side of the helmet to the back and bottom of the helmet. Why do I call this out?  Well, this frees up more space on the helmet for at least one more helmet sticker, but more importantly, this allows for a more symmetrical placement of the stickers on each side of the helmet. Oh, and by the way – the last time the warning label was located on the bottom and back of the Michigan helmets?  1986.  Coincidence?  I don't think so…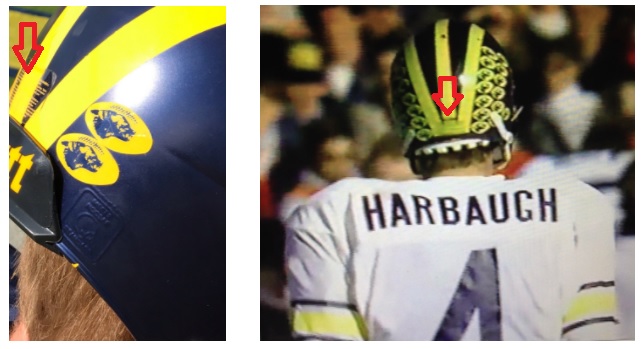 Follow Dr. Sap on Twitter!
Follow MVictors on Twitter

Week by Week Champions (O = Offense, D = Defense, T = Special Teams, C = Coaching, U = Uniform, E = Editor's pick)
Week 1 vs. Florida:  Ty Issac (O), Devin Bush (D), Quinn Nordin (T), Don Brown, Greg Mattison (C), all-maize unis (U), Camaron Cheeseman (E)
Week 2 vs. Cincinnati:  Ty Issac (O), Tyree Kinnel (D), Grant Perry (T), Greg Mattison (C), refined helmet decals (U).
Week 3 vs. Air Force: