One hundred and fifty eBay Watch posts later, I figured it was time to run down my favorites.  To recap, here are items #10-#6, published earlier this week.  The Top 5:
5.  Suit Up like one of Yost's Men (posted June 15, 2009)
Probably the most remarkable auction of Michigan lore I've seen on eBay.  A freaking Yost-era uniform – belt, pants, helmet, and shoes – from the early 1910s up for sale.   What else can you say?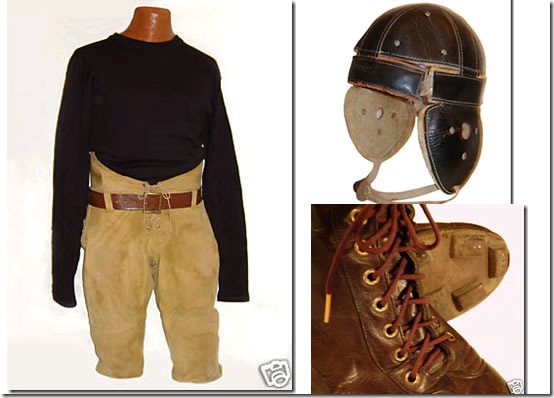 I guess the question is what does one do with this stuff?  Put it on display in the man cave or home office?  It absolutely belongs in Schembechler Hall or at the Bentley Library.  I'm not sure what happened to it but it fetched a lot of bucks that's for certain.  Read the original post here. 
– – – – – – – – – – – – – – – – – – – – – – – – – – – – – – – – –
4.  Coach Mac wants his Mojo Back (posted January 2008)
Many ring-on-eBay dramas have played on this site thanks to eBay Watch.  Recently you've had the former assistant Scot Loeffler/pawn shop '97 ring imbroglio, which is still playing out.   Then in 2008 you have the Allen Bishop 1986 Rose Bowl ring saga.   Arguably this tale is my favorite of all: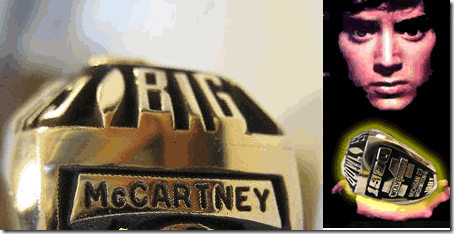 A seller offered a 1980 title ring bearing the name McCartney, claiming it was a "salesman's sample".   Shortly after the auction closed the wife of former coach Bill McCartney wrote to MVictors and claimed that this was no sample – it belonged to her husband, former Bo assistant and Colorado head coach Bill McCartney.  A portion of Lyndi McCartney's note:
That ring is part of our life story. It represents a significant and cherished time in our lives. We'd love to have the ring back. Coach Mac is not buying that it's a sample ring – he thinks it's the real deal and someone stole it and sold it.
I tried but unfortunately I wasn't able to track down the buyer.  The McCartney ring is still out there somewhere.  Later I contacted Mrs. McCartney to let her know that the ring company can reproduce authorized replacements with the proper permission/verification.
– – – – – – – – – – – – – – – – – – – – – – – – – – – – – – – – –
3.  1901 Season Pass (posted December 6, 2006)
Probably the item that inspired the eBay Watch concept and I don't even remember how I stumbled upon this.   It's what appears to be a season pass to the Michigan athletic schedule for the 1901-1902 athletic year.   I've haven't seen this or anything like it since and I kick myself regularly for not having shelled out the bucks to buy it: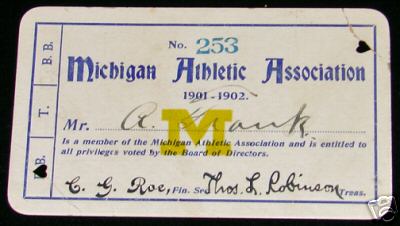 1901 ring a bell?  How about Fielding Yost's really, really perfect season, his first in Ann Arbor, when he and the boys rolled up opponents 550-0 including a trouncing of Stanford in the first Rose Bowl. 
If anyone knows who owns this today please let me know, I'd love to chat.   Check out the original post here.
– – – – – – – – – – – – – – – – – – – – – – – – – – – – – – – – –
2.  The Drunk and Old 98 (posted December 15, 2006)
It was a hot week for eBay and I'm not even sure eBay Watch existed.  If the 1901 Season Pass didn't get me hot on this concept as a long-term series, this did.  Rarely do I actually buy the stuff I write about but I couldn't pass this auction up. 
A seller offered this single page from a 1940 issue of Life Magazine featuring Michigan Tom Harmon squaring off against a rowdy (likely pickled drunk) Cal fan who entered the field to tackle Old 98: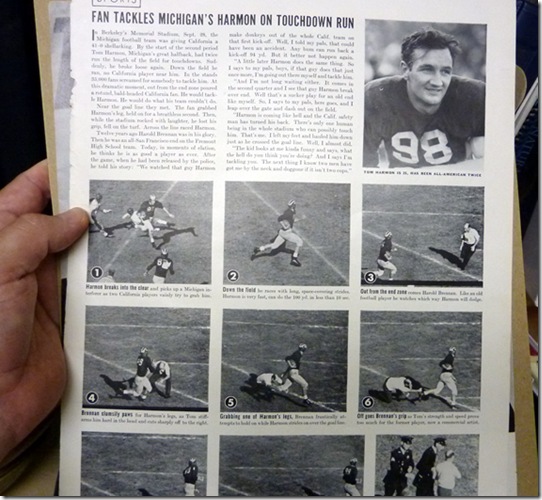 I love that even the headline claims that Harmon was taken down by the fan "Fan Tackles Michigan's Harmon.."  Umm – I submit exhibits 5-9 that Harmon was never taken to the ground.
Other than it being awesome, I needed to find some way to share the tale with Michigan fans other than just showing a shot like the above.   I scanned it in and created a kinda crude YouTube depiction of the tale of Harold Brennan vs. Tom Harmon:
Last season on what would be Harmon's 90th birthday (and the 79th anniversary of this incident) I pumped out a fine-tuned version of the epic encounter including a little background music:
I love it to this day and it gets better as you find more subtle items as you go.  Mavens of Harmon v. Drunk will love WolverineHistorian's video clip of the run as well.   Watching the Cal buffoons try to bring down Harmon makes you understand why Brennan hopped on the field.
– – – – – – – – – – – – – – – – – – – – – – – – – – – – – – – – –
1.  The Willis Ward Protests (posted April 30, 2009)
The 1930s is my favorite decade in Michigan football history because the period encompasses a wild mix of the best and worst of football, on and off the field.   One of the most fascinating events occurred when prior to their scheduled game in 1934, Georgia Tech made it known that they would not take the field if Willis Ward, an African American player on Harry Kipke's roster, was permitted to play.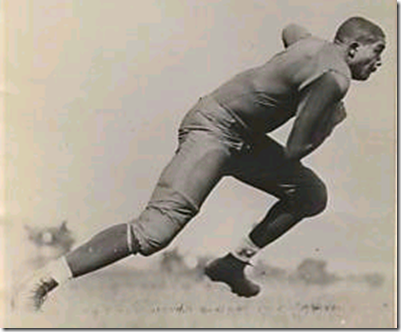 Wire Photo of Willis Ward, 4/30/2009 eBay Watch
Ward, featured in the wire photo above that prompted the eBay Watch post, was the road roommate of Gerald Ford and fine player on the team.  Word got out on campus about about the Jackets' demands and soon the campus was ablaze in protests.
In this post I chronicle how this played out in the week prior to the game.   To-be playwright Arthur Miller, a student at the time, had a loose tie to one of the Georgia Tech players and according to a Miller biographer, his attempt to intervene in the whole mess went bad:
'Miller was right in the middle of this'…Not only did the visiting team rebuff 'the Yankee' Miller 'in salty language', but they told him they would actually kill Ward if he set one foot on the Michigan gridiron. 'The Georgia Tech team was wild.' Miller was furious. He 'went immediately to the office of the Michigan Daily and wrote an article about it, but it was not published.'
The ugliness hit its peak on Friday night during a rally, as insults (and coins!) were hurled at speakers.   No one was immune from the shots:
Shots were hurled at the frat boys (yes, Hitleristic in 1934):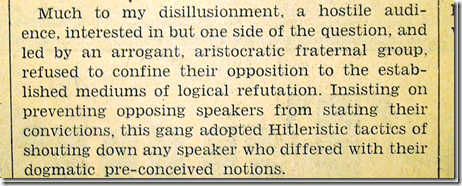 Shot fired at The Michigan Daily for the depth of its coverage:

And a few questions for the athletic department and administration:

You think RichRod knows drama?    Read about it here.