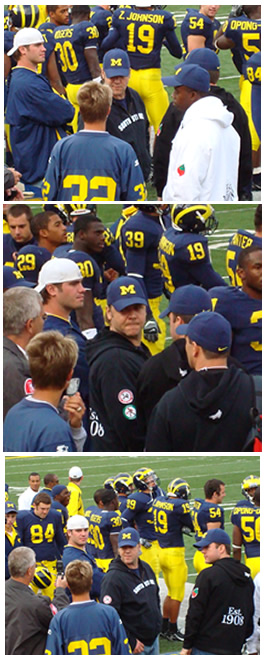 Seeing famous people on the sidelines of Michigan games is nothing new. Come early to the Ohio State game and you'll see famous Michigan alums, whether it be athletes such as Tom Brady or Derek Jeter, or journalists like Mike Wallace.
No matter what you think of Hollywood or of Russell Crowe in particular, having Crowe and some of his South Sydney rugby team on the sideline Saturday really mattered. The timing of his decision to come by and help out his buddy Coach Carr couldn't have been better. While we'll never know the true impact of the visit, here's a few areas where I think the visit was big:
– Back to Cool: For players, fans and even recruits, Crowe's visit reminded folks that despite those calling for the coach's head and the poor start this is still the University of Michigan football team and this is still a pretty cool place to be. How many players called their folks after the game and told them about meeting Russell Crowe? I openly asked last week if any of the recruits that Carr visited with prior to the Oregon game had any intention of becoming a Wolverine. Well, I think those at the game this week might have a different take on their future plans. [Speaking of future plans, I see that Coach Weis has "landed" many top 100 high school seniors…are any of those guys having second thoughts?].
– Off of Carr's Back: While the best medicine for Carr was the dominant victory over the Irish, Crowe's presence took some of the attention away from the booths of people selling their lame Fire Carr gear and the rest of the media salivating to see more of the M trainwreck. He said he came to help out his friend and he did.
– Something else to think about: A final reason why's Crowe's visit mattered. Carr made sure that the star had a few chances to address the team and I'm sure it helped take their mind of the reality off of the past two tortuous weeks and onto a new point of focus. You have to assume Carr tied a theme into Crowe's visit, perhaps going back to the Cinderella Man story.
More on this from the Ann Arbor News, check out Shawn Crable:
Added linebacker Shawn Crable: "You see him in 'Gladiator,' then he comes in and he has this Australian accent. It's like, where did that come from? It's different, calling people blokes and stuff."