A few quick takes and updates for you:
Shand vs. Martin: Bill Martin was served with papers and they were accepted by the University. The school hired the firm of Butzel Long to defend Martin in the case. [More on the Shand firing here]
Tickets Arrive. Ahh, always a great day. Season ticket holders have their tickets in their greasy hands. This year is definitely special with an incredible home slate including Oregon, Penn State, Notre Dame and Ohio State.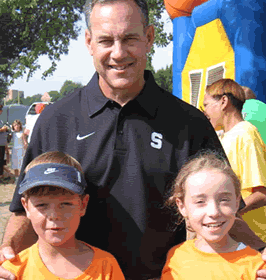 Dantonio Shines at JDRF Walk. Most of you know that MVictors.com is a huge supporter of the Juvenile Diabetes Research Foundation (JDRF). The JDRF recently added a charity "walk" in East Lansing after years of having big walks in Ann Arbor and Warren. Former MSU coach John L. Smith was a big supporter of JDRF and new head man Mark Dantonio really impressed over 1,000 walkers on the banks of the Red Cedar on Saturday by not only showing, but walking and taking some time for a few pictures.
More on Hart vs. Harbaugh. I spoke to a former M player at a wedding this weekend in west Michigan. He actually hadn't heard all the details of Harbaugh's comments and Hart's blast back, so I broke it down for him. While he acknowledged he had a lot of respect for Harbaugh, but after hearing the gist he immediately said 'see ya' to Harbaugh and backed Hart.