Guest post by Steve "Dr. Sap" Sapardanis
Much like I did a few years ago with the Bo Brackets in trying to determine Bo's best team, this time I decided to answer the age old question: Who was Bo's best running back?
There have been some great ones over the years and I thought it would be a fun look back on what these former Wolverines did on the gridiron.  Again, when looking back, I kept the backs in their own era or decade – this makes it easier when comparing stats and accomplishments. As a result, I put the best 16 backs of the 70's on one side and the top 16 backs of the 80's on the other side of the brackets.  I used the following criteria to help determine who would advance each round to become Bo's Best Back:
Round 1 – Best Stats (Yards Gained, TD's, etc.)
Round 2 – Best/Signature Game
Round 3 – Best/Signature Run
Round 4 – The Hypothetical Handoff. If you needed someone to carry the rock on 4th and goal on the last play to win the game, who would it be?
Round 5 – Reader/Viewer Vote
Alright, enough of the preamble. Below are the brackets: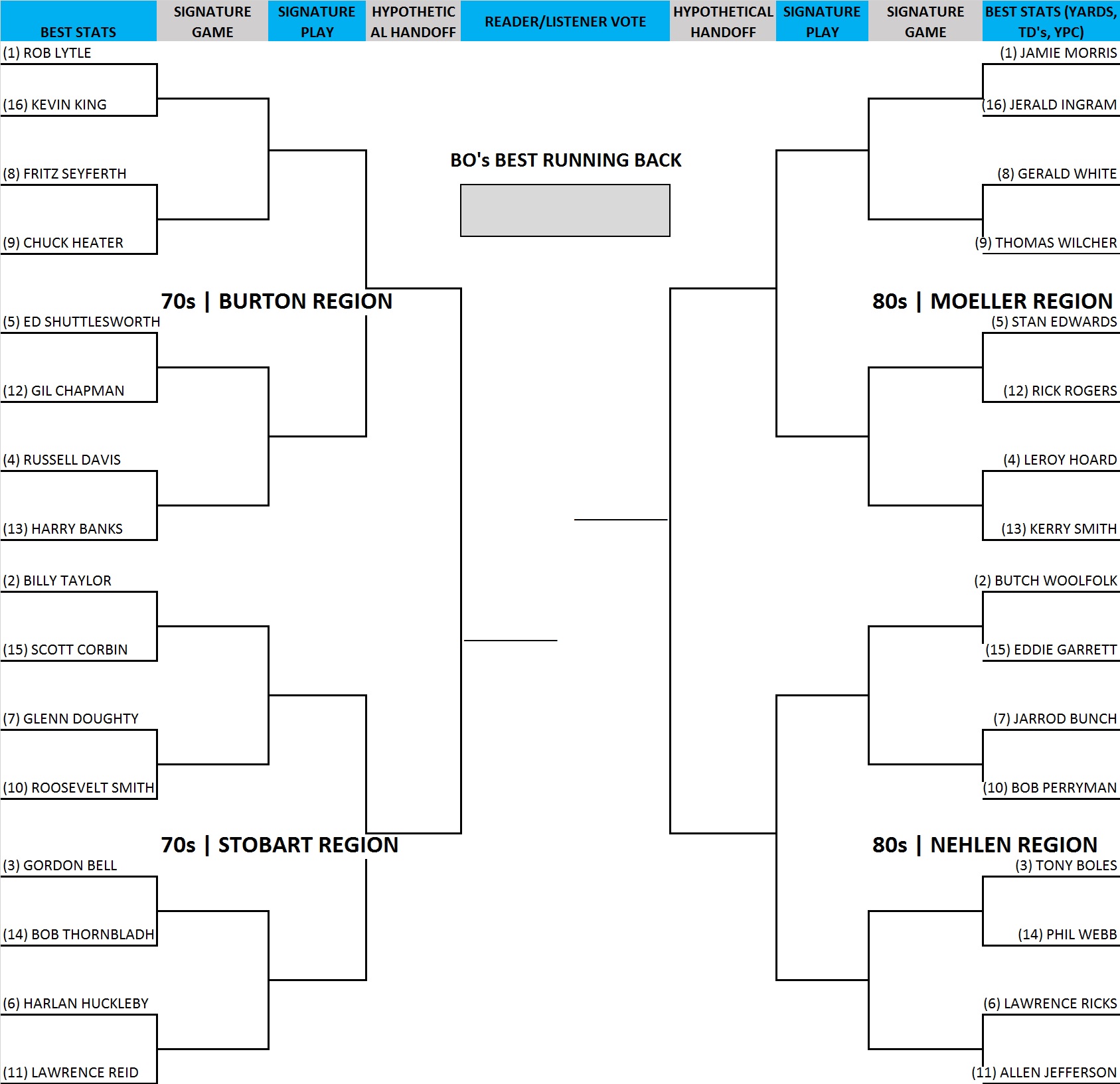 On to the match-ups!
ROUND 1 – ALL ABOUT THE NUMBERS
BURTON REGION
(#1) Rob Lytle vs. (#16) Kevin King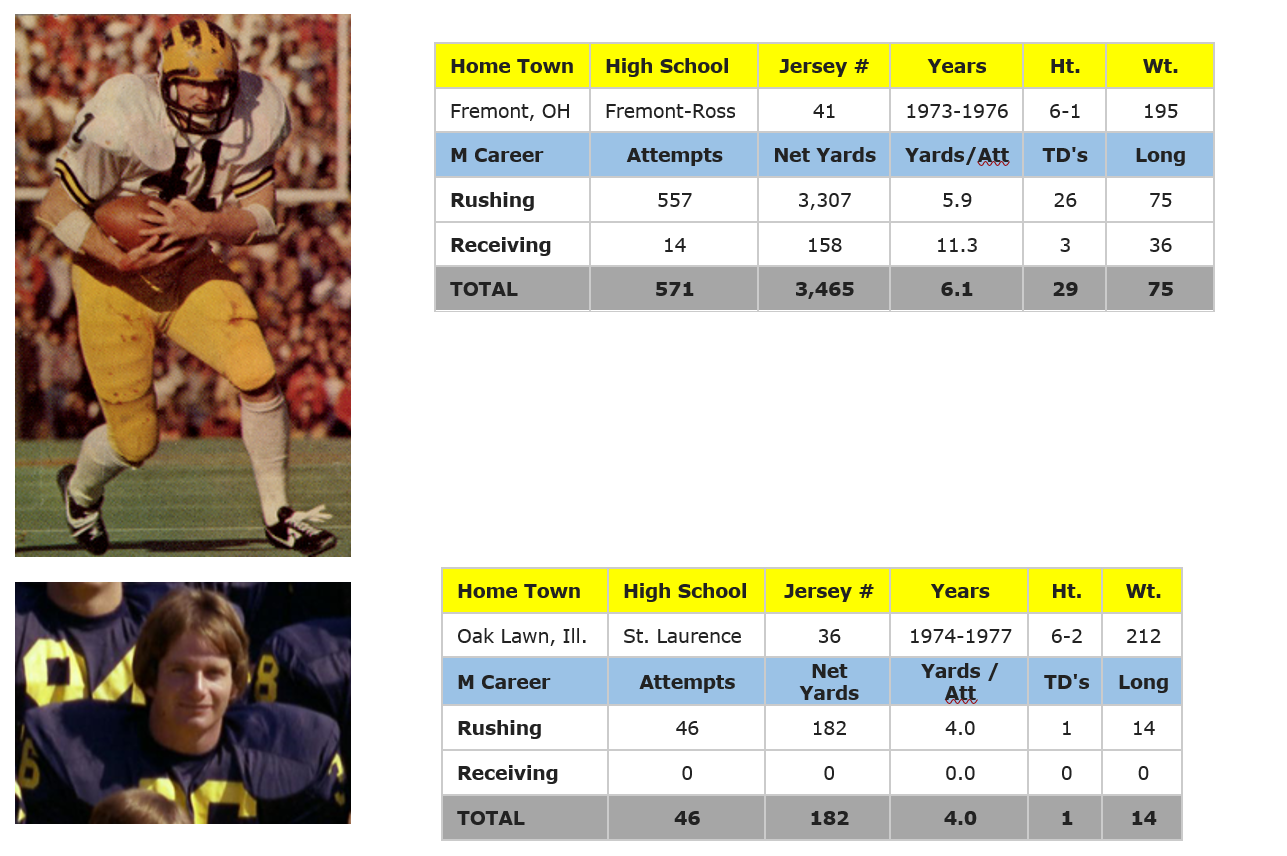 While these two backs were teammates, this matchup is a no-brainer. You have a guy who most M fans don't even remember pitted up against an All-American, who placed 3rd in the Heisman Trophy his senior year. Kevin King played four years in a crowded and talented Wolverine backfield. His lone TD came in the closing moments of the 69-0 rout of Navy in 1976. King netted 182 total yards in his career, while Lytle finished his career as Michigan's All-Time Leading Rusher and is in the College Football Hall of Fame. No upset here. Lytle moves on to Round 2.
WINNER: ROB LYTLE
(#8) Fritz Seyferth vs. (#9) Chuck Heater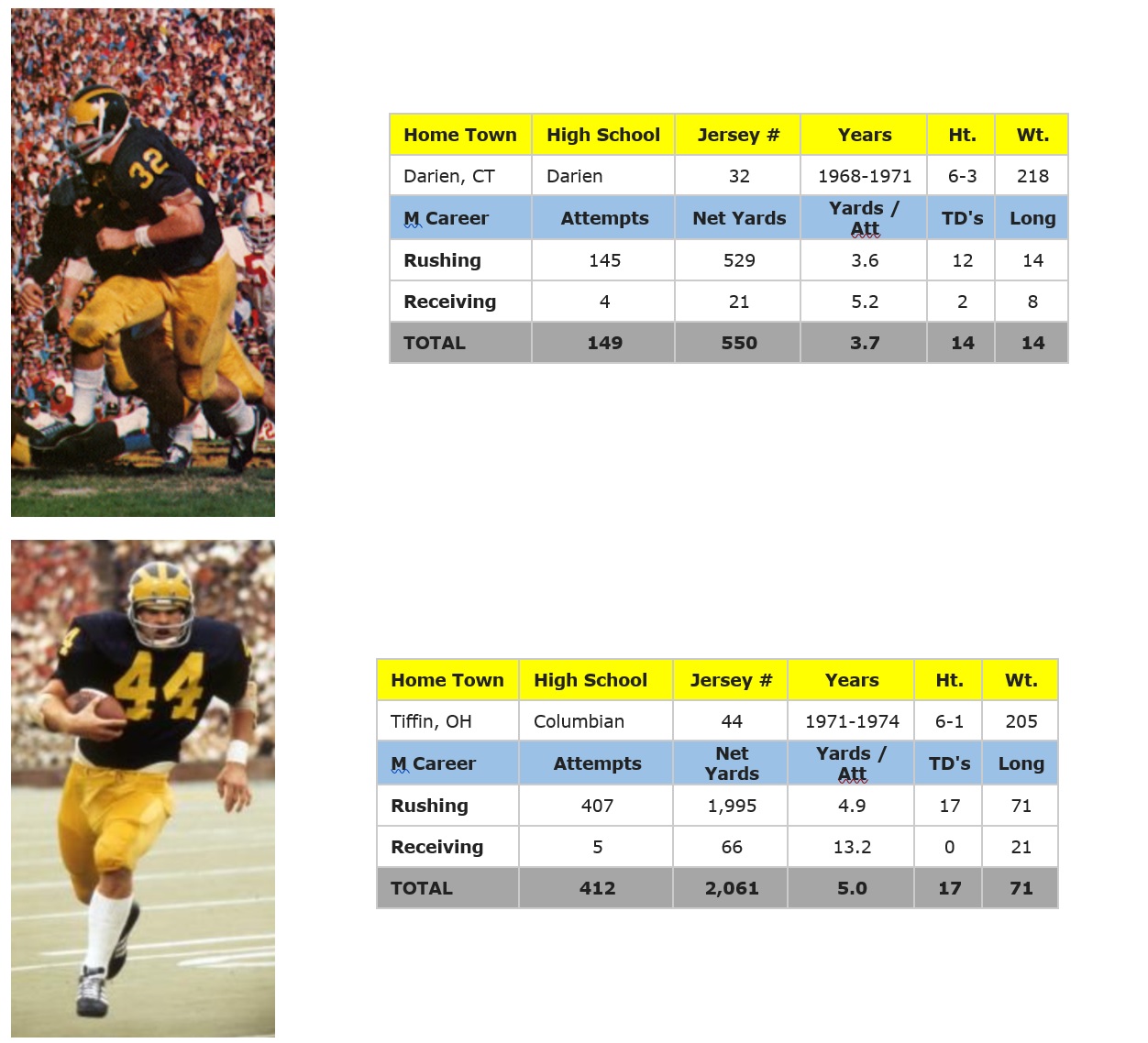 While both of these backs scored about the same amount of TD's, it's the yardage that separates these two. Fritz Seyferth scored 14 TD's and ran for over 500 yards in his M career as a blocking fullback (see Billy Taylor's TD run vs. OSU in 1971). Chuck Heater is most remembered as a current College Coordinator and Coach with notable stops in Colorado (with Bill McCartney) and Florida (with Urban Meyer). In a mild upset, Heater with almost 2,000 yards and 17 TD's, gets the nod to move on to Round 2.
WINNER: CHUCK HEATER
(#5) Ed Shuttlesworth vs. (#12) Gil Chapman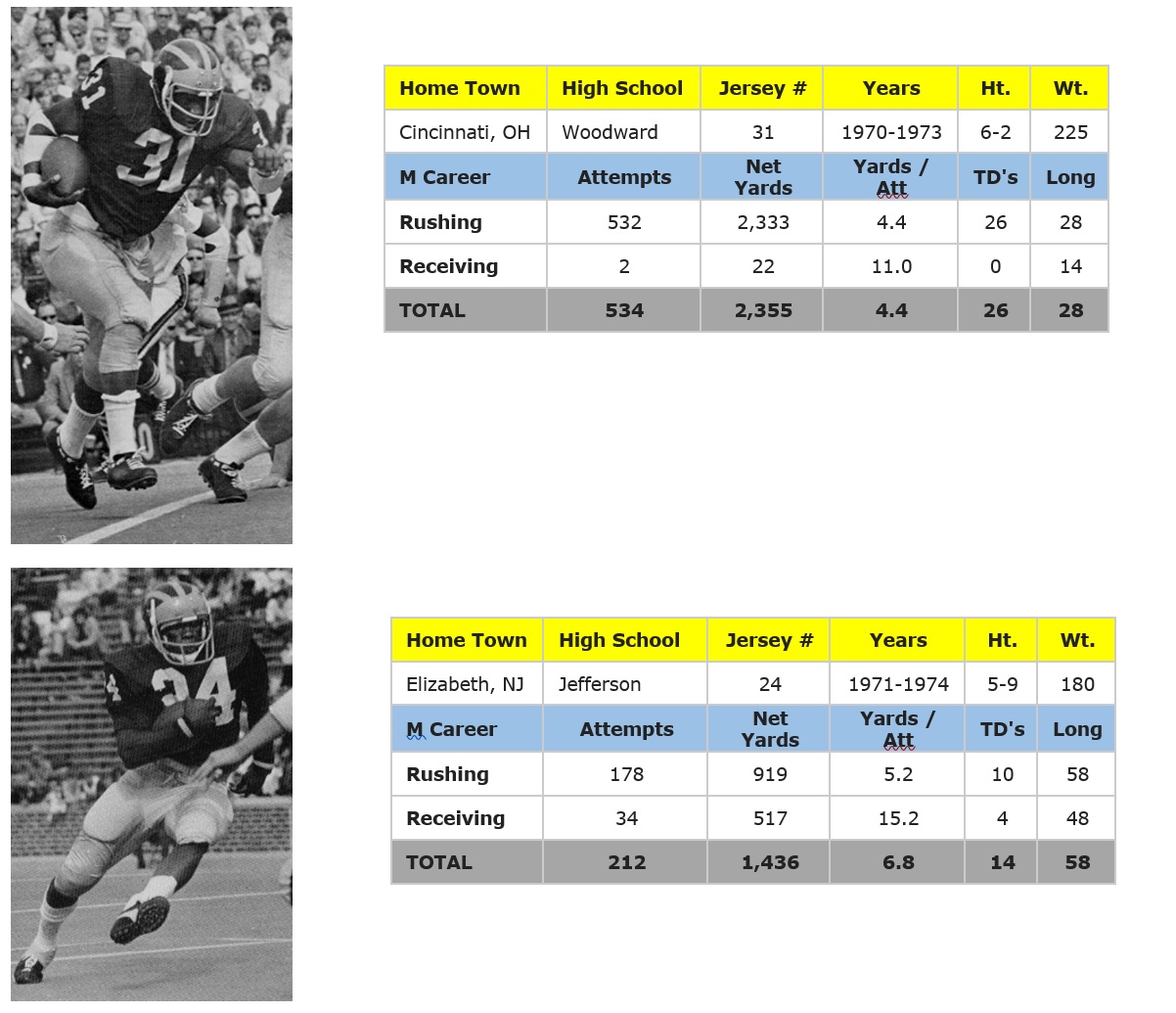 In a matchup of great Bob Ufer nicknames, The "Jersey Jet," Gil Chapman, put up a good fight, but it wasn't enough to take down "Easy Ed" Shuttlesworth. For those who don't remember Chapman, think Jamie Morris – just not as powerful. Remembered most for his 58-yard end around scamper for a TD against MSU in 1972, Chapman was a great change of pace back compared to the bruisers and pounders that Bo loved to ram down the opponents' throats back in the day. The nod goes to Shuttlesworth as he was one tough guy between the tackles. He averaged 777 yards a season and hit paydirt 26 times in his career. With over 2,300 yards rushing, "Easy Ed" advances to the second round.
WINNER: ED SHUTTLESWORTH
(#4) Russell Davis vs. (#13) Harry Banks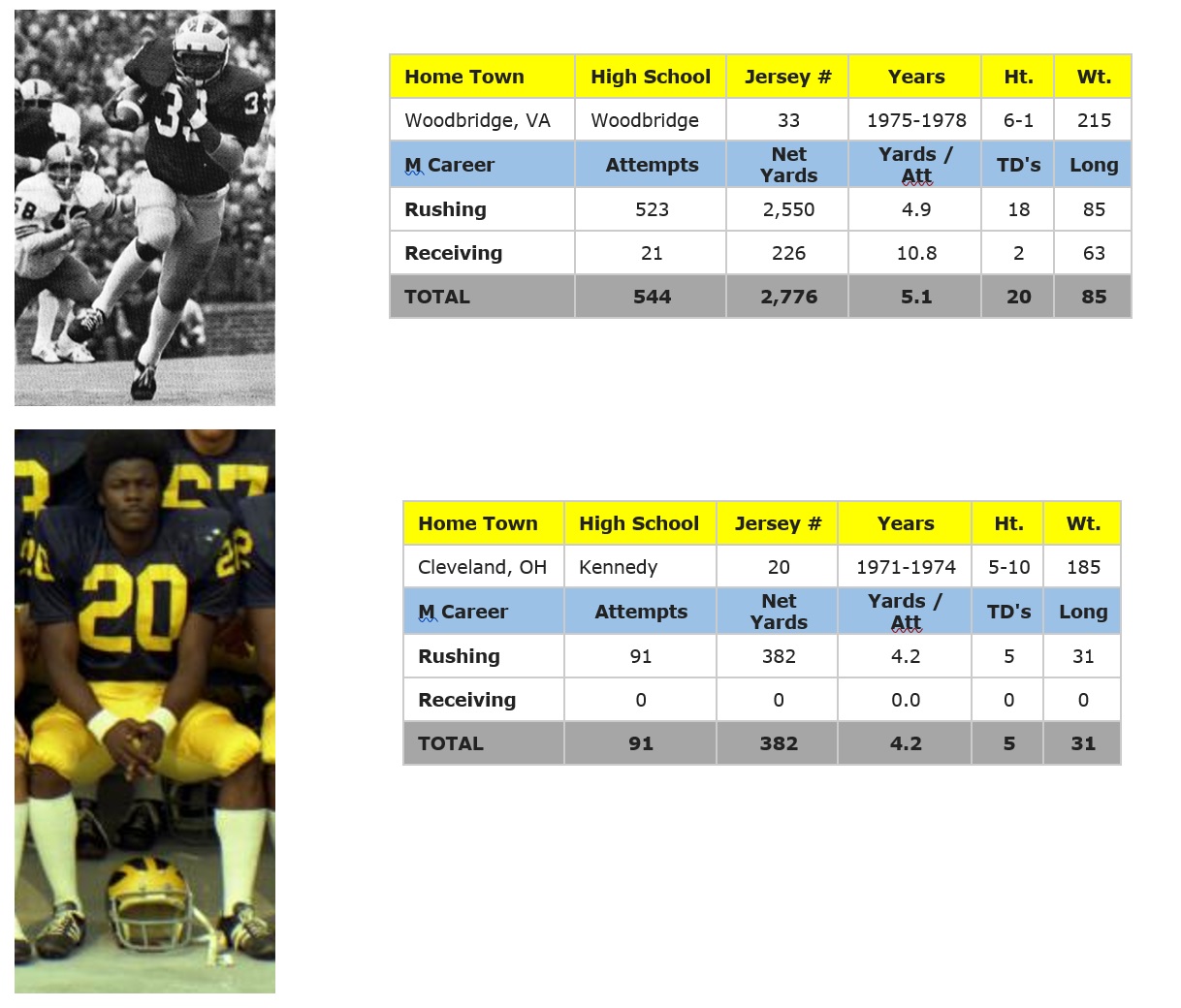 In another one-sided matchup, the guy who lugged the ball over 500 times times easily takes care of a player who ended up switching positions and moving to defense. Mind you, Harry Banks was no slouch carrying the ball for Bo. He scored 5 TD's in his career, but his most memorable carry/score was the one he didn't get credit for. On that fateful day in Columbus in 1972, it was Banks who crossed the goal line but was never given credit for the TD. As Bob Ufer said, "UGH! What do you have to do to score a touchdown here?!" Russell Davis, on the other hand, was the epitome of the speed fullback that Schembechler did not have until #33 arrived in Ann Arbor. Davis topped the 100 yard mark 5 times in his career, gained over 2,500 yards and scored 18 TD's from the fullback spot. Let that sink in for a second. Ya – he was that good! Davis moves on to Round 2.
WINNER: RUSSELL DAVIS
1970's "Chuck Stobart" REGION
(#2) Billy Taylor vs. (#15) Scott Corbin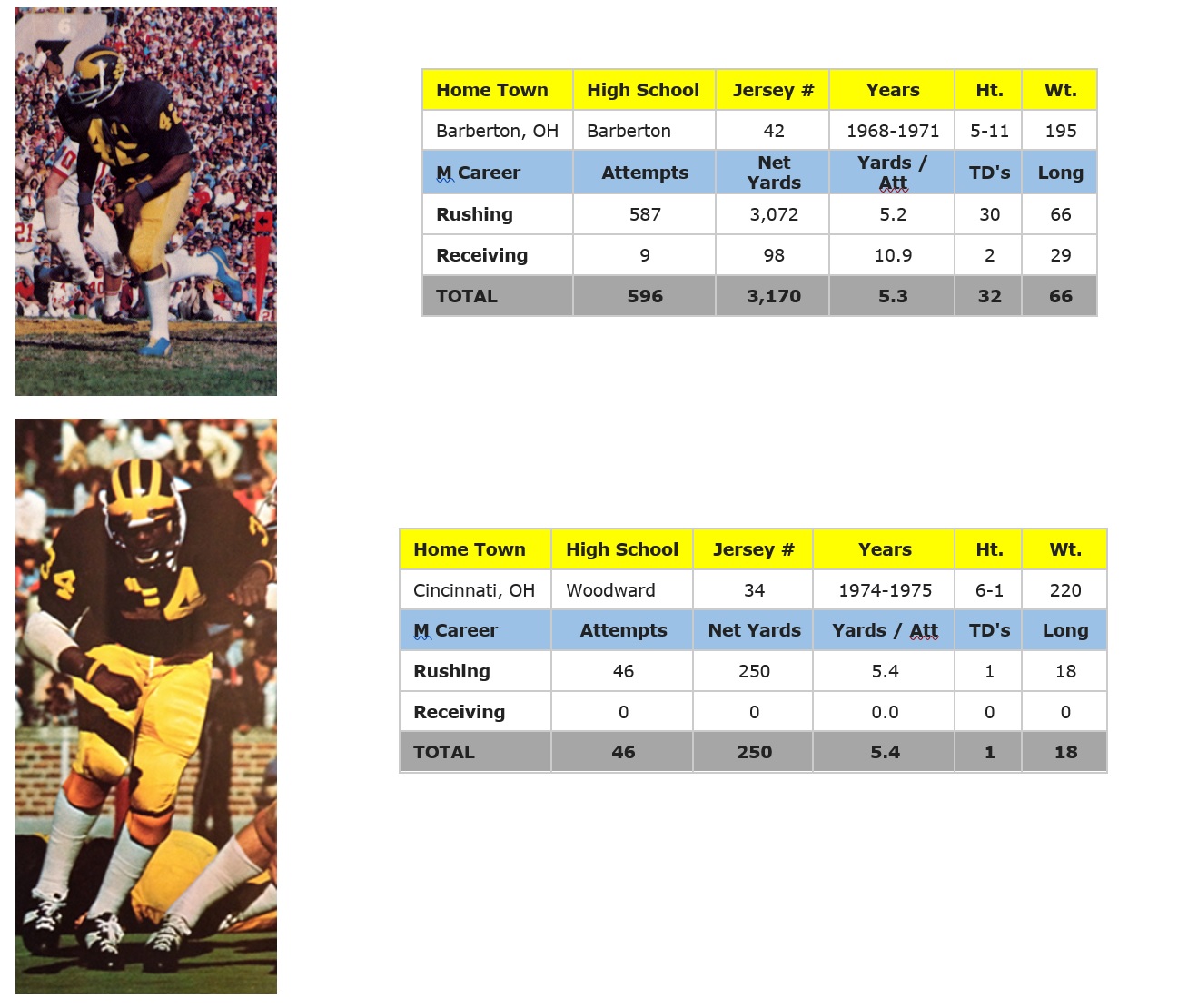 While these two backs hailed from Ohio, the similarities end there. One guy had an All-American career, while the other's promising career was cut short due to injuries. Corbin scored one touchdown in 1974 at Stanford, but that was it. Taylor and his tricked-out-teal-colored Puma cleats ran for over 3,000 yards, scored 30 TD's and when he left in 1971, BT was the All-Time Leading Rusher in Michigan history. "Touchdown Billy Taylor" moves on to Round 2.
WINNER: BILLY TAYLOR
(#7) Glenn Doughty vs. (#10) Roosevelt Smith
Another fairly even matchup – and the numbers bear this out. Glenn Doughty scored 14 TD's and ran for almost 1,500 yards in his M career. Roosevelt Smith notched 12 TD's and rushed for 866 career yards. Both backs shared carries in crowded Wolverine backfields, but in the final analysis, Doughty and his yardage advances to Round 2.
WINNER: GLENN DOUGHTY
(#3) Gordon Bell vs. (#14) Bob Thornbladh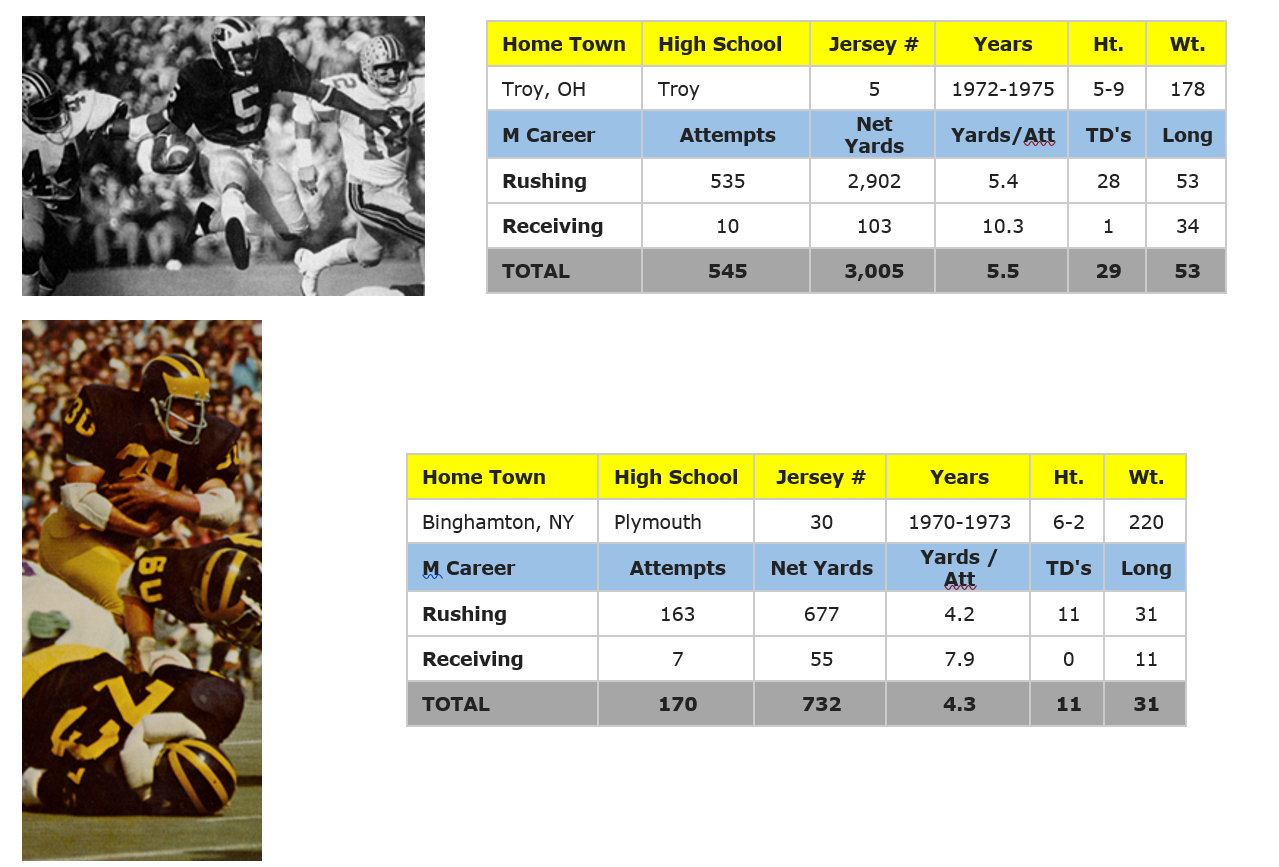 In another one-sided matchup, the guy who led the Big Ten in rushing in 1975 easily takes care of a player who was a serviceable back in Bo's early 1970's running back stable. Bob Thornbladh never cracked 100 yards in a game, but he did score 11 touchdowns in his career before becoming a position coach for Bo. Gordon Bell's talent and skill went largely unnoticed as he played in the shadow of Archie Griffin's two Heisman Trophies, but if you saw Bell play back in the day, his moves would be compared to those of the latest guy to wear #5 for the Maize and Blue – Jabrill Peppers.
WINNER: GORDON BELL
(#6) Harlan Huckleby vs. (#11) Lawrence Reid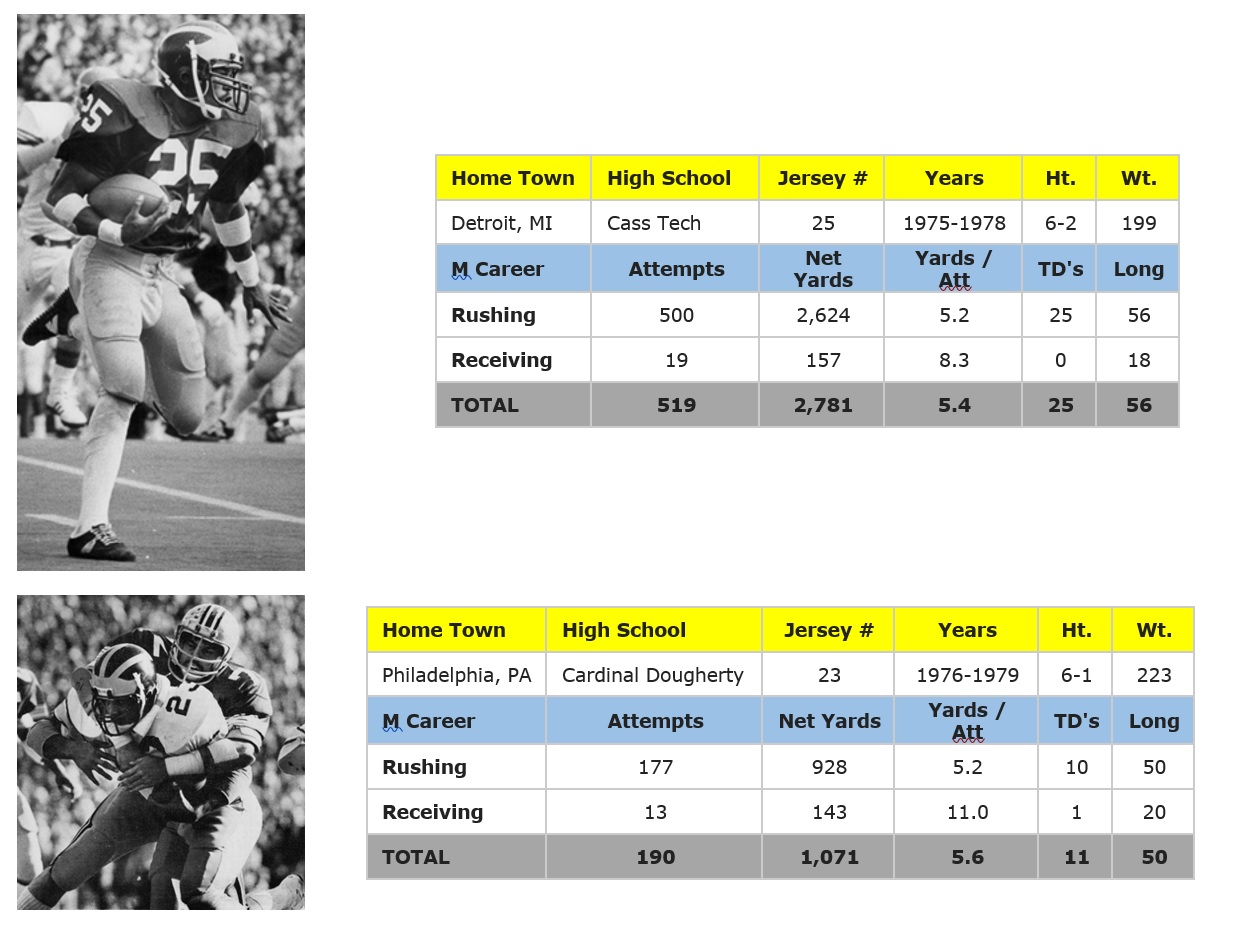 In this matchup of teammates who both ripped off long runs in their careers, one back stands above the other. Lawrence Reid showed he could go the distance by running 50 yards for a TD against Indiana in 1979. Harlan Huckleby was a home run hitter as well, as evidenced by his 56 yard TD run against Wisconsin in 1976. In the end, Huckleby's 2,624 yards and 25 rushing TD's overcomes Reid's 928 yards and 10 rushing touchdowns. Huck moves on to Round 2.
WINNER: HARLAN HUCKLEBY
1980's "Gary Moeller" REGION
(#1) Jamie Morris vs. (#16) Jerald Ingram
In a matchup of backs with contrasting careers and numbers, the only stat that is close is the average yards per carry, sort of. Jerald Ingram played in 16 games, carried the ball just 46 times and averaged 4.2 yards per carry as a fullback. Jamie Morris, played in 48 games, carried the ball 806 times and averaged 5.4 yards per carry. Ingram gained 191 yards on the ground in his career and scored 3 TD's. Morris scored 25 times and finished his career as the All-Time Leading Rusher in Michigan Football history. 'Nuff said. J-Mo moves on to Round 2.
WINNER: JAMIE MORRIS
(#8) Gerald White vs. (#9) Thomas Wilcher
In a rare matchup of career teammates, this 8/9 pairing is quite interesting. Thomas Wilcher came to Michigan with such hype, he was nicknamed, "Heat Feet." A high-hurdler, Wilcher could also move on the gridiron. He topped 100 yards only once in his career and struggled with injuries and a crowded backfield for more playing time. Gerald White didn't come in with the same type of hype, but that's probably how this unassuming guy wanted it. He was the type of back that preferred to let his game do the talking. With over 300 carries, almost 1300 yards and 12 TD's, I'd say that's good enough to move onto Round 2.
WINNER: GERALD WHITE
(#5) Stanley Edwards vs. (#12) Rick Rogers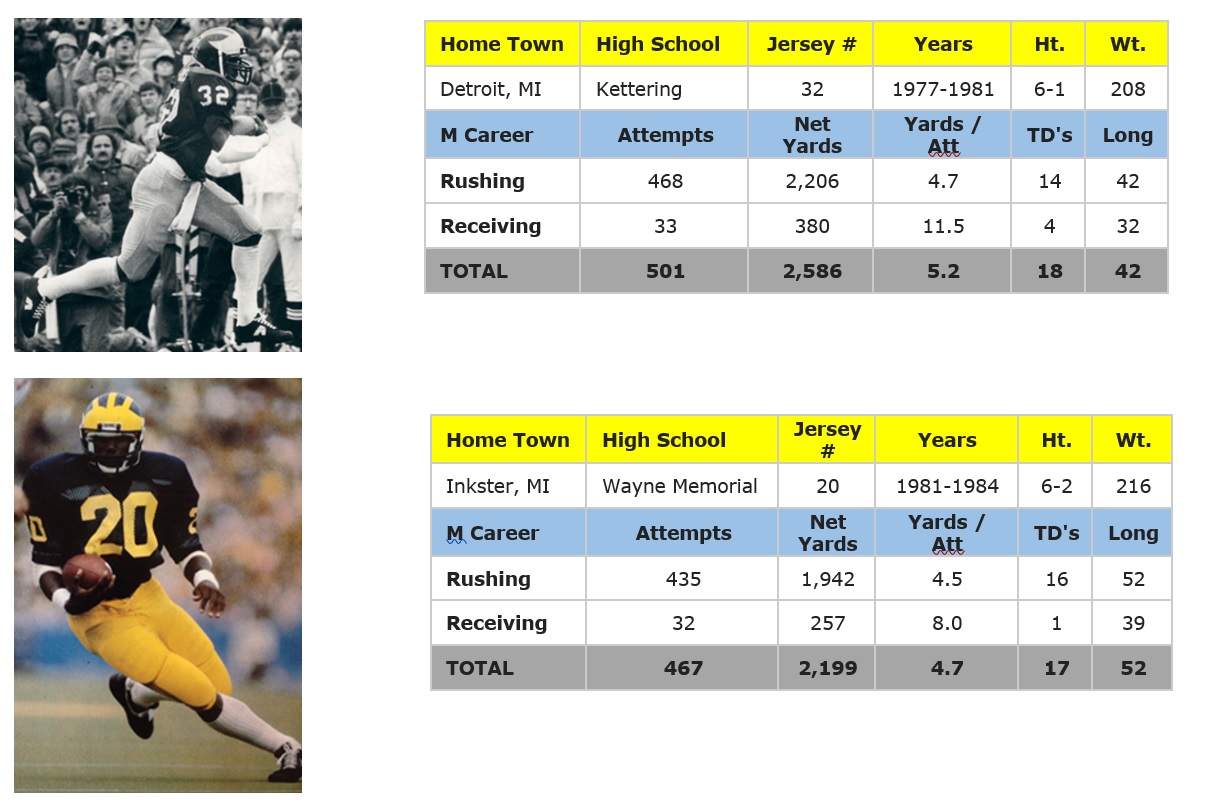 In the first matchup of Detroit area runners, these two guys were solid performers who both dealt with injuries during their time in Ann Arbor. Rick Rogers gained 1,002 yards in 1983 and almost 2,000 yards rushing in his career. While that sounds impressive, Edwards, would start in the Rose Bowl his freshman year, miss his 2nd year due to injury, but would bounce back to gain over 2,200 yards between playing fullback AND tailback. Rogers notched 16 TD's compared to Edwards' 14 touchdowns, but Edwards' versatility and longevity get him through to the second round.
WINNER: STANLEY EDWARDS
(#4) Leroy Hoard vs. (#13) Kerry Smith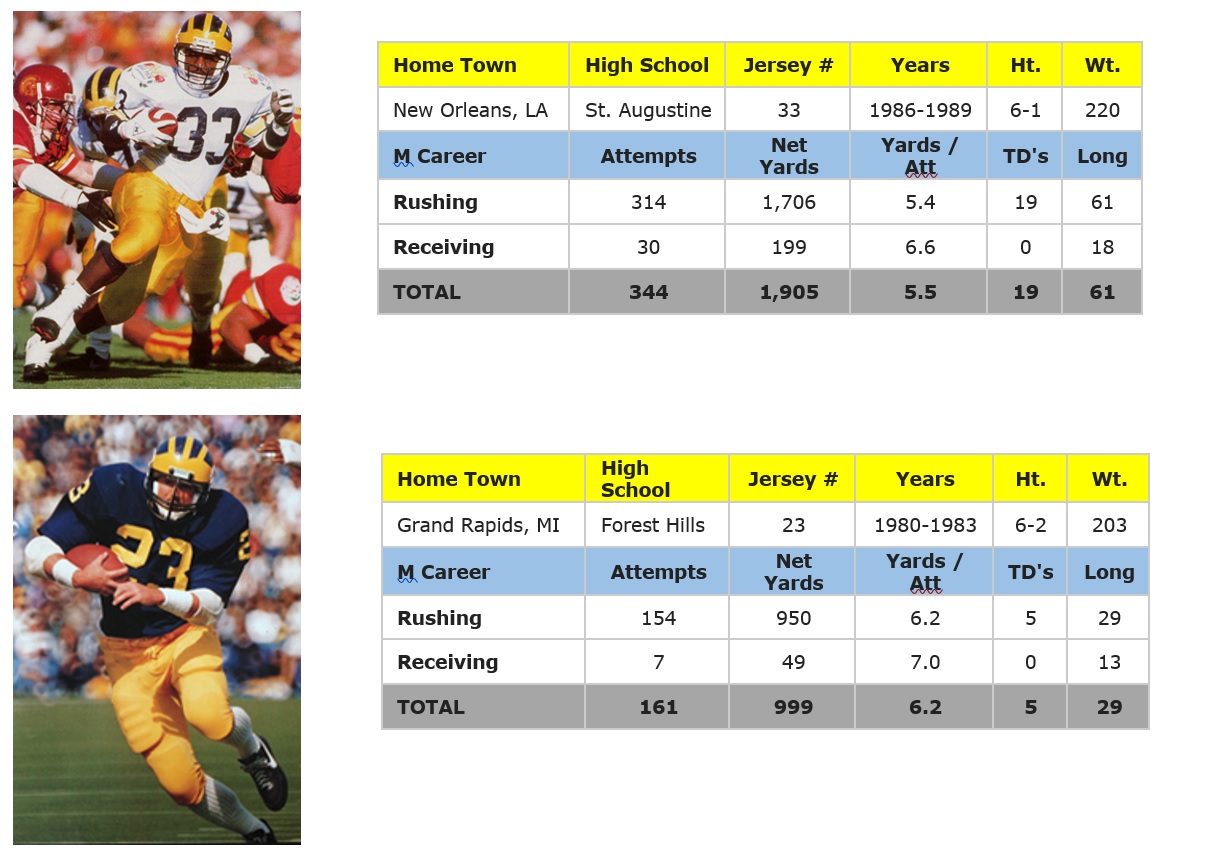 This pairing matches up two tailbacks with contrasting styles. Kerry Smith was a smooth as silk "glider," while Leroy Hoard was a powerful, bruising back who was tough to bring down. Smith was a dependable runner who saw most of his action in a backup capacity. When forced into a starting role, "Silk" topped 100 yards twice in his career, showed he could gain the tough yards and found the end zone 5 times while toting the rock in Ann Arbor for almost 1,000 yards. Leroy Hoard gained over 1700 yards rushing and scored 19 TD's on the ground. That's good enough to get Hoard into Round 2.
WINNER: LEROY HOARD
1980's "Don Nehlen" REGION
(#2) Butch Woolfolk vs. (#15) Eddie Garrett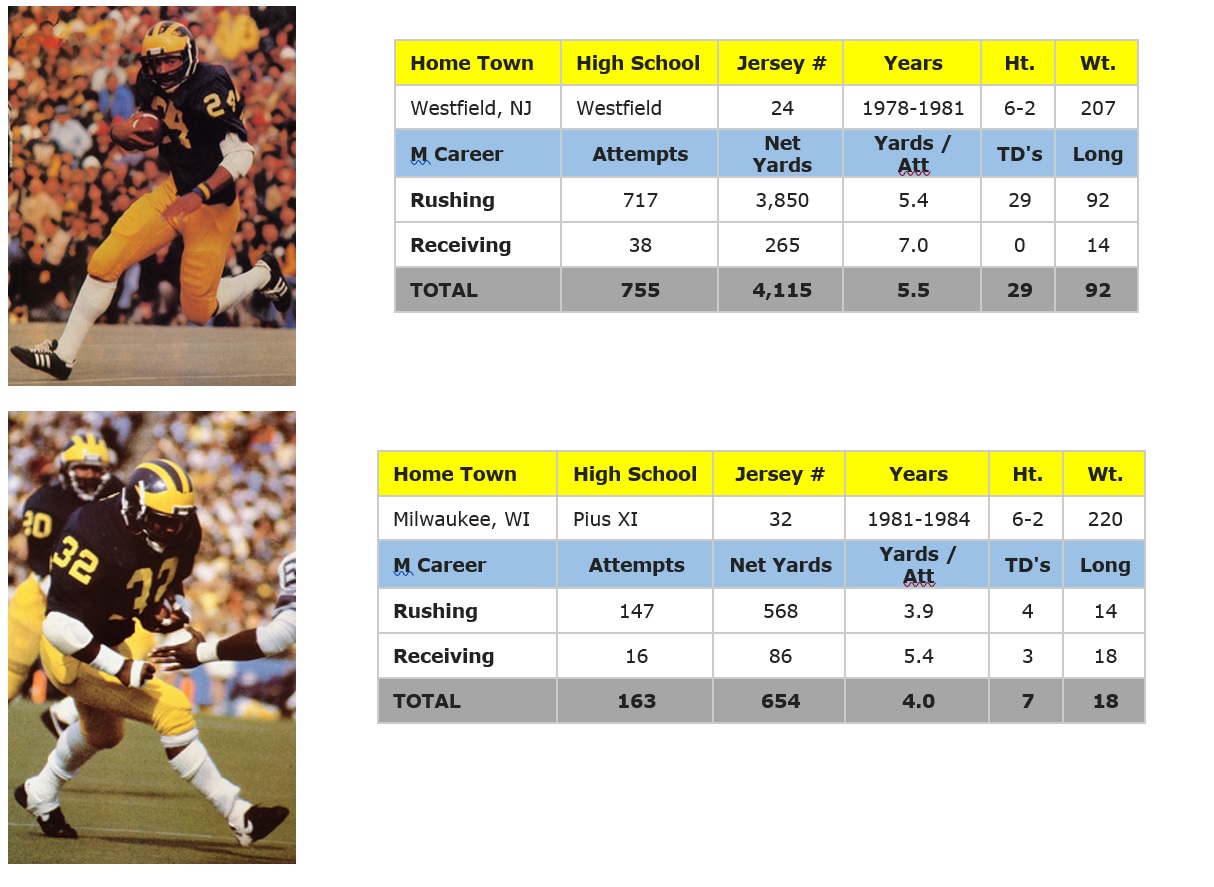 Teammates for one year, this opening round matchup was no contest. Garrett was a tough runner between the tackles who scored 4 TD's in his career while gaining 568 yards on the ground. Butch Woolfolk on the other hand gained over 1,000 yards in a season twice and finished his career as the All-Time Leading Rusher in Michigan Football history. Uh, ya – Butch moves on to Round 2.
WINNER: BUTCH WOOLFOLK
(#7) Jarrod Bunch vs.  (#10) Bob Perryman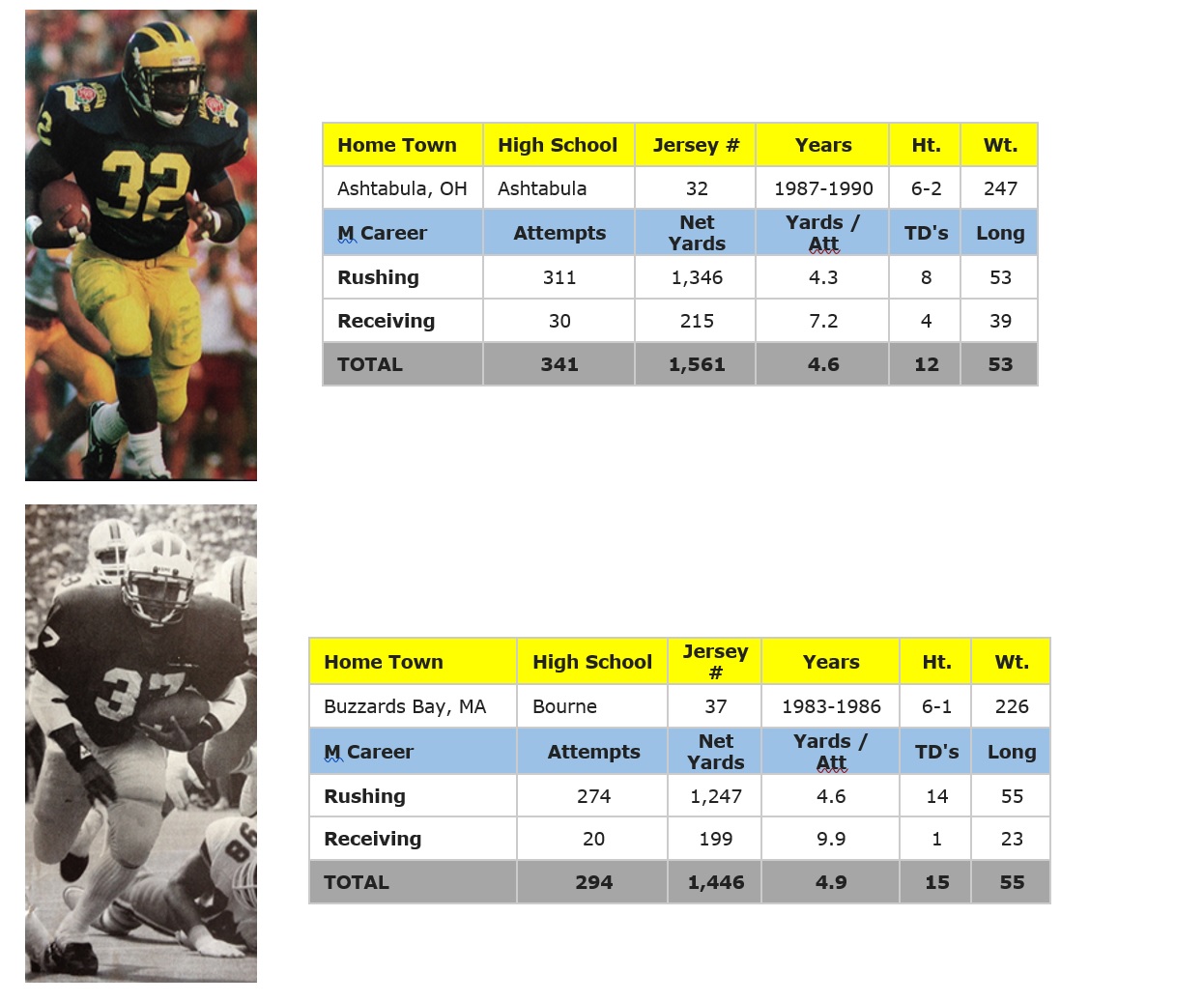 In a rare matchup of fullbacks, this 7/10 pairing is probably the most even of all the pairings in the brackets. With nearly identical stats in rushing attempts, yards, average per carry and TD's, this one is almost too close to call! Bob Perryman burst on the scene in Ann Arbor with 3 TD's against #1 and defending National Champion Miami in 1984 and then capped his career with a 55-yard TD run against Hawaii in 1986. That is impressive, but the nod goes to Jarrod Bunch and his 1,346 yards – just about 100 more than Perryman's 1,247 yards. Bunch moves on to Round 2, in a squeaker.
WINNER: JARROD BUNCH
(#3) Tony Boles vs. (#14) Phil Webb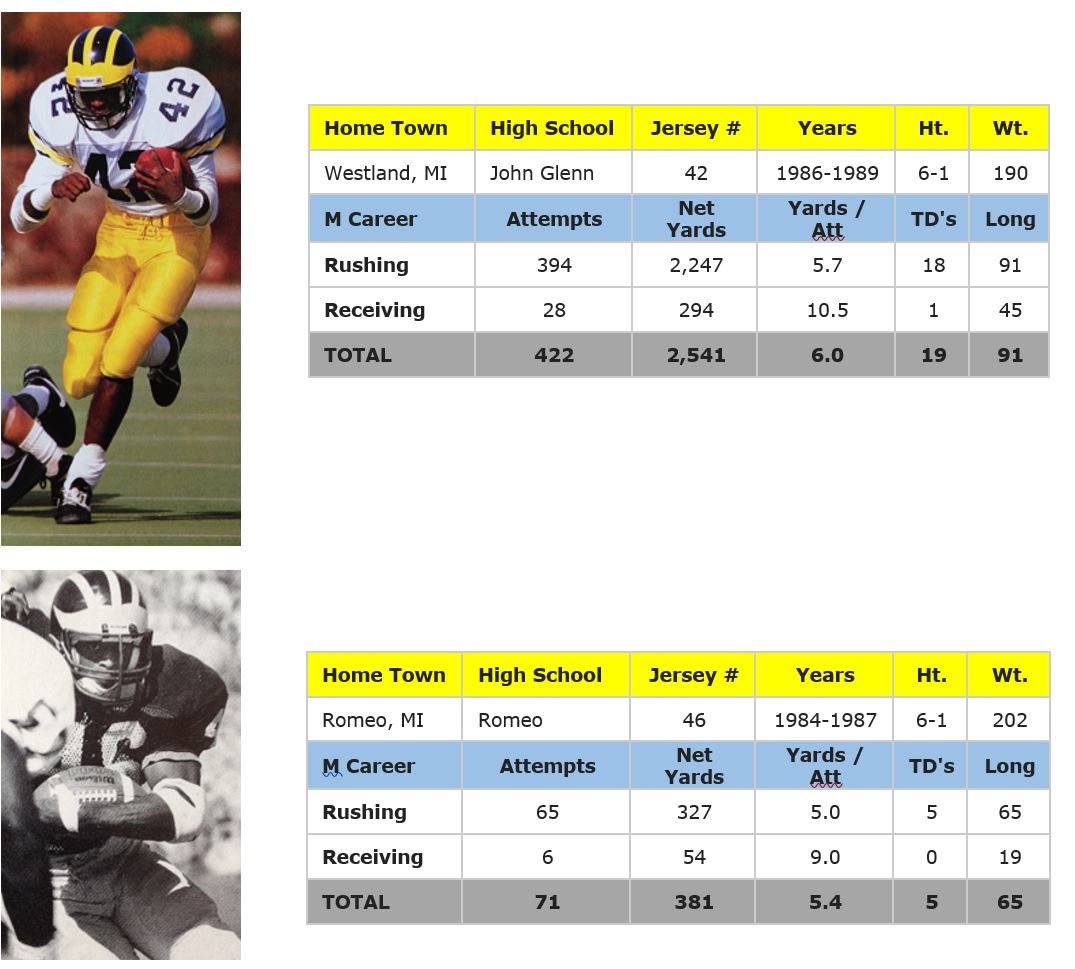 Two backs from the state of Michigan square off in this pairing. Phil Webb didn't get a lot of touches in his career, but when he did, he made them count. He went for 65 yards against Purdue in 1985 and who could forget his last minute TD at Illinois in 1987 to win the game? While #46 would gain 327 yards in his career, Tony Boles gained over 2,200 yards and scored 18 touchdowns in his injury-shortened career. That's good enough to put #42 into the second round.
WINNER: TONY BOLES
(#6) Lawrence Ricks vs. (#11) Allen Jefferson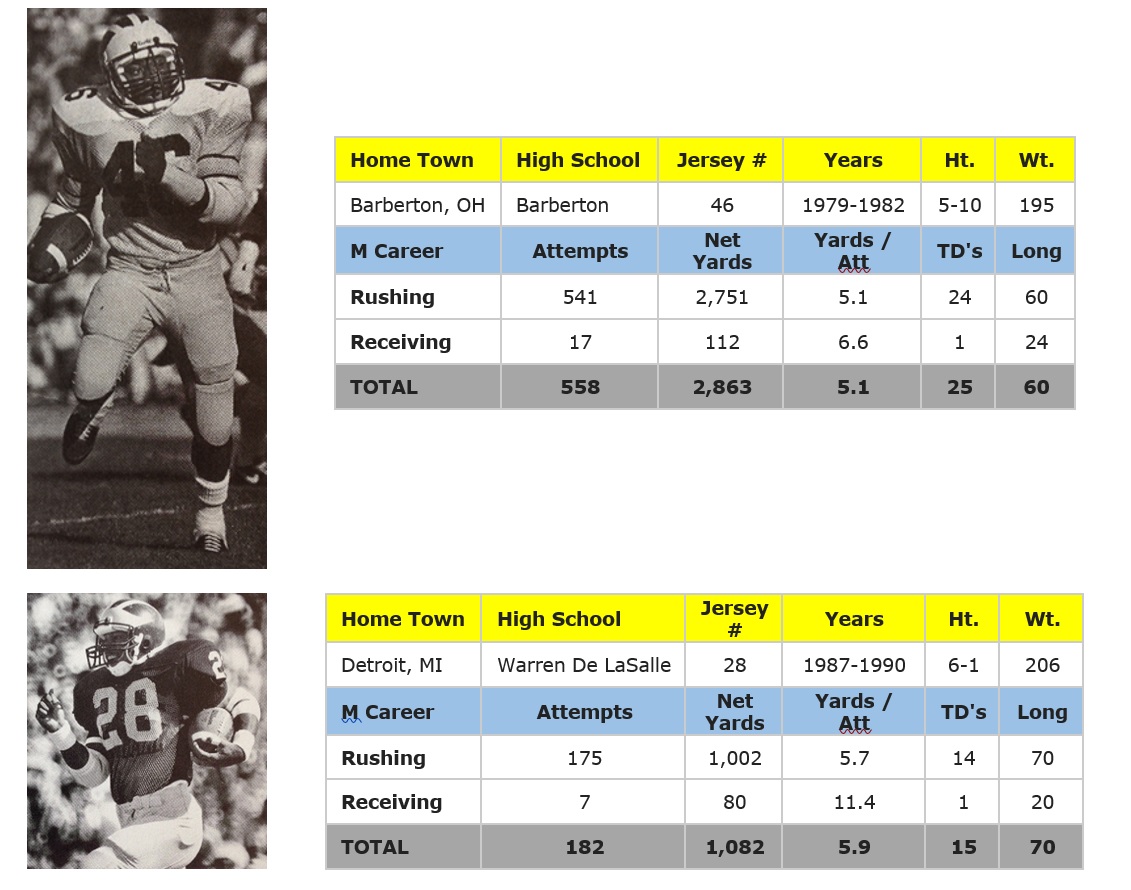 In the last matchup of the first round, these two backs had careers and styles that were at the opposite ends of the spectrum. One back was a bruiser while the other started out as a burner, but his flame went out much too early. Allen Jefferson gained over 1,000 yards for the Maize and Blue, and started out his career with an impressive 70 yard scamper against Washington State. Injuries would derail his promise and turned this potential star into a serviceable and reliable back for Bo in the late 80's. Lawrence Ricks gained 1,388 yards rushing in 1982, and almost 3,000 pounding yards in his career with 24 TD's on the ground. That's why Ricks moves on to Round 2.
WINNER: LAWRENCE RICKS