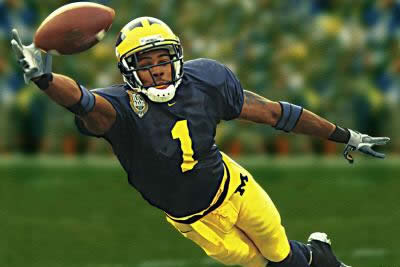 A few weeks ago College Football News ran a series a roundtable discussions with a set of journalists. One of the questions asked the panel to name their favorite college football players of all-time. Teddy Greenstein of the Chicago Tribune picked Braylon Edwards as his top choice – keep in mind this was for any college player on any college team, not last 10 years, not Big Ten only, etc.
I wasn't sure if it was half in jest (he had J Leman on his list) so I emailed him:
Teddy,
I noticed you named Braylon Edwards your favorite college football player of all time, then didn't offer any explanation on that. I'd love to hear it. I don't think even the hardest of die-hard M fans would put Braylon on such a list. I think Braylon's mom put him third. What's the deal?
Greenstein's reply:
No, I've talked to Braylon's mom. She's a huge fan, as am I. Braylon had a phenomenal senior year, as you know, and had one of the best single-game performances I've ever seen vs. MSU. And he was an oustanding interview before the season and then when I did a profile on him for our Silver Football award. I'm actually surprised I appreciate him more than you do.
I didn't say I didn't appreciate Braylon, he's just not my favorite football player of all time.
He's a great story of a guy that apparently was on the wrong track and could have left his junior year but didn't. His senior year was phenomenal and yes, I'll always remember that MSU game. But I can't put him near the top of my favorite college players of all-time. I mean, just looking at Michigan in recent years I'd take Desmond, Woodson, Mike Hart, for sure over Edwards.
Elsewhere: Speaking of Hart, did anyone catch his limited action against the Redskins on Sunday night? Sure, it was against third stringers but he went off. Four attempts for 53 yards, and I think each run went for over 10 yards including one jaunt where he lost his helmet but still ducked forward for extra yards. He added 3 catches for 28.