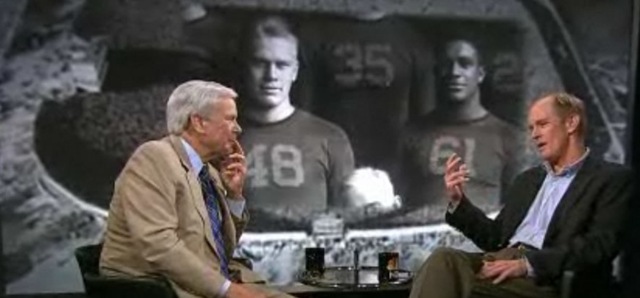 If you missed it, a bronze statue of Gerald Ford was unveiled at the US Capitol last Tuesday.  To mark the event, NBC News aired an interview with Tom Brokaw and President Ford's son Steven.   (Per one of my spies, this piece originally planned to run Tuesday but was pushed out, I assume thanks to the work of the SEALs.) 
As you can see from the lead photo, they delved into Michigan football a bit and in particular Ford's role in the Willis Ward incident of 1934.  Here's the segment (ht: to mgoblog's dnak438 for finding an embeddable version), love the backdrop:
Visit msnbc.com for breaking news, world news, and news about the economy
My man Steven fumbled on the record of the 1934 team (they went 1-7, not 1-8), but who's counting?
Later this year we'll get to see the work of the Emmy-nominated fellas from Stunt3 Multimedia in their documentary 'Black and Blue', which will cover this outstanding story.   A blogger you know might even show up discussing the event in the final piece, trailer:
Related:
* Harry Kipke and the Fall of 1934
* The Willis Ward Protests