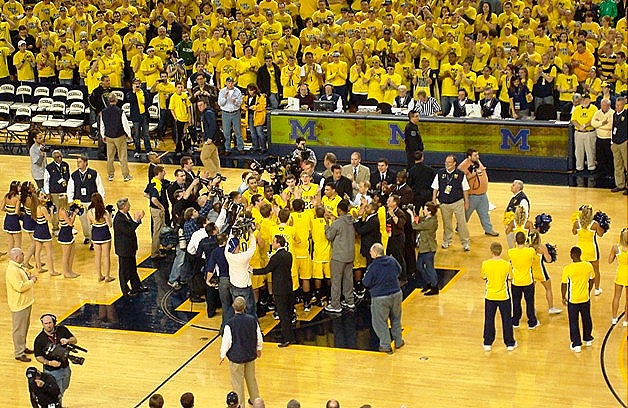 What a great way to spend a Saturday afternoon, don't you think?  Bullets:
It has been amazing to witness the young guys, especially Morgan, Hardaway & Morris, maturing and improving since the start of the season.   It's tangible progress before our eyes so hats off to the entire coaching staff and of course the team. 
I actually give some credit to the M fans for the Maize out.  As I like to say, Wolverine fans are really good at "Wear Whatever You Want-Outs" but horrible at Maize-outs.  I thought the place was about 75-ish percent maize which is about as good as you are going to get.  I was a student during the Fab Five era when we used to wait out hours to pile into Crisler and pack the place  It had that feel yesterday.
Speaking of the Maize-out: the always sharp-dressed M assistant Bacari Alexander looked sharp in his brown suit, but what do we need to do to get Coach Tweet outfitted in an all-Maize ensemble??  Sharp!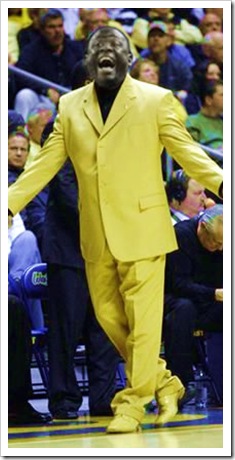 Those on Twitter might have seen a barrage of  "HALOL!".   I've been asked by a few folks what it refers to.  It's a common tag on Coach Alexander's tweets which I presumed to simply be an emphatic version of "LOL!".   Sunday morning Bacari confirmed this:

I expected the students to rush the court after the game—kind of glad they didn't.  Act like you've been there before.  
I guess Kalin Lucas (who is amazing to watch) got a little pissed at D Morris's trash talk and the lay-up at the end of the game.  Izzo commented on it:


"I'll straighten that (Lucas throwing the ball at Morris) out but at the same time, (Morris) going for a layup with 2 seconds left and talking a lot stuff all game, including at our place, maybe he (Morris) deserved it."

That's fine.  Both players downplayed it after the game.  From my view, I didn't have any problem with Morris going coast-to-coast.  Given some of the tension in the final couple minutes I guess I didn't think the game was absolutely over, and they tried to get the ball from Morris (who beautifully weaved around a few Spartan players).   Maybe he should have pulled to the wing instead of taking it to the rack but dude—we've struggled so much at the end of game (IU, Wisconsin, etc.) that I was relieved when he scored.
Great coverage of course over at UMHoops.com and by Rothstein and crew at AnnArbor.com.