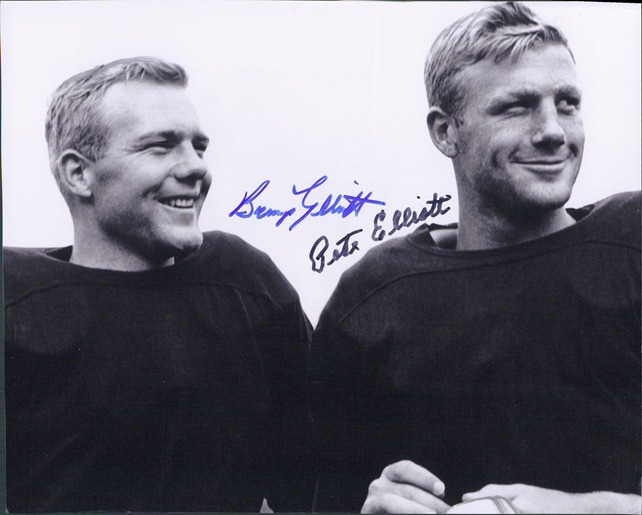 Bump (left) and brother Pete – signed pic up on eBay now
Bump Elliott has lived a life about which they write books and make movies. After he served in World War II, he enrolled in Ann Arbor and led the backfield of the famed Mad Magicians, one of the greatest teams in college football history. After that national championship season he was named Big Ten MVP and an All-American. He took over as head coach in 1958 and led U-M to the 1964 conference and Rose Bowl titles.
Later he went onto a (beyond) sterling career as athletic director at Iowa and was responsible for hiring a few of the greatest coaches in collegiate athletics history. During his tenure he brought 11 NCAA titles to Iowa City.
Elliott is 89 today and still lives in the Hawkeye state. On Saturday, his 1964 championship squad celebrates their 50th anniversary–I hope he makes it to town (I've heard he's planning on it). I also hope and that you–those in attendance–give Bump and his team a massive ovation.
Earlier this year the Michigan legend was kind enough to chat with me about that great season, his legacy and much more.
[Ed. Before the interview transcript just a personal note: I've been doing this for a little while now and hardcore followers I've chatted with many big names in U-M lore. Speaking with Coach Elliott was a huge deal for me on many levels, and I'll leave it at that.]
MVictors: First off, on your nickname "Bump." I've heard and read that no one, not you or even your mother really remember how you got that nickname. Is that right?
Bump Elliott: That's correct. It just happened and nobody could remember, nor could I. [laughs]
MVictors: Talk to me about your team captain on the '64 team, Jim Conley. How do you remember Conley's role that season?
Bump Elliott: Well the biggest asset he gave to the team was leadership. He really was an outstanding leader and the players listened to him. When he had something to say it was important. I think probably as much as the success of that team, as much as anything else, can go to Jim partly because of his leadership qualities and the way he handled the players. He was a senior, he'd been through the mill, and it was a great asset for us to have him working there.
He was a no-nonsense guy, but by the same token, when he had things to say people listened, and certainly the players did. He wasn't the most talented player on the team but we would've been lost without him. He was a great player.
MVictors: Let's talk a little bit about the '64 season itself. In the second game you faced Navy and Roger Staubach [who won the 1963 Heisman Trophy] in Ann Arbor. Any special memories of Staubach?
Bump Elliott: The year before [1963] I think he won the Heisman Trophy against us. He had such a great day. We did concentrate pretty hard on trying to stop him that next year [in 1964]. We really concentrated on making sure that he didn't get away from us either through the air or on the ground. He was a great player. That was the key to their success–Roger Staubach.
MVictors: In the 1960s you had a lot of social change going on in America, and of course you had both white and black players on the team. Speaking to some of the guys on the '64 team they don't recall any issues amongst the white and black players on the team, in fact they said everyone got along very well. Do you recall any issues?
Bump Elliott: There's nothing specific other than the fact that I have to agree with that. I can't recall an issue we had with black or white in any respect. The people we had on our team were great leaders. In fact, a few years later Ron Johnson became the first black captain at the University of Michigan.
MVictors: So back to the '64 season, after beating a solid Michigan State team in East Lansing you faced Purdue back in Ann Arbor. In the fourth quarter quarterback Bob Timberlake scored on a long run to put you within a point. You decide to go for two and it comes up just short, and of course you it ends up being the lone loss that season. Looking back–any regrets about going for two?
Bump Elliott: It was the whole season as a matter of fact as it turned out. The best play I knew we had, or felt we had, on the goal line was an option play with Timberlake. A similar play, maybe not the same one, but similar one to the one that he had just run [that Timberlake scored on] so figuring that we wanted to go for two, at that time in the game, we called the same play.
I think the only mistake we made was, I would take the blame for that one myself, is that Timberlake was tired from running the other play. He didn't have quite the strength to get it. He fell about a foot short of the goal line and that's how close we came to winning, possibly, the national championship. That one foot cost us the game. I would dare say that if I had to do it again I would pick some other play other than that because I really think he was too tired to make it go. Anyway, that's me second guessing myself.
MVictors: A few weeks later you face Illinois who was coached by your brother [and former Michigan teammate] Pete. I understand you and your brother were very close?
Bump Elliott: Yes, we certainly were.
MVictors: You faced each other four times prior to the '64 season and you beat him every time. Was that tough for you to coach against him?
Bump Elliott: It was tough because we were very close and felt for each other. I certainly felt for him. The one time that he won the Big Ten championship [1963] and went to the Rose Bowl, we beat them but they had an option play and they fumbled the ball about the nineteen yard line. We recovered it and took it in for the touchdown and won the game. That was probably the one time, if ever, I wondered whether it was good to win the game or not. I might've felt bad for the loser on that one because that meant so much to him to win.
MVictors: Those Illinois teams featured Dick Butkus, the great linebacker. How dominant was Butkus in college?
Bump Elliott: He was just as good as he was in the pros I felt. He was basically the foundation of their whole team. He was a great player and a great leader too, and a fine, fine person. I know Pete really felt very close to him.
MVictors: You ended the season down in Columbus against the Buckeyes and Woody Hayes. For Michigan fans it doesn't seem like the rivalry with Ohio State really heated up, right or wrong, until Bo arrived in 1969. Is that fair to say?
Bump Elliott: That's right. We had a good rivalry but it was a pretty healthy rivalry. It wasn't bitter. We thought Illinois and Minnesota were just as big of rivals as Michigan State or Ohio State at the time I played and I coached. Now, there's always been a big rivalry with Ohio State partly because they ended the season.
MVictors: Any special memories of Woody when you were coaching against him?
Bump Elliott: Not necessarily. I didn't pay much attention to what he was doing over there. [laughs]
MVictors: The 10-0 win in Columbus gives you the conference title and now you are off to the Rose Bowl. When I talked to the players about the 1965 bowl trip they talked about a phase where the first week where the players really enjoyed themselves and California, and then a second phase, where it was really about business and really focusing on Oregon State. Is that your recollection of the trip?
Bump Elliott: It wasn't necessarily planned that way but we were a little bit more lenient about some of the shows they might go to, how late they stayed out, or what they did. They had cars available to them to go to various places and do things and we had drivers for the cars so we didn't allow any of them to drive the cars themselves, Then about five or six days within the week of the game we pretty much shut that down as much as possible.
MVictors: Oregon State scored the first touchdown to go up 7-0 in the second quarter. Then they were hit by a buzzsaw and you went onto a huge 34-7 win. Did your team peak in Pasadena? Was that the '64 team at its best?
Bump Elliott: I suppose probably yes, because we were playing in a very significant game, although they played very well in some other games. We played pretty well against Ohio State, Illinois, and some of the others. I guess probably you could say we played as well as we did any time of the season.
MVictors: You had an astonishing 16 guys on that '64 roster that went on to play pro football. That's remarkable yet I don't think many Michigan fans could name a single player from that team. Maybe Bob Timberlake. Is that fair to you?
Bump Elliott: It doesn't make that much difference to me except I think we had an outstanding group of people assembled there that played very well for years and did very well in the pros too. Interestingly enough through my era and maybe even into Bo's era, playing in the pros wasn't the really absolute objective of a player. It was more a less a college player that played and that was really the important thing. There wasn't any emphasis on playing in the pro's like there is now. The era was a different timing, a different era.
MVictors: After the '64 championship do you remember or notice an influx of interest in Michigan for recruits? Did it make it easier to pitch Michigan over the next few years?
Bump Elliott: I think it always helps to have good teams because people are interested and wondering what they're doing. People would like to join that type of a team. We'd been close but not over the top so to speak, and that one really made the difference. We were close in '67 again and then of course I retired after the '68 season. We had some good talent and good people coming in and I think it went on from there. Of course thank goodness we even left a few players for Bo. [laughs]
MVictors: You sure did. What did you think about when you first met Bo?
Bump Elliott: I didn't know him very well but I liked him very much. Very much a great coach and a great personality. I liked him very much. It was fun to be with him.
MVictors: Sure. As far as the legacy of the '64 championship team, I get the read that you're not overly concerned about legacies and things like that, but again I'll go back to you, I think if you pull someone off the street in Ann Arbor they would have no idea that you won a championship that year. Do you care?
Bump Elliott: No, it really doesn't bother me very much at all. I'm proud to have been in Michigan, to play there, and to coach there. We had, obviously, some great teams and that was the best team we had while we were there. The players on that team, I really respect so much and have great admiration for them. They're the ones that probably need the recognition. I don't need that.
MVictors: Is there some way that you personally remember that 1964 team? Is there any other special quality of the team that you will always hold with you?
Bump Elliott: Probably I remember that team more than any just because we did win the championship and we had had an opportunity to have reunions over the years. Every five years for the last several years we've had reunions with that team. It's been fun to get together and renew friendships and that sort of thing. We probably do that more than any other team we've been associated with.
MVictors: How about you, how would you like Michigan fans to think of you and your days in Ann Arbor? Is it as a player, is it as a coach, is it something else?
Bump Elliott: Well it'd be nice to be remembered as a player and as a coach. I really enjoyed and was proud of the team that I played on in '46 and '47, the one that won the national championship because that was a great team with great, great people. The people on it were friends; they've been friends for life so to speak. Then beyond that, why of course anybody that has known the teams that we had when I coached there, have respect for several of them, particularly the '64 team. As players I think they're proud of having been a player at Michigan. That's the most important thing.
MVictors: In closing, outside of your family you've accomplished so much in your life do you have something you're most proud of? Your military service, your athletic career, coaching, the AD position at Iowa? Is there anything, any position, any moment that you're proudest of?
Bump Elliott: I guess that is just having been where I was at the time I was there with the people I was with, and enjoying the successes that we had, and even the failures, but with the people. Having been at Michigan is quite a wonderful thing and having played for the Wolverines. I have no regrets and I can only say that I feel very comfortable with what's transpired in my life, and hope to live a little bit longer. [laughs]
—————————————————–
More coming up on the 1964 team coming later this week – stayed tuned.
Follow MVictors on Twitter