A few semi delicious takes for you this Sunday morning following the bye week for Michigan:
* I went to the Michigan State vs. Notre Dame in East Lansing this week, more validation of why college football is great if for nothing else, the atmosphere on campus and the excitement of the game. State and Ringer looked very sound, a few question marks with the defensive backfield and with QB Hoyer. News flash: Michigan's got to make Hoyer beat them in Ann Arbor.
* Jimmy the C and Notre Dame are just not very good. Clausen just isn't ready to play at this level and I wonder if Irish fans are wondering what other options they've got there.
* Has anyone noticed the disturbing proliferation of guys wearing their collars up, 80s style? I have, here's one of many I saw out there today: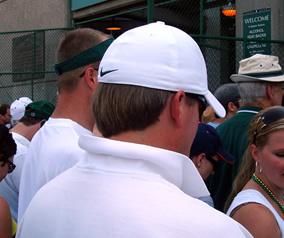 * MSU added a ring of honor in the stadium this year, on the West side of the stadium they've displayed State's national championship teams, on the east, the retired jerseys of former players (George Webster, Bubba Smith, etc.).
* The Stanley Cup was on display outside Spartan Stadium thanks to current Red Wing and former Spartan Justin Abdelkader. I snuck behind it for a shot: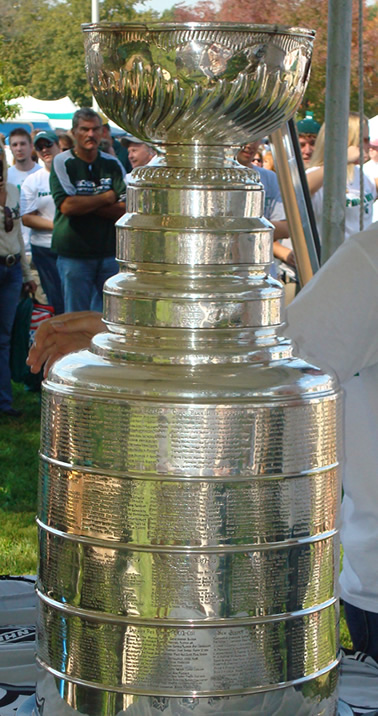 Turd Ferguson, err, Burt Reynolds doesn't like to wait in line
Elsewhere:
* Ehh, Toledo just fell short to Fresno State Saturday….uh, maybe that's not such a lock for one in the left hand column?? Yikes!
* I caught the second half of the Auburn-LSU game at Paul Revere's Tavern in East Lansing. What a game, what a bunch of playmakers on those teams. It's one of the best games I've seen in a while.
* Speaking of PRT's, the owner Jim saw me and dropped some Motor City Bowl smack on me. Funny, because I think I'd take that right now if anyone's offering.
Completely elsewhere:
* It's amazing how much more fun the Ryder Cup when we're winning. I obviously missed most of the action Saturday but it's been incredible from the start.
* Don't you get a little queasy when a) you see Rick Reilly on TV, especially when b) he refers to people by their nicknames, e.g., referring to US captain Paul Azinger as 'Zinger'?