News tonight that Scott Shafer has resigned as defensive coordinator. I'm a little surprised despite the heavy scuttlebutt that was abound in the last few weeks.
mgoblog put out a brain dump on potential candidates tonight including Notre Dame's current defensive coordinator and Michigan man Corwin 'Cornflakes' Brown. I just don't see what Cornflakes has done this season to earn the shot at this gig.
My two run-ins with Shafer this season. First, I interviewed him at the Spring Game while covering the event for a local paper. Seemed like a great guy and he was all business.
The next was after the Utah game. It wasn't a run in as much as it was a drive by. I kind of felt bad after posting this as it made some rounds around the blogosphere but oh well. He was hunched over the railing at the bottom of the press box waiting to get down to the field. As I said at the time, it looked like someone shot his dog: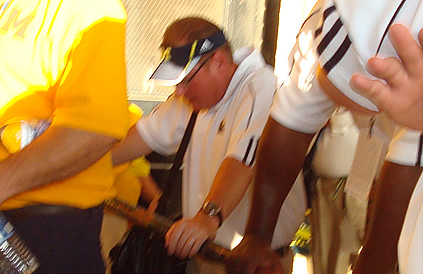 That probably wasn't far off. Check out the quote from Angelique tonight:
"Bottom line is, I take full responsibility for the demise of the Michigan program," Shafer, 41, said by phone Tuesday afternoon. "I accept all the responsibility."
Wow. A little sarcasm on the way out? Not sure but let's assume he' serious for a moment. First off, I think demise is a strong word but let's assume he's saying that he takes responsibility for a tough season. I'd certainly put the defense high on the list but at the top is the reality at quarterback. While Threet and Sheridan had moments they weren't close to being ready to lead Michigan with Carr's offense let alone Rodriguez's scheme.
I thought the defense was unfairly criticized at the beginning of the season but by the end of the season it was a mess. I don't know if a change was needed but as silly as it sounds, the resignation itself confirms that he and Rodriguez weren't aligned (if that wasn't clear enough after the Purdue game).