Those of you in the Ann Arbor area may recall that last season the News ran a regular pre-game piece where they asked Verne "Mini-Me" Troyer a few questions along with a prediction on the upcoming game. Needless to say "And Mini Me Makes Three" was unbelievably lame, but whatever, it was fun I guess.
Well, with the release of the tiny M fan's X-rated tape, it's safe to say Troyer won't be back next season. Thanks to my buddy Rosey who sent me this shot of Mini-me donning his favorite gear with his "co-star", 22 year-old Ranae Shrider a waitress aspiring model/actress: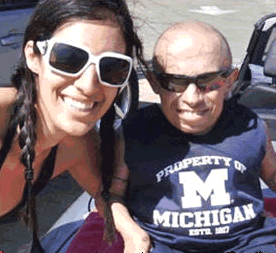 Finding a replacement won't be easy especially given where Mini set the bar last year. Rumored candidates include 'the rock' at the corner of Hill and Washtenaw and a Mr. Spots cheesesteak.