Win 902 will be remembered for a long time and Brady Hoke is clearly a bit charmed. 
While Treezy's ridiculous catch will naturally be the play everyone remembers, that comeback required quite a couple mistakes by Northwestern and few great plays to set up Gardner's heave and of course to win the game in overtime.  
First, let me grab my retro-spectacles to ensure my vision is 20-20.  That's better…I can see clearly now.   For openers, Northwestern took that delay of game penalty on 4th down on the U-M 44.  They should have just punted it there and not sacrificed the five yards.  Then, with the ball at midfield, the punter hit a short, line-drive right into Gallon's hands which is just about the worst thing that can happen.  I'm assuming that Fitz told his punter to get the ball off quickly to avoid a block, but Hoke outflanked him by setting up the return to the surprise of a few folks including Brian Griese up in the ESPN booth.   Then Treezy somehow was singled covered down the field before the lucky tip and the epic grab.  
To Michigan's credit, props to Hoke for calling the punt return.  Heck, he even putting an extra man back there instead going with the block.  Next, after Roundtree's grab, cheers to the offense for getting down the field and lining up so quickly to set up the spike to kill the clock.  Finally, was anyone out there really worried about Gibby's kick?  He's been in that situation so many times and is absolute money— we're actually taking the guy for granted.
Misc, Misc, Misc, et cetera:
KD Dang! Is it me, or was that a bizarre formation on the final play of the game?  Brian will explain it I am certain.  In any case you can't argue with the results: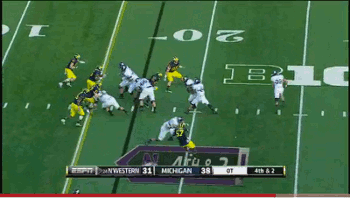 Snot locker! 
Cheers to you.  Once again #1000SSS did a very nice job with the Legends presentation.    But the big props goes to fans in attendance.  I wander up to the photo deck to catch the pregame activities and the roars The Ox received when Grapes announced he was at midfield was amazing.  Nicely done.  Here's are all the #11s on the field once again: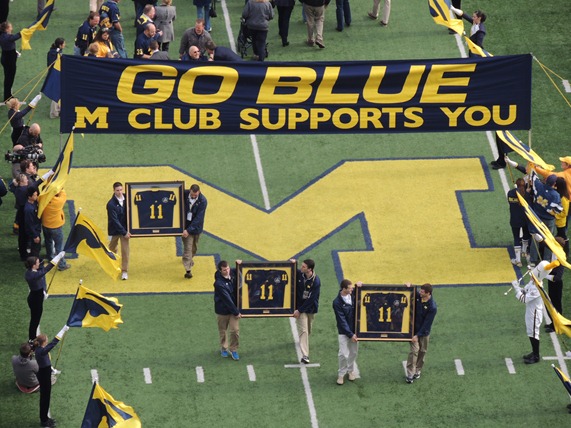 Five Decades.  Speaking of the banner, Happy 50th Birthday to you—here's 'Lace and Treezy  and the new #11 – Capt. Jordan Kovacs — leading the way: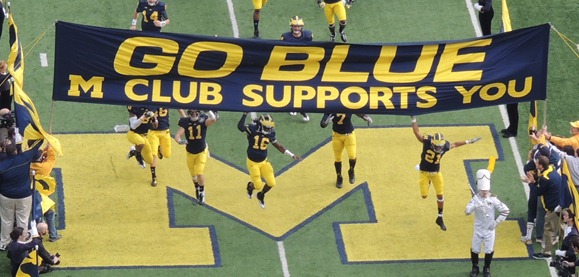 Tweet:  mgo-Heiko noting we've seen this act before:

Maintain your Dignity.  I still have a lot of respect for Pat Fitzgerald and Northwestern, and I would have been cool if he was the guy who replaced Rich Rod…but this was grass eating weird, gobble gobble turkey weird.  I spotted his sarcastic(?) little dance from the south end zone and while I was 99% sure I had to ask the dude next to me, "Is that Fitz?"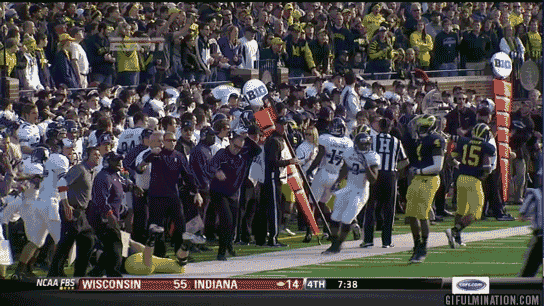 Did Mike Tyson bite his ear off?   And BTW that looked like a complete crap call anyway.   Maintain your dignity, homes.
Willie's Head.  I got a little too close to Willie the Wildcat before the game and so did Brad from MBN: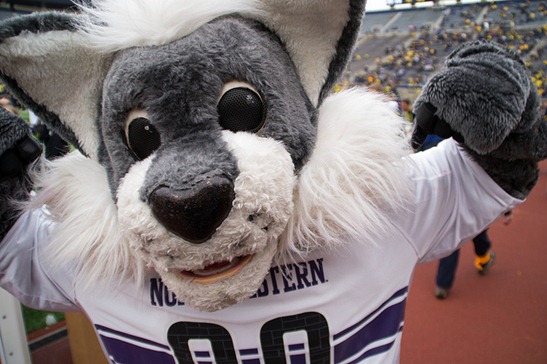 I can confirm, as the Sklar Brothers know, that the inside of Willie's furry head smells like Doritos, Jagermeister and broken dreams. 
Elsewhere:
Maize and Blue Nation photos and UMGoBlue photos.  Dell killed it on this one.  Walk off shot: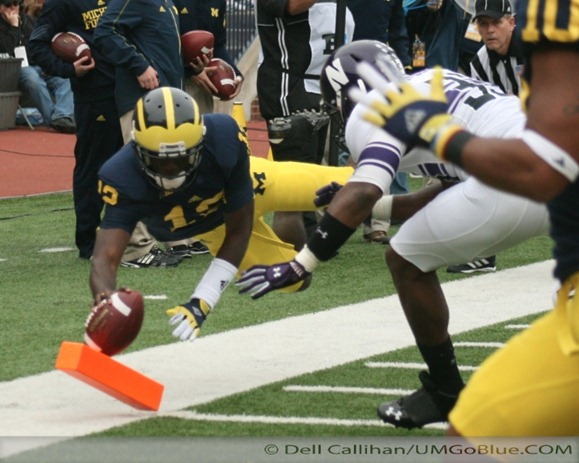 Does the pylon make a 'ting!' sound like tapping a wine glass?

Recent but Related: