Check out the nice piece on longtime U-M golf course manager Charlie Green in today's Ann Arbor News.   Charlie last official day at the helm is December 31, concluding an amazing 52 years of services at the course.   From today's piece:
His memories at Michigan are good ones. "The athletic department has been like a second family for me," he said. "There is a warmth here, people look out for each other, and even the big shots come around and visit." Green was on a first-name basis with the people who have had buildings named after them — Crisler, Oosterbaan, Keen, Canham, Schembechler. He isn't old enough to have Fielding Yost on the list, he said.

Green recalls the day eight years ago when Bo Schembechler came to his office, sat down and said, "What's this I hear about you?" That was shortly before Green was scheduled to have open heart surgery for an aneurysm. Bo had had his share of heart problems by then. "I'm going to show everyone that I'm as tough as you are," Green replied. To which Bo said, "You're not that tough!" and got up and stormed out.

"I have met so many men, tough and hard-nosed on the outside, but, like Bo, who really cared," Green said. "Those are my memories. Now we have Brady Hoke, who went to the same high school as I did, and basketball coach John Beilein, a wonderful man. I have been blessed all the way through."
I got to know Charlie a little bit after writing this piece that appeared in the Detroit News and the Ann Arbor Observer back in 2010.  I often bump into Green at football game and at the outings at U-M.  He's just a wonderful guy and I hope he's around campus for a long time.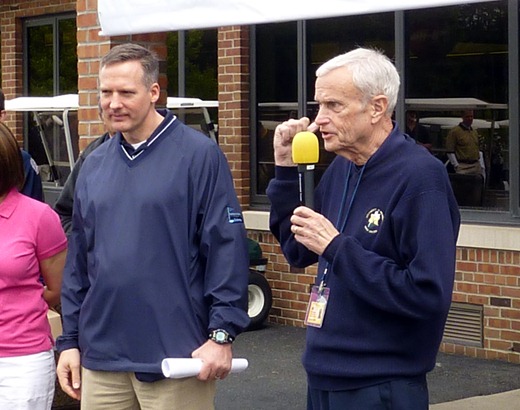 Green with former QB/DB Rich Hewlett at the 2010 JDRF Golf Outing
[My story from 2010]:
In 1954, Albert and Gail Green drove up from Dayton and dropped their son off at the University of Michigan's South Quad dormitory. Charlie Green's been an Ann Arborite ever since.
After graduating from the U-M in 1959, Green taught subjects that, he says, "make people groan"–algebra and geometry–in Willow Run and Taylor. But what made him eventually become one of the most-recognized folks in Ann Arbor was his decision in 1960 to take a summer job at the U-M Golf Course. He's been there ever since, coming on full time after retiring from teaching in 1993. He's been clubhouse manager for the last thirteen years.
Now seventy-four, he works from an office just inside the clubhouse lobby, handling staffing, payroll, reservations, and special outings. "That's enough to keep busy," says Green, who's still a lanky six-footer but says, "I'm shrinking."
His time working on the course spans most of its history. Designed by the legendary Alister MacKenzie, it opened in 1931, two years before MacKenzie's jewel, Augusta National, site of the Masters Tournament. MacKenzie preferred to build around existing terrain as opposed to reshaping it from scratch. His greens famously undulate severely–to the frustration of many a golfer sitting over a four-foot bending putt.
The U-M course is "such a gorgeous place," Green says, "but for many years it was ignored and fell into disrepair." Things improved in the early 1990s when U-M raised $5 million to renovate the course. "They used to call it 'The Rock,'" Green says, because the stone-hard fairways provided such generous rolls. "Now you fight for every foot." The renovation didn't touch those MacKenzie greens, though, which Green calls "the heart and soul" of the course.
A decade ago, pro golfer Ben Crenshaw visited the course, as part of a delegation looking at sites for the Buick Open. Green gave Crenshaw a guided tour, and after the second hole, he says, "it was like we'd known each other our entire lives." But Crenshaw ended up quashing the proposed location. Hosting such a tournament would require adaptations that, he believed, would change the course for the worse.   According to Green, Crenshaw declared, "Anyone who touches a blade of grass on this golf course ought to be shot! This course is a classic."
To play at the U-M course, you must be affiliated with the school or be the guest of someone who is. Students take about one third of the tee times.
"People are quick to say, 'Oh, it's college kids, and they don't care, and they'll just tear things up,'" Green says. "But it's not the case. They respect the course just as much as anybody else."
While some have complained that playing the course takes too long, Green denies this. In fact, if someone is asked to leave the course it's typically due to slow play–and since those players often lack the skill required for the demanding course, "frequently they're relieved," he says with a chuckle.
Green and his wife, Jean, have lived in the west-side Van Dusen subdivision for forty years. The couple have two grown children–Eileen, who's in the mortgage business, and Sean, a website manager at U-M.
In his spare time, Sean carries on the family athletic department tradition–though, his father points out, he has it comparatively easy. Along with his work at the golf course, Green has helped out at U-M football and basketball games since the 1960s. He remembers typing out play-by-play descriptions of basketball games "on an old manual typewriter–and I'm not a typist."
Sean handles that duty for the team today, using a touch-screen computer to document the action on the court. "That's nothing," Green snaps. Recalling the multisyllabic U-M basketball star from the late 60s, he says, "I typed 'Tomjanovich' five thousand times, and all he does is touch a button."
The clubhouse used to have a special role in the fall as the U-M football team slept upstairs the night before games. Green recalls that the large rectangular room was, "configured like a dorm, with a hallway down the middle with cruddy old wire bunk beds on either side." Bo Schembechler ended this tradition in the late 1960s, partly because it was too small to accommodate the growing number of players but also, says Green with a chuckle, "guys could sneak out too easy." Today that upstairs room is property of the Michigan Letterwinners Club, and on the east wall you can find the name of every U-M varsity athlete dating back to the 1800s.
Green's name is included on that wall as in 2002 he was presented with an honorary varsity "M," a tribute given to only a few nonathletes. Lloyd Carr, a fellow honorary M-man, says, "I don't know if there's anybody out there with a bad word to say about Charlie Green," says the football coach. Carr says Green "goes out of his way to help people" and exudes "deep pride" in the course and its history.
Those who make it onto the U-M golf course will find a special plaque bearing Green's name near the sixth hole tee. He handpicked the visually stunning par four to be the site of this honor. With its tree-lined fairway and two-level green surrounded by beautiful trees, he considers it the "signature hole" of the course.
Not just a caretaker, Green is a serious golfer himself. At his finest, he was a six handicap: in layman's terms, that means he was darn good. He still tries to get in a game on Thursdays. A hole in one? "Naw, never had one," he says, sighing. "But I've had two eagles on par fours." While that is probably a more rare and difficult feat, Green acknowledges, "nobody cares."
As for the course, he's optimistic about its future. "If the athletic director is a golfer, it makes a big difference," Green says.  And new athletic director Dave Brandon is indeed a golfer.
Follow MVictors on Twitter