The Big Chill at the Big House is just a month away and the athletic department has begun to distribute the tickets and they are sweet: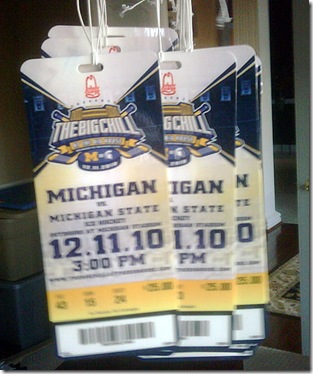 The ducats are made of plastic (like a thick credit card) and come with a hole up top to hang from a lanyard or the plastic string they come with. 
Don't have tickets yet?  Stubhub has plenty ranging from $27-$109 all around the stadium: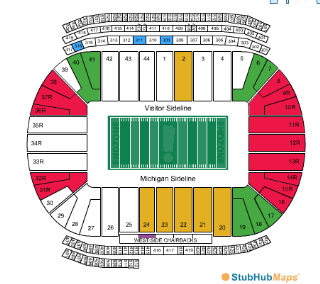 Of course the topic of the Big Chill will come up more and more as we approached the big day, and John Bacon brought it up to Tristin Llewellyn and the white-suspenders-and-pencil-thin-moustache-rocking Scooter Vaughn at The Arena on Tuesday on the Red show.  They each played it down as just another game, but hinted things would be pretty special playing in front of all those fans.  That's certainly just what they are supposed to say, you can bet these guys are geeked.  
Other stuff from the coaches show:
* '81 alum Roger Bourne offered a few great stories and noted that the team used to stay over on road trips on Saturday night and tore it up in the opposing town (but had to be ready to leave 7am Sunday).   Yes, there was an incident when a couple guys missed the flight home.
* Red was out attending an NHL/college hockey meeting in Canada, more likely to come out on that next week.  Billy Powers sat in an I think the key takeaway was the concern over the Friday night results.   Powers advised that Red's Saturday 10am meeting have been pretty harsh for everyone but players don't seem to be getting the message.  Big one Friday against Notre Dame so I guess we'll see.
* Powers also noted that Hunwick was ill in Alaska and this is why Bryan Hogan got both the starts.
Check out the WTKA podcasts here.