The last of the first round of the 'Death March Madness' tournament (full bracket here – background here). Here's a printable version.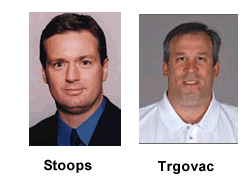 Mike Trgovac (Carolina Panthers assistant) vs. Bob Stoops (Oklahoma)
As 3 and 4 seeded players, these guys have come up quite a bit in the lists of potential coaches.
Trgovac [bio, Panthers official site] was instantly on the list due to his status as a Michigan man. Check out his credentials as a player under Bo:
As a player under Bo Schembechler at Michigan from 1977-80, Trgovac started three years at middle guard and was second-team All-America as a senior. He earned All-Big Ten honors twice and played in three Rose Bowls. An all-state football player at Fitch HS in Austintown, OH, he was named defensive lineman of the year in 1976 and won the state heavyweight championship in wrestling.
He continued on under Bo for 2 seasons as a graduate assistant then moved on to Ball State from 1986-88, Navy in 1989, Colorado State from 1990-91 and worked under Lou Holta at Notre Dame from 1992-94. He's been with a few NFL teams including the Redskins, Packers, and Eagles before taking over the Carolina position.
So he's a Michigan man, probably knows Lloyd Carr and Les Miles very well. Looking over his resume I've got a few concerns.
1. He never returned to Michigan after his 2 years under Bo, why not? Did Bo and company know something?
2. He's bounced around from job to job quite a bit. While expected behavior for an assistant coach, why couldn't he stay on in one job for more than a few years?
3. He's got no head coaching experience at any level, and you have to wonder if the NFL has really prepared him to run a college football program, when it is much more than film study and X's and O's.
But, as a Michigan man with major coaching cred, Trgovac is likely to be asked to discuss the job with Martin. Vegas sure he's got a shot; he was recently listed at 5 to 1 to get the job.
Stoops [bio from the Sooners official site] Also from Youngstown OH, Stoops coaching pedigree traces from Iowa (where he holds a degree), Kent State Kansas State, to Florida to the OU gig. Like Trgovac, he also has some cred as a player:
Accomplishments as a Player
# Four-year starter for the Hawkeyes (1979-82).
# Honorable mention All-America honors at defensive back, Iowa's MVP (1982)
# Two-time All-Big Ten selection (1979 & 1982)
# Finished with 205 tackles and 10 interceptions and was called "the hardest hitter among Iowa defensive backs."
Like Florida's Urban Meyer, Stoops is a proven winner and still a hot name in the coaching ranks. Also like Meyer he's had some player issues but no serious recruiting violations (yet). And again just like Meyer, Oklahoma isn't exactly a stepping stone to bigger college football opportunities. Would he leave OU for a chance at the Michigan gig? Doubtful, but who knows. Here's Stoops on this topic at a recent press conference:
"Where does that come from? Some guy throws out a pool of names, so now I'm out there," Stoops said, according to the Dallas Morning News. "I'm not a candidate for any job, not this one or any of the next ones that are coming in the next few weeks."
So what do you think? The winner will take on #2 seed Rich Rodriguez of West Virginia:
Winner is Stoops with 71%….here's the current match-up
{democracy}