The second round of the 'Death March Madness' tournament (current bracket HERE – background here). Here's a printable version.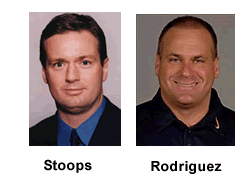 Bob Stoops (Oklahoma) vs. Rich Rodriguez (West Virginia)
How they got here: West Virginia head coach Rich Rodriguez received a bye in the first round as the #2 seed in the region while Bob Stoops absolutely crushed Mike DeBord in the first round.
Stoops [bio from the Sooners official site] Also from Youngstown OH, Stoops coaching pedigree traces from Iowa (where he holds a degree), Kent State Kansas State, to Florida to the OU gig. Like Trgovac, he also has some cred as a player:
Accomplishments as a Player
# Four-year starter for the Hawkeyes (1979-82).
# Honorable mention All-America honors at defensive back, Iowa's MVP (1982)
# Two-time All-Big Ten selection (1979 & 1982)
# Finished with 205 tackles and 10 interceptions and was called "the hardest hitter among Iowa defensive backs."
Like Florida's Urban Meyer, Stoops is a proven winner and still a hot name in the coaching ranks. Also like Meyer he's had some player issues but no serious recruiting violations (yet). And again just like Meyer, Oklahoma isn't exactly a stepping stone to bigger college football opportunities. Would he leave OU for a chance at the Michigan gig? Doubtful, but who knows. Here's Stoops on this topic at a recent press conference:
"Where does that come from? Some guy throws out a pool of names, so now I'm out there," Stoops said, according to the Dallas Morning News. "I'm not a candidate for any job, not this one or any of the next ones that are coming in the next few weeks."
Rich Rodriguez has his West Virginia team poised to play for the national title in January this year. His offense is the envy of many fans. I don't know if anyone is exactly sure what happened with the Alabama coaching job last year, whether he actually accepted a job and then changed his mind, or whether he never actually accepted the gig,…who knows. Putting that aside, there are all kinds of rumors that Rodriquez plays a little dirty in the recruiting game. These of course remain rumors as I'm not aware of any official infractions against his program. All told, his success in taking the WVU program to a new level is commendable. Timing may be an issue as now Rodriguez would be the one embroiled in coaching rumors and his team is preparing to play for the title (assuming they win Saturday).
Boy, if Michigan ended up hiring RR wouldn't it be bizarre that Michigan hired the Mountaineers' head basketball and football coaches within the span of a year?
UPDATE: It's Stoops with 57% of the vote. It was tight for a while. Here's the latest poll:

{democracy}