Bo era savant Steve "Dr. Sap" Sapardanis recently caught up with Jon Falk to get down and dirty on the decals.  And if you are wondering when this site is going to stop talking about helmet decals, the answer is NEVER.
___________________________________
Steve "Dr. Sap" Sapardanis (SS): Bob Ufer mentioned that there were team goals as well as individual achievements that were used to award the decals. Do you know what criteria was used to get a decal? Was that list published?
Jon Falk (JF): There was a notebook that Bo had that listed the goals.  It had offensive scores, defensive stops, interceptions, tackles for loss – I can't remember all of them.  When the offense would score, every player on offense would get one. If we scored more than 30 points, the whole offense would get one.  If the defense made a goal line stand, the entire defense would get a decal.  Things like that.
SS: Who made the decision to award decals to each player?
JF: The position coaches would give me the list.  Later on, it would be the Victors Club List.  That's where guys would wear Victors Club jerseys at practice.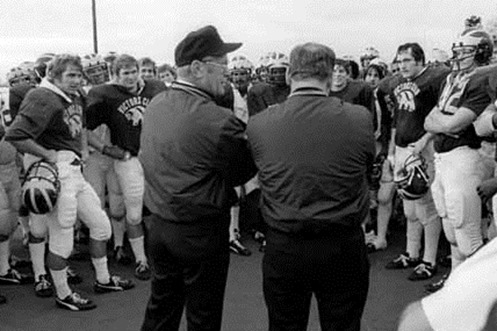 (Victors Club jerseys)  U-M Bentley Historical Library
SS: When were those decisions made? After evaluation of game film?
JF: Correct.  On Sunday each position coach would break down the game film and make a list of who would get (how many) decals.
SS: When were the decals applied to the helmets?
JF: Monday.  After I got the list from the coaches on Sunday, I would put the decals on Monday before practice.
SS: Who put the actual decals on the helmets?
JF: I did.  I would also check the helmets on Saturday to see if any were torn.
SS: Who kept track of the decals and were they locked up?
JF: I had them in my office, locked in a drawer.  I had a book that I kept a record of for the entire year of who had how many decals.
SS: Do you still have that book?
JF: Oh, gosh no!
SS: The design of the decals changed over the years. Who decided to change the design in 1975 & 1985?
JF: I did.  The original ones were crudely shaped – they were just punched-out and literally stuck to adhesive tape.
SS: Who/what company made the decals?
JF: There was a local guy in Milan, MI – gosh, I can't remember his name – but he was the guy who made them.  They were made on cards that had 10 decals on each card.
SS: Were the decals actually a yellow football with just a clear-colored (not blue) wolverine head?
JF: Well, like I said, the first ones were cut out and applied to adhesive.  The next ones (1975-82), the yellow was adhesive with a clear wolverine head. But those were very thin and would tear and get torn, so the next ones (1985-94) were made a little thicker.  They were yellow with a blue wolverine head (with laces) and were a little more durable.
SS: The decals were not on the helmets in 1983 & 1984 but were still kept track of. Who made the decision to take them off the helmets?
JF: I don't recall that. I thought they were always on.
SS: They came off in '83 & '84 and I had heard that they were still kept track of, but they were just not placed on the helmets. Evidently, Bo wanted to reinforce the TEAM element and thought removing them might help.
JF: No, I don't remember that. Are you sure?
SS: Absolutely.
SS: Were the players excited about getting new decals each week?
JF: Oh, yeah!  Each Monday they'd say things like, "How come I only got this many decals?" And I would tell them, "Go talk to your (position) coach."  But some of the players would move the decals each Monday and then I would move them back on Saturday before the game.
SS: You mean some of the guys would reposition them?
JF: Yes. And I would have to move them back to where I put them.
SS: I know there were left and right decals. Were they placed on the helmets in a certain way?
JF: Yes. I tried to place the decals so that the wolverine head was facing away from the (side) stripe.  So the left-facing ones were on the left side of the helmet and the right-facing ones were on the right side of the helmet. That didn't happen every year, but that's what I tried to do.
SS: When Lloyd Carr made the decision to remove the decals in 1995, were they still kept track of?
JF: By then we had the Victors Club T-Shirts – not the jerseys. A few years later, if we were playing a home game, they would wear a blue Victors Club jersey with no numbers on it at practice. If we were playing a road game, it would be a yellow Victors Club jersey. The Demo Squad would wear different colored jerseys for each team that we were playing on the road. The Demo Team would wear white jerseys for the road (visiting) teams.
SS: How did the players react when they were told there would be no more decals?
JF: You know what? They just took it in stride. We didn't want anything to distract from that winged-design.

SS: I have been a big proponent in trying to bring back the decals. What's your take, Jon? Would you like to see them again on the Michigan Football helmets?
JF: I like that Michigan helmet without the decals.
SS: :(
OTHER TIDBITS FROM JON FALK:
"I used to tell all the players who would go to the Senior Bowl, 'Don't put any (other team) stickers on that helmet of yours!'"
"Bo used to ask me, 'How come these helmets are scratchy?' Guys like (Mark) Donahue and (Rob) Lytle would have their helmets all scuffed up and Bo didn't like that.  He liked those old (MacGregor) helmets where the design was actually inside the helmet and there was a plastic coating on the outside. So we got some touch up paint and Bob Bland would touch up the helmets every Thursday night."
"Dave Brandon wanted the helmets to look shiny for each game on Saturday. So a few years ago, Bob Bland would paint the game helmets on Monday so they would look perfect for Saturday's game.   More recently, all the game helmets have been shipped to Elyria, Ohio to have them touched up and have a heavy gloss coating applied to them so they could be nice and shiny. On Monday the helmets would get shipped to Ohio to get the gloss finish re-done. The guys would wear practice helmets all week and get their game helmets back on Thursday. This way the helmets would look nice all the time."
"The first night game against Notre Dame was when we first used the speckled (yellow) paint and used it all season."
Follow MVictors on Twitter