So by now you've seen The Wolverine's Chris Balas tweet out what his sources say will be the 2015 road uniform: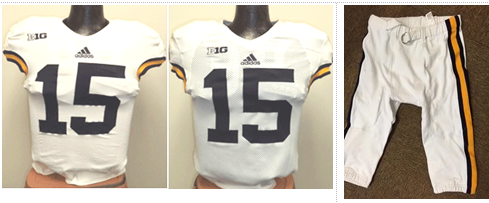 So a couple notes:
This indeed appears to be a modern version of the epic all-whites worn exclusively on the road in 1973 through 1975 (concluding with the 1976 Orange Bowl). Here's a look at the 1973 MSU game up in East Lansing:
While we know photos can deceive, there seems to be no doubt the both the maize and blue tones are darker, and this backs up a bit of solid insight I got from a great source. Good timing after this recent post on the origins of maize and blue back in 1867.
My guess is that Balas is correct and we'll see these September 3rd. I like the stripes, I could probably do without the white pants for an entire season but I'll reserve judgment until we see them for a few games.
Now…after the Utah game will be seeing helmet stickers? Call it a gut feeling but I'd say we'll see them.
More from the Uniform Timeline here. I can't officially update the timeline until we have an official release or we see them on the gridiron September 3.
Follow MVictors on Twitter