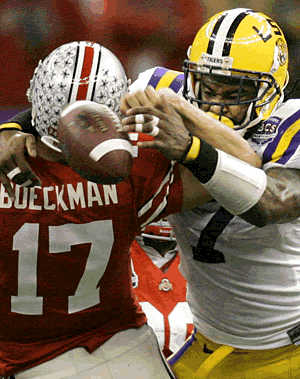 A few takes from the game, most as it happened:
First half takes: Boy, the Buckeyes came out strong again in this version of the BCS Championship. They sustained the momentum for more than one play but wow….Les Miles and the Tigers have taken complete control. Wondering how Tressel will respond in the second half as against Florida he definitely panicked. Not looking good for the Bucks.
The FOX coverage is a complete bust except for the pregame thing Shaq did for LSU. Oh my god that was hilarious. YES I DIG IT!
Second half takes: Two huge personal fouls by the Bucks lead to an LSU score but the Buckeyes respond with a pick and nice touchdown on fourth down. There's some life.
The net: All in all, pretty much went like last year's game with this time LSU running off 31 straight at one point. Actually felt bad for the OSU fans there. I've been to games like that. You know many of the same folks in New Orleans were in Phoenix.