Nice try, Denard.  I've got uniform spies everywhere but even I caught this one.  
This season Denard switched from a Riddell helmet, used the past two seasons, to a Schutt model this year.  Here he is in 2009 with the Riddell: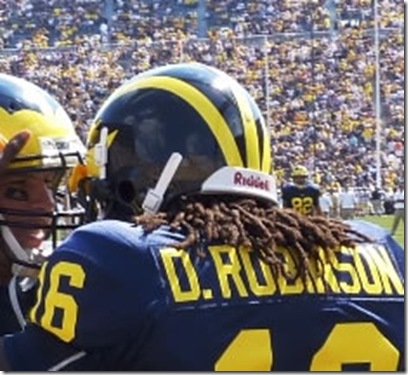 And yesterday (from the nice photo gallery put together by Brad at MnB Nation), here's the Schutt.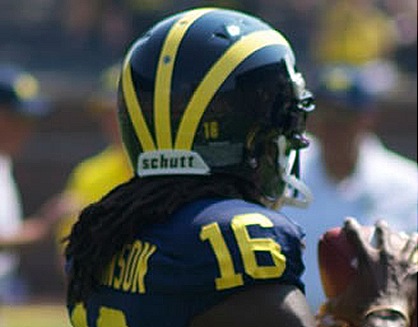 A quick text to uniform guru Steve Sapardanis confirmed the switch.  Sap checked his notes and verified that indeed, Denard wore Riddell in the Gator Bowl but trotted out a Schutt at  the Spring game and at the Under the Lights press conference. 
As I wrote last season, I'm partial to Schutt.  These are the helmets that are reconditioned and painted in Oxford, Ohio each year by a man named Russ Hawkins at a company called Capitol Varsity Sports.  More from my 2010 post:
This May I asked Falk about how Michigan hooked up with Capitol Varsity and Hawkins and he told me relationship goes back to the mid-1960s.   Falk was the manager for his high school team in Oxford and naturally they used the local company for their reconditioning services.  This relationship followed Falk to college at Miami, OH when he handled the equipment under Redskins head coach Bo Schembechler.

When he was reunited with Bo up in Ann Arbor in 1974, Falk found a few issues with the paint job on the helmets and decided to send them back to the crew back home.  Hawkins and Capitol Varsity have handled the Schutt side of the headgear house ever since.
Nice work, Denard.