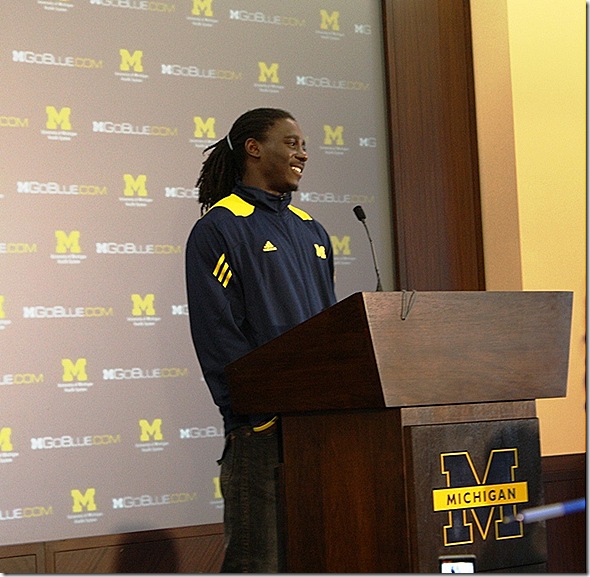 The man of the hour and here's the audio:
Denard Shoelace Robinson - Audio Sept 13 - Junge Center
Play Now
|
Play in Popup
|
Download
The thing about Denard is that he's highly likeable.   He's clearly humble, there's a bit of an 'aw shucks' thing going on and that huge smile just tops it off.  I think that extends outside the Michigan fan base too.  As you do, I know quite a few State fans who really couldn't stand Tate especially after the "I don't get nervous" comment.  I saw it differently of course, but I guess I understand.
There were several questions about his workload running the ball, both at Rich Rod and Denard.  One interesting fact.  He was of course a quarterback in high school but most schools recruited him as a receiver or cornerback but did you know Denard only rushed for 462 yards his senior year at Deerfield Beach (while throwing for 1809)?  So he's just seven yards away (read: 1 carry) from beating his rushing totals from his entire high school senior year.
P.S.  They handled out an updated copy of the Michigan record book at the press conference today, haha, that's never a bad thing.