I left Columbus with more questions.   Like many of you I'm puzzled why Denard wasn't used in the second half especially down the stretch.   If he was hurt and out of commission he sure didn't look it in the postgame and Hoke didn't say as much in the postgame.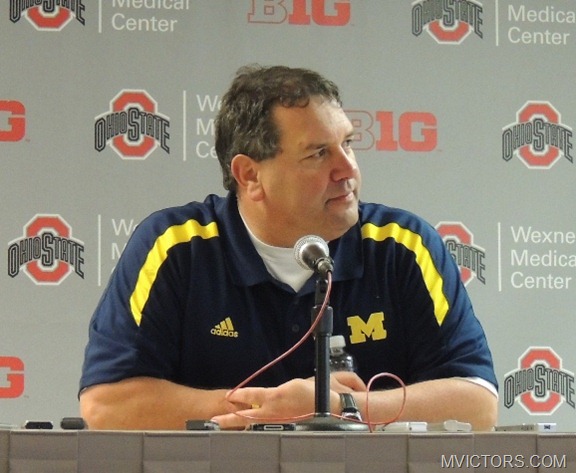 While Hoke never really talks about injuries, it's not like there's some gamesmanship required here—the bowl game is five weeks away.   And let's say he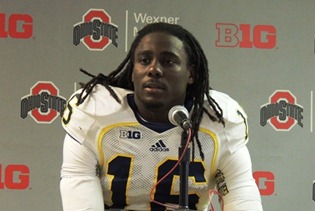 was dinged up and couldn't run the ball for some reason–toss him in the backfield as a decoy, no?   
Other than the lack of Denard down the stretch, the other frustration was how he was used in short yardage.   He showed no indication that he was ever going to pass it and really didn't throw in warm-ups.    So if you aren't going to have him throw it–at any point–then on short yardage put him in the backfield with Gardner and hand it or toss it to Denard, or fake it to #16 and have Gardner run it, or toss it to Gallon or ARGH. 
After the 2001 Michigan State Spartan Bob game Lloyd Carr summed up how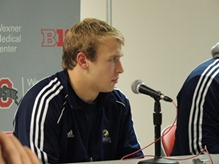 he felt about his team, when he said, "They deserve better."   
Kovacs was on the brink of tears in the postgame.  The defense made huge players to keep Michigan in this one but the offense couldn't move the ball in the second half.   The opportunity for a historic  win was out there. 
They deserve better.
There were plenty of positives and memorable moments that sadly get tucked away in a loss:

– Denard's TD run (aka Crunch (left) then Lunch)
– Roundtree's TD with agent Dileo running security on the perimeter
– The huge hits on defense highlighted by Frank Clark's sack
– Several big stops on defense in Michigan territory
– Hagerup's excellent day punting and overall an outstanding game for special teams.
– This was an epic game all in all.  Hats off to the Buckeye defense and Miller and Hyde.  Looking forward to next year's battle between these two QBs.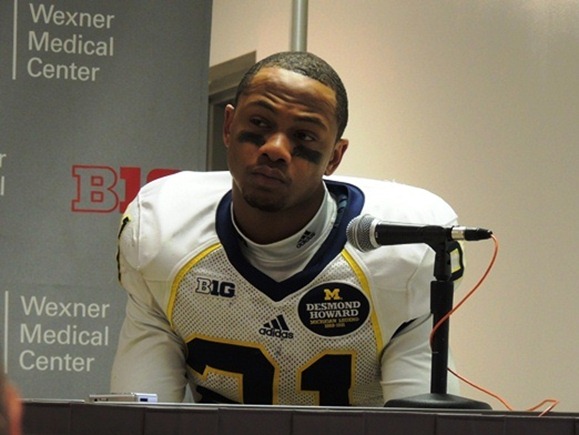 And one positive moving forward.  Prediction:  I think we will see the Devin-Denard backfield unleashed in the bowl game and a big win and a conclusion to the season.   And then we'll all be pissed off talking about what could have been :)
Misc:
* Ohio Stadium.   Wow, what used to be a beautiful stadium is now the car Homer Simpson designed.   It's an unorganized smattering of unsynchronized advertisements (FYI – Texas de Brazil is coming to Easton Town Center!), disjointed signs honoring form teams/players/coaches, and flashing lights featuring wild-eyed cartoon footballs saying OOOOOoooo: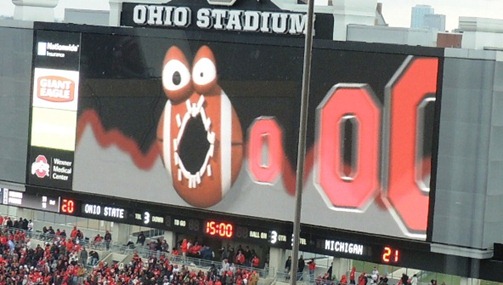 Oy Oy Oy Oy
* Atmosphere.   While the stadium aesthetically is a mess, despite the occupants, the atmosphere is gets high grades.  The pregame tension was wild.  It's quite a place to witness a Michigan game for sure.  Yes, the south end zone reeked like Jagr and pot at the end of the game but that's part of the culture, man.
* Top 3.   So Michigan has faced arguably the top 3 teams in the country.  I feel like we should have taken down the Irish and U-M squandered a great opportunity Saturday.   If you asked me to compare each team in the aftermath of each game, I'd rank them 1. Alabama, 2. Ohio State, 3. Notre Dame.   If you asked me to rank them today I'd probably flip Ohio and Notre Dame. 
* We'll take it.  One set of the disjointed honorary signs are the Buckeye national championships… including Woody's 1970 team that lost by ten to Stanford in the Rose Bowl: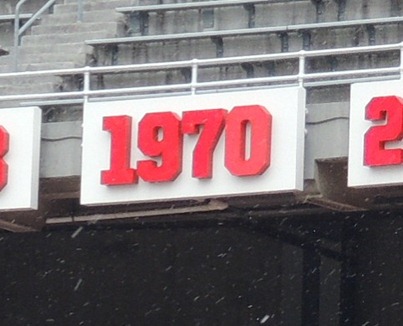 I discussed the history of claiming national titles, and whether Michigan should claim 1898, in This Week in Michigan Football history on Saturday's pregame show.   Whether it's done by drunken AP voters or some other group, expect OSU to claim some sort of national championship in 2012.
* Don't Tempt me.   Ever see a kid teasing the lion outside his cage at the zoo?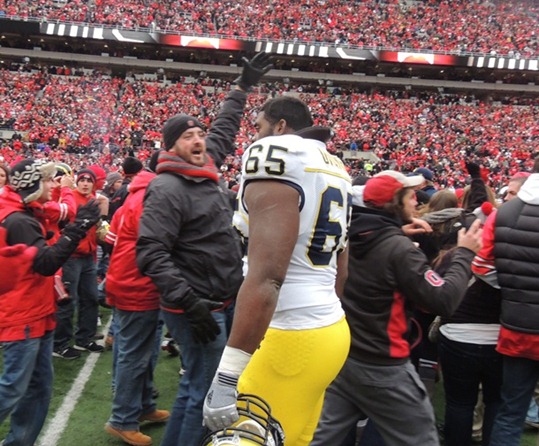 Frigid.  Including my coat, I had five layers on me and gloves and a hat.  I was still freezing during pregame.  This was nuts: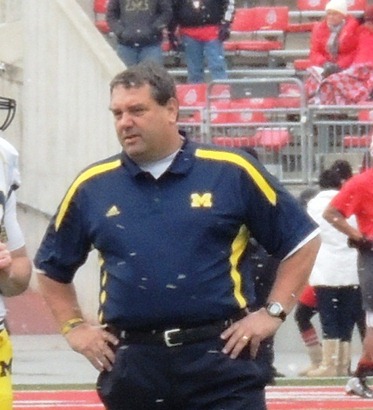 Guessing they had to pry that watch off after the game.
* Formations.   The media was each provided a booklet that included detail of the Ohio State marching band's formations of the day.   I'm certain I'm the only one who opened it.  Here's the block M they formed, down to the position of each member of the band:
Here's a look at the Script Ohio – the documented formation and the real deal from Saturday.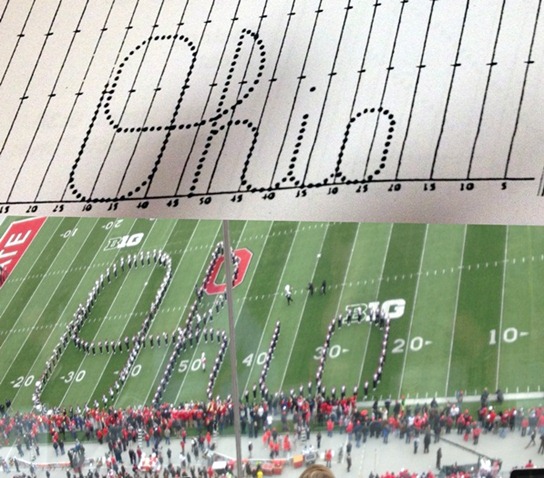 Here's how it looked when the MMB taught the folks in Columbus how to do it back in 1932: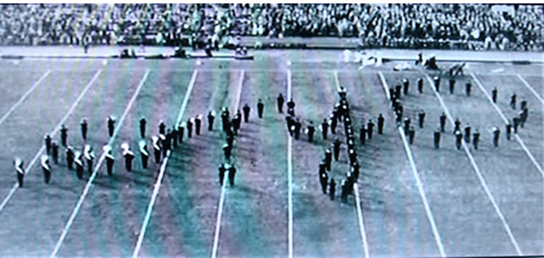 Follow MVictors on Twitter