If you caught the pregame for the New England vs. Buffalo game on CBS today you may have noticed a shiny blue ring on color man Dan Dierdorf's finger. Here it is: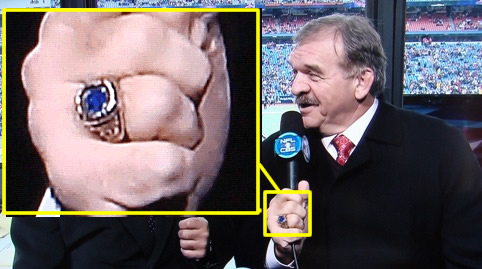 My first thought wondered if this was a 1969 Michigan Big Ten championship ring for the former All-American offensive tackle. After a few Google searches I couldn't find an example of a '69 ring. Certainly if the ring had a stone it'd be blue, but that doesn't exactly narrow it down.
The other obvious choice would be a Pro Football Hall of Fame ring which very possible, here are a couple examples: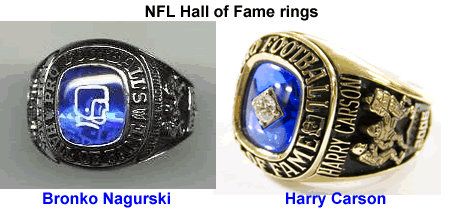 I'm guessing it is either his HOF ring as a player as the 2008 recipient of the Pro Football Hall of Fame's Pete Rozelle Radio-Television Award. And no, I really don't care that much what a dude is wearing on his finger but give me a break man, the Lions are about to go 0-16 and there isn't a lot of M pre-bowl hype to discuss.