WoW – what a finish!  Take the W and get out of Bloomington.  A win is a win. Now it's onward – to your Champions.
OFFENSIVE CHAMPION – When things start to click, your game becomes one with your teammates.  Plays that weren't being made before, suddenly look like old hat.  Jake Rudock is starting to click, but more importantly, he's clicking with Jehu Chesson.  That deep threat wasn't there earlier in the season, but in these last two games, especially against Indiana, Jake Rudock to Jehu Chesson has been money.  The two had record-setting performances Saturday night and it's a perfect time in the season for this to happen.  The threat of a deep passing game can only help the Michigan offense these next two games.  Jake to Jehu – sounds much like another great Michigan QB to WR combination: Benny (Friedman) to Bennie (Oosterbaan).
DEFENSIVE CHAMPION – Playing against a spread offense like IU only brings out the worst in your defense.  It exposes lack of depth.  It exposes poor tackling in open space.  It's never a pretty picture on D.  As the game wore on, and as IU's Jordan Howard kept ripping off huge run after huge run, I wasn't going to select a Champion on defense.  It just felt as if I would be rewarding the player who got torched the least.  Throughout the game I noticed Delano Hill was not getting burned as much, so I was leaning towards him.  In overtime I kept thinking that just one player needed to make a play.  It was only fitting that Delano Hill made THE play – AWESOME!!
SPECIAL TEAMS CHAMPION – Jourdan Lewis is making a case for being a two-way player.  I got no problem with him returning kickoffs.  He has the open field vision to "run where they ain't" and that's critical on kick returns.  While Jabrill can do the job back there, Jourdan is showing everybody that there is no major drop off with #26 returning kicks.
COACHING STAFF – Maybe it's just me, but I truly believe the timeout Michigan took in overtime when IU had the ball on their last possession, really made a difference.  I think the Indiana coaching staff took the extra time to out-think themselves. Instead of going Beast-mode, they went to the air and, well…we know how that turned out!  I know it's an old saying, but I gotta say it: "Hoosier Daddy?"
UNIFORM CHAMPION – So cool to see the entire Michigan team write "#ChadTough" in their own personal way on the back of their helmets.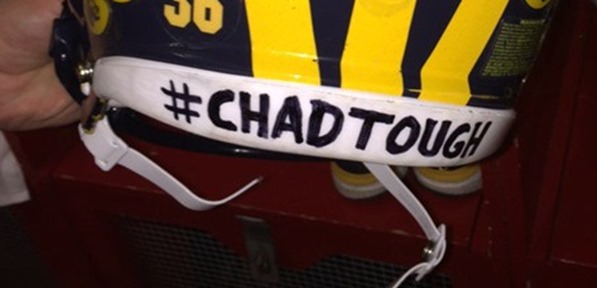 A special tribute to a special kid.  A touching and class act by the Michigan Family.  GO BLUE!!  GO CHAD!!
Virtual Sap helmet:

Decals dealt out in previous weeks:
Utah: Jake Butt, Jabrill Peppers, Blake O'Neill, (Uniform: White Road Uniforms), John Kryk
Oregon State:  De'Veon Smith, Chris Wormley, Delano Hill, The Coaching Staff
UNLV:  Ty Issac, Channing Stribling, Blake O'Neill
BYU: Jake Rudock, Defensive Line, Jabrill Peppers, (Uniform: Properly Hiked up White Socks), Amara Darboh
Maryland: Drake Johnson, Desmond Morgan, Kenny Allen, (Uniform: Blue lyrca leggings).
Northwestern: Jehu Chesson, Jourdan Lewis, Offensive Line, (Uniform: Maize and Blue gloves).
Michigan State:  No Champions
Minnesota: Wilton Speight, Michigan defense, Jabrill Peppers, (Uniform: Stickers crossing the stripes! :O)
Rutgers: Jake Rudock, Taco Charlton, Jim Harbaugh
Indiana: Jake Rudock, Jehu Chesson, Delano Hill, Jourdan Lewis, Coaching staff, (Uniform: #CHADTOUGH on helmets)