When he was hired, they asked Rodriguez what how he'd prepare for Ohio State and for being part of the rivalry.  I don't have the exact quote, but he effectively said that each game counts as one, and until that changes he'll approach each game the same.  Well, Saturday's game definitely counts for two, maybe more.
It's a tough time to have all the chips on the table as nothing seems to be working right now.  Another second half collapse on the gridiron, and the f'in Spartans sweeping our beloved icers.
Then toss in Bruce Springsteen, who's composed many a tune on the plight of the downtrodden, mistakenly saluted Ohio at his concert Friday at the Palace:
Bruce has played here at least once every year since 2002. Imagine, then, Bruce coming onstage and greeting the crowd with a salute to Ohio! And then sticking Ohio in to the lyrics of "Wrecking Ball" — of course, a Michigan audience tends not to object too much to lines such as, "tonight Ohio is going down in flames." Finally, Bruce put Ohio into the rap for "Working on a Dream." This last actually managed to get a few boos, and prompted Stevie to inform Bruce that they were, in fact, in Michigan.
Ugh.
Bullets:
-> I actually think Pryor at the Buckeyes present a decent match-up for this team but still give the Blue little chance Saturday.  I know they'll play hard.
-> I got a kick out of this, AnnArbor.com reporting on Bill Martin speaking after the Wisconsin game:
"I was just reading last night in Sports Illustrated the article about (Paul) Johnson at Georgia Tech and what happened down there when he first came," Martin said. "Now he's having a wonderful year. He's 9-1, but talked about how their quarterbacks left, the receivers left, all the skill players left that program. He's turned it around in two years. I expect you'll see that same situation."

Martin grew angry when a reporter reminded him that Johnson is in his second season as Georgia Tech coach. The Yellow Jackets are 10-1 this year. In Johnson's first season at Tech, he went 9-4 and played in the Chick-fil-A Bowl.
"I know it is," Martin said. "I can count, too. So what's your point?"
Why hasn't it come faster?
"It hasn't, has it?" Martin said. "Next question."
-> As far as Rodriguez, I'll restate that barring the NCAA coming back with a major violation, they won't fire Rich this season and I don't think they should.  I'm not worried about what Notre Dame does with Weis or with Brian Kelly or whatever.  They won't look at Harbaugh, who burned his M bridge at least for a while, and who's apparently headed for the NFL anyway like his brother.
-> Hoping many alums come out to support the team Saturday as has been the new tradition the past few years.   This week (and next) should be interesting with the former players vocalizing their positions on Rodriguez, especially if it's ugly Saturday.
-> Time permitting, I may feature some Ohio State-Michigan memorabilia this week on eBay Watch.  Thanks to John Kryk of Natural Enemies fame for pointing this out, an auction of a program and ticket stub to the 1927 Michigan Stadium dedication game against the Buckeyes: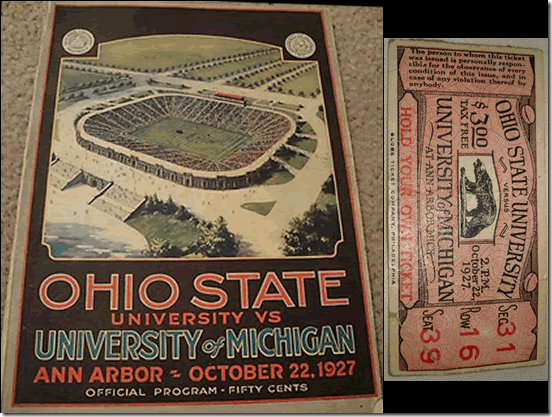 They're asking a hefty $699.00 for this piece of history.  In these hard times, I think that's a stretch but we'll see.