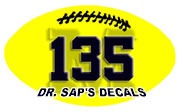 Steve "Dr. Sap" Sapardanis is back this season with his weekly postgame helmet stickers. Sap would do a backflip if coach Hoke decided to reinstate this tradition that Bo brought to the team in 1969.
Until that day comes, Sap will bring you his game Champions who will be decorated, albeit virtually, with his helmet stickers. I'll typically toss in the Fan Award and the Editor's Choice:
OFFENSIVE CHAMPION

DOUG NUSSMEIER – Yes, it was great to see Devin Gardner look so good throwing the ball. Yes, it was great to see #1 catching touchdown passes (again). Yes, it was great to see Derrick Green and De'Veon Smith run with some authority and confidence. But in my mind, ALL of this starts with the OC. Coach Nuss got the offense started on the right foot and for that he gets a decal for that offensive performance. May not have been tremendously complex, sophisticated or flashy, but it was simple, effective and confidence-boosting and that is exactly what Team 135 needed to start the season.

DEFENSIVE CHAMPION

GREG MATTISON – The defense just seemed and looked ready to me, today. Believe me I get it – this was Appalachian State 2014, not the 2007 version of the Mountaineers – but the defense was not lost out there. Maybe it has something to do with the talent on the field (both sides), but it looked the Michigan Defense was well-coached and well-prepared. Blitzes were effective. Players didn't look lost. There was no confusion as to what play was going to be called, where everyone should be lined up and who was covering who. That's coaching and Mattison deserves credit for having his team ready – more than I can say for the 2007 UM defense against Appy State.

SPECIAL TEAMS CHAMPION

BEN GEDEON – Not only did he have the presence of mind to field the blocked punt, Gedeon had the poise to not only advance the ball, he was able to make a football move to extend for the touchdown.

When you get a gift like that, you have to take it to the house. Two plays came to mind when they were reviewing his TD: Roundtree not making it in the endzone against Illinois in 2009 and Stevie Brown's first quarter INT against Terrell Pryor at OSU in 2008. When you don't take advantage of plays that you should score on, instead of stepping on the opponent's collective throat, momentum swings the other way. That didn't happen today, and that's a good sign.

UNIFORM CHAMPION

MAIZE & BLUE SHOES – If anyone likes the traditional UM uniform, it's me. Blue shirt. Two-tone maize pants. White socks up to the knees and of course black shoes with white shoe-laces. Having said all that, I gotta tell ya – I liked the look of the blue shoes with the yellow sole/tread. I can live with them.

BOB UFER FAN AWARD
Winner:
Runner Up: This gal.
EDITOR'S CHOICE
JACK MILLER – With Molk-like command and confidence directed the offensive line all day, killed it in the postgame interview with Doug Karsch then tweeted at Kate Upton. Nicely done.
The Appy State rundown:
Follow MVictors on Twitter