Yes!  Steve "Dr. Sap" Sapardanis is a Schembechler-era savant and once again this season he'll be diligently handing out his postgame helmet stickers after each game.  Lots of folks hand out postgame awards but Sap is different.  He's pored over hours and hours of U-M games over several decades, and in these posts he's able to tie the present to the past.  I encourage you to subscribe to Dr. Sap on YouTube, or follow Sap on Twitter:
OFFENSIVE CHAMPION – For those of you who were panicking midway through the 2nd quarter, yours truly included, I harkened back to some sage old advice that Bo Schembechler used to always mention when the going got tough: "It's time to get back to basics, and play Michigan Football."  How does that happen? You run the football. Ty Isaac did just that against Florida. Not only did he gain 114 yards, but his clutch runs on 3rd down kept drives alive and that seemed to be the spark Michigan needed to get their mojo back. The runs and play-calling were very reminiscent of what Bo & Jerry Hanlon would call on 3rd & long back in the day – draw plays – and Isaac delivered clutch 1st downs when they were desperately needed.
DEFENSIVE CHAMPION – There have been some great linebackers over the years at Michigan, but it's been a long time since I have seen one fly around with the speed, power and ferocity of Devin Bush.  Sure I thought he was out of the game after one play, and I'm glad he stayed in the game because, my gosh, the way he plays the game is so infectious for the rest of the defense. You can see that he sets the tone for that unit and they follow his lead.  He reminds me of a cross between Ian Gold, Dhani Jones and Tommy Hendricks. He's as fast as Gold was, is as football-smart as Jones and can lay the wood like Hendricks used to do 20 years ago. Dude is some kind of special!
SPECIAL TEAMS CHAMPION – When was the last time a Michigan kicker kicked two field goals that were 50-yards or longer in one game? Never?  [Ed. Never.] Quinn Nordin has a cannon for a leg and that was so impressive to see!  As solid as the kicking game was last year under Kenny Allen, it seems to have gotten off on the right foot with Nordin this year.
COACHING CHAMPIONS – It's incredible to realize that Florida did not score any offensive points after their 1st possession field goal. The Michigan defense recorded six sacks and forced three turnovers and oh ya, the Gators only gained 11 yards rushing for the entire game!  Those are incredible stats to drop in the first game of the year. While the credit goes to the players for making all those plays, Don Brown and Greg Mattison deserve some props for coaching these guys and putting them in positions, formations and schemes that enable them to be successful. Remember how your jaw dropped when Michigan throttled Colorado in the 1997 season opener? That's how I felt Saturday. This defense is gonna be that kind of good this year!!
UNIFORM CHAMPION – Not sure where you stand on the all-maize uniforms, but I for one really like them! I'm not saying they should wear them every game, but it was cool to see them Saturday. Years ago, Michigan used to call themselves the "Athens of the West." Well, I just got this feeling that pretty soon Nike will be calling Michigan the "Oregon of the East," as I just think this won't be the last uniform tweak we see this year…
Lastly, I'm hoping the helmet stickers will be back on the Michigan helmets this year. My guess is that as long as Jim Harbaugh is coaching the Wolverines, you'll see decals on the maize & blue headgear. Each year it seems the helmet stickers have had a slight change to them. In 2015, the oval-shaped decal had a slight, let's call it "adidas orange" color to them. They also had a blue outline around the edge of the design that was just a bit smaller than the actual sticker. In 2016, the color switched to, let's call it "Nike Amarillo" and the blue outline now matched the size of the sticker. Will there be a change this year? Who knows? If you are asking me, I'm hoping the blue outline will be removed – I was never a fan of that look. I also would want them a tad smaller so you don't have to put stickers in the sacred zone on the helmet – between the stripes. Just saying! I guess we'll have to wait until Saturday and, as Bob Ufer used to say, "We shall see, what we shall see…"
EDITOR's PICK: – Unlike Sap I was not crazy about exhuming the canary maize uniforms.  That said, for reasons I can't put my finger on, Camaron Cheeseman looked sharp as a cheddar-clad lad on Saturday.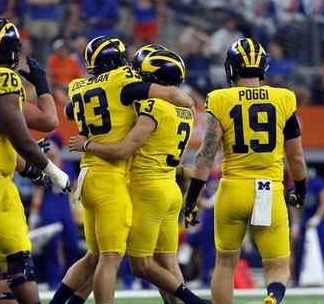 Follow Dr. Sap on Twitter!
Follow MVictors on Twitter

Week by Week Champions (O = Offense, D = Defense, T = Special Teams, C = Coaching, U = Uniform, E = Editor's pick)
Week 1 vs. Florida:  Ty Issac (O), Devin Bush (D), Quinn Nordin (T), Don Brown, Greg Mattison (C), all-maize unis (U), Camaron Cheeseman (E).
Week 2 vs. Cincinnati: