Many fans inside the stadium slap on the headphones and listen to the radio stylings of Jim Brandstatter and Frank Beckmann while they enjoy the game. I do this for a few reasons, but mainly to get data you just can't get in the seats such as injury updates and stats. I also like to have the option to block out any nearby idiot who is bitching, screaming at coach Carr or doing his own personal play-by-play. After the game I try to receive transmissions from David Bowie.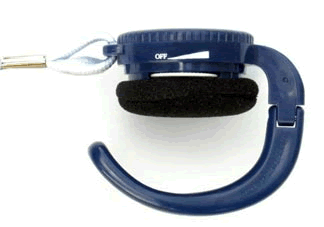 This season Michigan is offering a product called EARADIO. It is simply a small radio that you can hang on one ear. It says the device is no ordinary radio:
Developed in the United Kingdom, the EARADIO® allows fans in the stadium to hear the live play-by-play without the time delay of the "regular" radio broadcast.
First off, I'm not sure what they mean by tuning into the live play-by-play unless they're talking about a special frequency. The device is just an FM radio so I'm not sure what they are offering is any different than what you could tune in our your regular radio and listen to on your higher quality headphones. Second, while I've heard 1050AM go on an annoying delay for one game recently, you can typically get the game feed without delay on 103.5FM, 1050AM or 800AM from Windsor. I've been using a radio for years and only recall one incident where the delay was an issue.
I know from experience. Anyone who's been to the Ryder Cup matches knows they distribute these piece of crap little radios so that you may listen to the US or BBC broadcast. So many people returned these things (after a few hours of use) after the radio busted or the earplugs crapped out. I bought one at the epic Brookline matches and actually worked in the Merchandise Tent at the Oakland Hills Ryder Cup. These radios sucked. It wasn't the same company or same brand, but I'm telling you: BEWARE of cheap piece of crap radios like these! Save your $20 for something worthwhile: 2 bags of roasted almonds and a drink.
If you get one of these beauties at the App State game I'd like to hear your take.
photo credit: earadio.net