A real doozy of an item showed up recently on eBay, described to be a pendant awarded to Michigan's 1933 national championship team under coach Harry Kipke.  Very cool: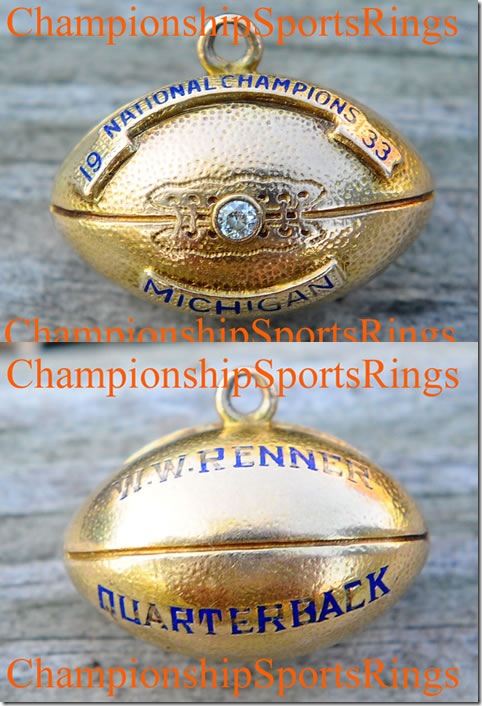 It appears to be in outstanding condition, made of 14K gold, and assigned to a quarterback named "W.W. Renner".  This appears to be originally the property of a William Renner who was on that '33 squad and who wore #63: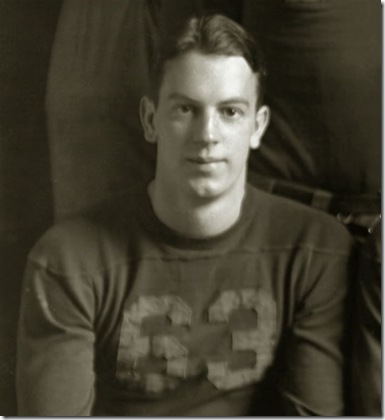 Renner is listed as "Art" on the 1933 team photo caption but as "William W." on the official roster and in his later years, including when he was captain of the 1935 squad.   I think the "Art" reference is an error as there was an Art Renner who played in the 1940s.  I'll let the Bentley know so they can check it out.
I rarely use Wikipedia as a research source but the entry on Renner has some excellent detail, including this nugget about the Youngtown, OH native's exploits against the Buckeyes during that 1933 championship year:
In the 1933 Michigan-Ohio State game, played before the largest crowd to see a Big Ten Conference football game to that date, Renner came into the game at the end of the first half and ran the ball for a game-winning touchdown. An Associated Press story described Renner's impact in the scoring drive against Ohio State: "When he finally trotted out on the gridiron, the consternation of the Buckeyes was obvious to the 93,508 spectators. The defensive halfbacks backed away from the line, the center and fullback retreated and rubbed their hands, the linemen raised their heads." Renner led the Wolverines from midfield and, with the ball at the three-yard line, Renner "rolled around tackle for the touchdown that made it Michigan's afternoon."
He later went onto Yale where he and former teammate Gerald Ford went on to coach the Bulldogs' junior varsity squad.  Wikipedia posts this outstanding shot of Renner and Ford while at Yale (I was going to insert Mr. Burns in there with his Yale pennant but this pic is too cool):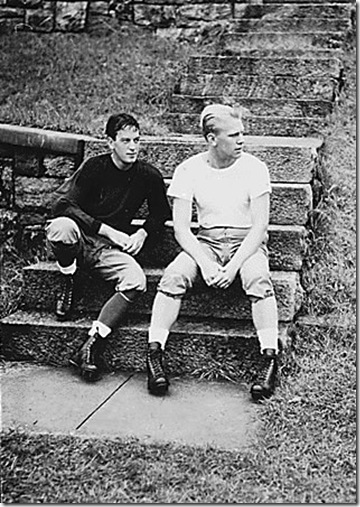 Here's the full auction of the 1933 championship charm.   Renner played on an amazing stretch in Michigan football history and here's some previous entries about these wild times, from 1933-1935:
* 1933 and the Dickinson Formula
* Harry Kipke and the Fall of 1934
* Jesse Owns and Gerald Ford (1934)
* The Willis Ward Protests (1934)